Marvin Sordell column: 'No to racism' they say – but apparently it's no big deal. I've been there...
Our columnist played in the infamous 2012 England Under-21 match against Serbia, when Three Lions youngsters faced a barrage of abuse from home fans. After yet more sorry scenes in midweek, what now?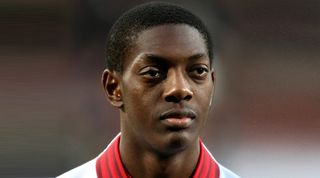 Marvin has been a professional footballer since April 2009, making over 250 appearances for the likes of Watford, Bolton, Burnley, Burton Albion and current club Northampton Town. He has played in England's top four divisions, won 14 caps for England's under-21s and turned out for Team GB at the 2012 Olympics.
--
So, here we are again. It's 2019, and yet another football match has been overshadowed by a vile act that has stained our game for the umpteenth time.
I wonder if the dust has settled yet, and we're back to talking about more pressing issues such as the Premier League title race, how our teams will fare in the latter stages of the Champions League, and if Manchester City can potentially complete the quadruple.
Same story, seven years on
Am I disappointed and upset? Yes. But am I surprised? Not in the slightest.
Alongside Raheem Sterling and Danny Rose, I was involved in that infamous Under-21 game, nearly seven years ago, against Montenegro's next-door neighbours Serbia.
In that European Championship play-off there were similar scenes, where entire stands made their presence felt by voicing their disdain whenever a player of colour was on the ball. Lighters, seats and punches were all thrown in the final stages of that evening, as the atmosphere reached tipping point.
During the match, we followed protocol as players by reporting what we heard to the referee. Later, the FA also did so to UEFA. In the changing room following the game, we sat there for close to two hours while the crowd was cleared.
Some of us were silent, some angry, others just shocked. All were visibly disturbed and upset. In what should have been a jubilant moment for us, having reached our goal of qualifying for the European Championship, there was a massively sour aftertaste. UEFA's post-match report (opens in new tab) made absolutely no reference to it.
The response that followed was nothing short of a disgrace.
The Serbian FA denied that their crowd had done anything wrong, and placed blame at Danny Rose's feet for the chaos that ensued at the final whistle. Furthermore, UEFA handed out some bans to both sides, and ultimately decided to fine Serbia €85,000 and order them to play one home game behind closed doors.
To get some perspective, this came just a few months after Nicklas Bendtner was fined €100,000 and banned for one game for falling foul of their commercial rules at Euro 2012.
What do we expect?
Gareth Southgate's England players would have known what to expect before the Montenegro game, and that is perhaps the saddest thing. I'm almost certain that in the build-up, younger players of the group would have been warned about how they would be treated, and subsequently told how to handle (ignore) it. Many of the senior players would have experienced it while playing in the junior teams, or for their clubs in European competition.
The most damning thing about this whole incident is the ignorance of Montenegro's manager. He was presumably standing only a few feet away from Southgate throughout the contest, yet said that he didn't hear anything, and nor did he want to address the questions presented to him on the subject. What allows this to continue to happen is UEFA's weak, and frankly pathetic stance.
Some of the most recent punishments they have handed out include:
€20,000 fine to Cristiano Ronaldo for improper conduct

(opens in new tab)

€30,000 fine to Juventus for a late kick-off vs Atletico Madrid
€64,000 fine to Red Star Belgrade for illicit chants* and stairways blocked
€90,000 fine and one home game to be played behind closed doors for Olympiakos after fans set off fireworks, invaded the pitch and blocked stairways
In comparison, this is how racist acts have been punished:
€50,000 fine, one home game to be played behind closed doors to the Romanian Football Federation for racist behaviour of its supporters (banners and chants)
€10,000 fine, partial closure of the Pancretion Stadium for one game, ordered to display a banner with the wording "#EqualGame" and UEFA logo on it, to Hellenic Football Federation (Greece) for racist behaviour
€60,000 fine, one home UEFA competition match to be played behind closed doors to Spartak Trnava for racist behaviour of its supporters
Partial closure of the PZPN Stadium for one UEFA competition home match, ordered to display a banner with the wording "#EqualGame" and UEFA logo on it, to Polish Football Federation for racist behaviour (chants)
*Racism and illicit chants are different offences.
Closer to home
We're not absolved from criticism in our country, mind. Where our media has been shocked and disappointed by the actions of Montenegro's crowd, they must also look at themselves and the way they've consistently fuelled that type of mentality on our shores.
As fans, too, we must not forget that there have been many incidents that have occurred in our own stadiums over the years. We can't vilify others and then turn a blind eye to problems here because of our unwavering loyalty towards the clubs we love.
I completely agree, though, that this is a problem far bigger than football. I don't think that stadium bans for fans, and competition suspensions for clubs or countries will change society, but they will definitely change our game.
At present, our arenas are giving a section of people the space to say and act as they please, with minimal repercussions. Most of them wouldn't walk down the street openly expressing the views they have towards people of colour, but once they walk into a stadium, they seemingly feel free to do so. They can't be allowed to feel as comfortable as they currently do, spreading their discrimination. It needs to change.
The events of the other night, led by a powerful voice in Raheem Sterling, seems to have pushed this topic further into the spotlight. Our media outlets and journalists now have to see the effect their words have on the public, and how much responsibility and influence they carry.
There's also another opportunity for UEFA to prove that their stance on racism is more than just a chance to get the biggest stars together on camera.
Are we all actually going to say no to racism this time, or just allow it to continue as always?
MORE FROM MARVIN...
It's time to tell you about my depression
The TRUTH about being an 'overnight' success in football
Thank you for reading 5 articles this month* Join now for unlimited access
Enjoy your first month for just £1 / $1 / €1
*Read 5 free articles per month without a subscription
Join now for unlimited access
Try first month for just £1 / $1 / €1