Marvin Sordell column: the TRUTH about being an 'overnight' success in football
It's easy to assume that those who make it through academies have done so without a hitch; by just always being the best kids around. In his latest column, Marvin reveals that the truth is everything but...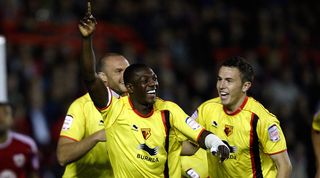 Marvin has been a professional footballer since April 2009, making over 300 appearances for the likes of Watford, Bolton, Burnley, Burton Albion and current club Northampton Town. He has played in England's top four divisions, won 14 caps for England's under-21s and turned out for Team GB at the 2012 Olympics.
---
On July 29, 2012, I walked out to a crowd of 85,000 at Wembley, in the starting line-up for Team GB at the Olympics. To date, it's the pinnacle of my career.
You could be forgiven for thinking that I'd just strolled to this incredible opportunity; been better than everyone else when I was young, and risen through the academy ranks at Watford accordingly.
In truth, my journey up to that point had been far from easy.
Park life
Like a lot of young kids in this country, my journey to living the dream of becoming a professional started in my local park, playing for a Sunday team. As a six-year-old goalkeeper for Belmont United's B team, playing in the Premier League one day was just a far-fetched pipe dream.
Along my journey, I didn't hear 'he's definitely going to make it', or 'he'll play in the Premier League'. I was told that I wasn't good, I won't make it, and when I finally got an opportunity, that I didn't deserve it as there were better players.
Through the years, I saw many team-mates get scouted by professional clubs and then sign for academies. In that time, I tried and failed to make progress. Most worrying was that the older I got, fewer players were being picked up. I was turning 13 and still hadn't been good enough to catch the attention of any clubs.
But just as the chances were seemingly slipping away, I was eventually noticed by a passing scout in the last game of a summer tournament. Luck, timing, or fate? Either way, I was over the moon – I'd been offered my first six-week trial with Chelsea.
Touching distance
My first day as an under-13 hopeful was filled with nerves, anxiety and excitement. My mum and I arrived at Battersea Park station and dashed from platform to the floodlit astroturf pitch, to make up as much time as possible. Being late on your first day is normally disastrous, but fortunately I made up for it with a flurry of goals.
I can still remember putting Chelsea's shirt on for the first time in wonder. I was in awe of the badge, the club, and couldn't believe that I was there. Funnily enough, that first game was away to my future club Watford, where a goal and a win put me into contention for a contract.
A few more games and a couple of goals later, I was at the end of the trial. I was sat down after a training session and, for what wouldn't be the last time, told I wasn't quite good enough.
Back to the drawing board. But think about it: clubs were snapping up players from as young as six years old. For the 13-year-old me, that could have been it. My dream was fading.
A year or so later, the scout who'd originally taken me to Chelsea on trial presented me with an opportunity of going to Fulham. And after five goals in my first three games, I'd finally done it. I was signed to a pro club. As it turned out, what I'd found so difficult in my earlier years actually turned out to be the easiest part of the journey.
But the next two years, which I'd say are the most defining for any player at a pro club, were tough. Trying to find the right balance between dedicating time to GCSE schoolwork and earning a scholarship is a difficult task.
Do you spend most of your time after school doing extra work to ensure you get good marks on your exams? Or do you spend it working on your game? Fitness, strength or technique? How do you know that dedicating most of your energy to one will guarantee success? Do you risk going all out for football when you might not get great grades or even a scholarship at the end of it?
I found it tough. I struggled to manage my school work, and was commuting to training for each session. My circa hour-and-a-half journey across London started at 3.10pm when school finished. I walked 10 minutes to Harrow on the Hill train station, got the Metropolitan Line to Finchley Road, crossed the platform to get the Jubilee Line to Waterloo, hopped on a South West train to Motspur Park and then walked another 5-10 minutes to the training ground. Repeat every Monday, Wednesday & Thursday. My mum often drove to pick me up once she'd finished work, which reduced the return leg to about an hour and 15 minutes. Either way, the majority of my schoolwork was done while travelling to and from training – not ideal.
In the end, I didn't get offered a scholarship from Fulham, and nor did I get the GCSE results I was aiming for.
The exit trial
The despair of having your dream within touching distance, but seeing it start to slip away had me questioning my future. I was in the last chance saloon – literally. After being released, I headed for the Football League exit trials.
My dreams hung in the balance, and I had less than 60 minutes of football, playing with 10 complete strangers, to impress watching scouts. It was pretty much sink or swim.
Fortunately, my performance was enough to get some serious interest from several clubs; the most from Celtic, Port Vale and Watford, where I eventually ended up signing.
It took me about a year to properly get used to being a scholar. The transition from training three evenings a week as a schoolboy to being in a professional environment every day took some getting used to. So much, in fact, that it nearly led me to being released early, I later found out.
Thankfully my second year was hugely successful in comparison. This time it really was sink or swim, and I knew it. I went from regularly being on the bench for the youth team, and often left out of the matchday squad for reserve games, to then being the talisman for both sides. Added to that, Aidy Boothroyd included me in two first-team squads. I didn't make the bench for either game, against West Ham in the Carling Cup or Preston in the league, but the experience was incredible.
In the final months of that season, and at the end of Brendan Rodgers' short tenure as Watford manager, he offered me my first pro contract. I was the last of my age group to receive one, but determined as ever to make the breakthrough.
Going up
I look back at two key moments that set my career on an early upward trajectory. Most players have their game or period where their career sets off; the 'I've arrived' moment that you've been working for and dreaming of your whole life.
My first was scoring my first professional goal, away to Leeds in the Carling Cup. The second was a promising performance in a 3-1 win at Norwich, live on Sky Sports, on the opening day of the 2010/11 Championship season. Although they were roughly a year apart, for me these two moments were what took me from dreamer to dream-liver.
That platform eventually led to me becoming a regular for England Under-21s, earning a move to Premier League side in Bolton, and representing Team GB.
My favourite moment in football to date, though, was being called up to represent England for the first time, at U20 level. Any kid who loves football dreams of playing for their country one day. It was completely out of the blue, and what made it even better was scoring 11 minutes into my debut against France. After a lot of progress in a relatively short space of time, that was such a special occasion.
Reality check
Sometimes we lose perspective, however, and look only at the current destination of a journey, rather than where it began. A lot of fans might look at my career and say that I've regressed over the years. That may be the case. It may also be that I'm at the level I should have always been at, and was previously vastly exceeding expectations.
As players, we go through an enormous amount of highs and lows throughout our careers. We may play for big clubs, in big leagues, and earn lots of money. We may play for small clubs, in smaller leagues, and earn less comparatively. A lot of us have a blend of both. Some players get one game; others 800. Having been released by Chelsea, Fulham and almost by Watford, I'm proud to sit here having played more than 300 club games, with 18 international appearances to complement them.
I certainly took the long and bumpy road to get to where I am today – and believe me, there have been so many times that I've wanted to quit along the way – but my journey so far has been life-changing, growth-inspiring and exhilarating.
Through sheer persistence, some luck and a sprinkling of talent, I went from a kid who played in Wembley parks to playing at Wembley Stadium. What more could anyone want?
MORE FROM MARVIN It's time to tell you about my depression
New features you'd love on FourFourTwo.com
Subscribe to FourFourTwo! (opens in new tab) 6 issues for £19
Thank you for reading 5 articles this month* Join now for unlimited access
Enjoy your first month for just £1 / $1 / €1
*Read 5 free articles per month without a subscription
Join now for unlimited access
Try first month for just £1 / $1 / €1