Marvin Sordell column: It's time to tell you about my depression
In his latest unghosted column, Marvin reflects on his struggles with mental health – and how he's now trying to help others battle theirs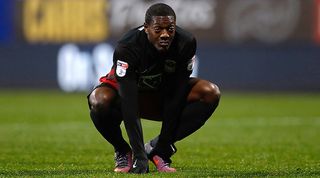 Marvin has been a professional footballer since April 2009, making over 250 appearances for the likes of Watford, Bolton, Burnley, Burton Albion and current club Northampton Town. He has played in England's top four divisions, won 14 caps for England's under-21s and turned out for Team GB at the 2012 Olympics.
--
In my last column I talked about the importance of identity, so discussing mental health this week ties in perfectly. I think that the two are synonymous.
As mentioned, I sought to build up my identity as a younger footballer. My interests in cooking and learning to play the piano were very much led by the fact that I was struggling to separate my emotions in life from those of my career. Looking back, as someone who has always loved to play football as a hobby, I should have instantly looked to find a new one once it became my job.
Almost seven years ago, I was sat in a hotel room alone, in the dark and on the verge of breaking down in tears. I was desperate to escape the emotional grip that depression had on me. As much as I was trying to fight and deny it, it was real – and it was winning.
This point in time was actually the pinnacle of my career, and the hotel room I'd locked myself away in was one I was using while representing Team GB at the 2012 Olympics.
A lot of people would look at such circumstances from the outside and wonder how a healthy, 21-year-old professional footballer earning good money, with Premier League and international appearances to his name, could possibly be depressed. But this is how depression works: it doesn't discriminate.
During that dark time at the Olympics, my manager Stuart Pearce and captain Ryan Giggs both recognised that something wasn't quite right and sought to comfort me. They might not have quite understood the depths of where I was, but their compassion and empathy can be rare in this great game of ours, and for that I will always thank them.
The beginning
I can't pinpoint when exaxctly it all began. I just know that one day it felt as if the entire world was on top of me and I couldn't figure out how I'd reached that point. It felt as if someone else was in control of my body and my emotions.
During my worst periods, I'd wake up feeling as if I hadn't slept at all the night before. I'd roll out of bed dreading the day and having to go to work. As I drove closer to the training ground, I'd be filling up with anxiety. I'd try to be there for the shortest time possible, avoid conversation, and head home knowing that I'd have to do it all again the next day. When I got home, I would often sit in the dark for a few hours before heading to bed without eating dinner.
Sometimes I acted completely within myself and shut myself away, but at others I was the complete opposite and pretended that everything in the world was perfect. Either way, I wasn't my true self.
I'd say there was about four years when I really suffered. Some periods were a lot worse than others, but what helped me most of all was writing. It was the only way I could manage to release some of the emotions I'd bottled up for so long.
I didn't tell anybody for a long time. I couldn't – there was too much guilt for feeling like I did. I was living my dream, wasn't I? I didn't feel as if anyone would take how I felt seriously. Eventually my wife, who was my girlfriend at the time, practically forced me to go and see a doctor. I didn't initially tell her, but she knew that something wasn't right with me. I don't think my team-mates did.
17 pills
I'm not afraid to admit it, though: one day it all got too much to bear. I had a million suicidal thoughts, but only one suicide attempt. Thankfully, I failed.
During the toughest periods of my suffering, I began to write poetry as a coping mechanism. My struggle to communicate how I felt with those closest to me was apparent in the way I bottled things up. Writing poetry gave me a way to pour those emotions out of my mind, straight onto a piece of paper.
From some of the hardest experiences I lived through, I managed to find a positive creative outlet. My therapeutic journey led me to write my upcoming book Vulnerable Exposure, create some short films from pieces of it – including my poem, Denis Prose (and anagram of 'depression') – and also share my story with a wider audience.
I believe – and I hope – that it's given others the courage to talk about these issues. This is 17 Pills.
It's what I took, but it didn't take me.
She had just left, But of course, he stayed, To jeer me on,
While my emotions swayed.
One, then two, Three, then four, And before I knew it,
Thirteen more.
I chose those pills, To stop my brain, Because with a knife,
I feared the pain.
I must have been a coward, Either way, As I tried to end my life
that day.
All those pills, Seventeen, It's what I took, To try and make
him leave.
Where we're at
Depression doesn't really just go away; I just think that you learn to live with it, and manage it. I still have my low periods, but they're often just the odd days as opposed to months on end. I've learned to understand my mind and emotions better, and found ways to cope with them. Speaking about my feelings and writing are two of my biggest releases.
Some of my other experiences in football have led me to believe that we're still a long way away from really understanding and accepting that players suffer from mental health problems. At one of my previous clubs, the chairman somehow got hold of the confidential information that my doctor had recommended I check in to The Priory for a few weeks. His response was that I should concentrate on football.
I've had a lot of conversations with fellow players since I first spoke publicly about my battles with depression, and the level of tolerance that football has towards it. One player I spoke to (who I won't name) told me that his club only offered him a rolling month-to-month contract after he revealed his own mental health issues to them. They weren't sure if he'd be able to handle playing in front of a crowd.
This so-called old-school mentality in football, where players must pretend to be as tough as nails and emotionless, is simply wrong. It has the potential to be so dangerous for so many.
I've read that the percentage of football players who suffer from a mental health problem stands roughly at 26% during their playing careers, rising to an estimated 39% post-retirement. It doesn't surprise me. That statistic can be a reflection on how retirement affects players, but in reality it really shows just how many don't admit to suffering until their playing careers end – and so too with it, any chance of possible negative implications.
As much as we're very slowly showing signs of progress within the FA, PFA and Sporting Chance, and with MIND becoming one of the official EFL sponsors, the true mark of success in this area will be when players can speak openly about these issues at the heights of their careers, without feeling as if it will be harmful doing so.
We're at a time now when players are at the peak of their physical, technical and tactical abilities. Clubs invest in state-of-the-art facilities and elite coaches to go alongside them. No stone goes unturned: stamina, speed, power, recovery, nutrition, hydration, technical weaknesses, learning new formations, styles of play and opposition game plans.
Well, almost. The psychological capabilities of a player are still very much an afterthought in football. But as the saying goes, what's the point of trying to build the best house in the world if it's got a leaking roof?
A final note
Things are getting better: in the last year or so especially, many more players past and present have spoken about their own experiences. Together, it's created an environment where it's OK to speak about our emotions and have these honest discussions.
As a sufferer of depression, an avid mental health campaigner and an ambassador for CALM, I feel that it's my responsibility to continue having this conversation in a public forum until I no longer need to.
I was once on the cusp of taking my own life, but now feel able to share that story with the world. It's been a remarkable journey for me. I lived through my most negative experiences, but it's through those that I've had the opportunity to create things that have brought out some of my most positive too.
Through those real troughs, the thing that always kept me going was the love of those closest to me. Today that doesn't just help me to survive – it empowers me.
It's so important for me to share that I wasn't alone on my journey, and for those who are currently trudging along that dreaded path, neither are you on yours.
The Campaign Against Living Miserably (CALM) is leading a movement against male suicide, the single biggest killer of men under 45 in the UK. Join the campaign to take a stand against male suicide and get the tools you need for action at https://www.thecalmzone.net/
Thank you for reading 5 articles this month* Join now for unlimited access
Enjoy your first month for just £1 / $1 / €1
*Read 5 free articles per month without a subscription
Join now for unlimited access
Try first month for just £1 / $1 / €1
Get FourFourTwo Newsletter
The best features, fun and footballing quizzes, straight to your inbox every week.