Half Football, Half Rock, All Genius
FourFourTwo.com Editor Gary Parkinson on Half Man Half Biscuit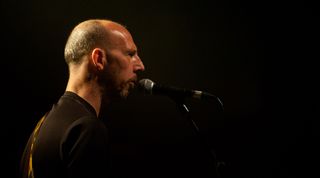 It's easy to write a football song - Lord knows, enough chancers have done it, usually badly.
But it's difficult to write a good song that effortlessly references our national obsession in a way that isn't clunky, ugly or desperate.
Luckily for lovers of both forms of entertainment, Half Man Half Biscuit have consistently proved themselves masters at it.
Coming to prominence with the Subbuteo-referencing All I Want For Christmas Is A Dukla Prague Away Kit ("It had all the accessories required for that big match atmosphere/ The crowd and the floodlights and the dug-out too"), the ardent Tranmere fans refused to play gigs on Friday nights when Rovers were playing at home - even if Channel 4 offered to helicopter them to and from the studios to film The Tube.
The football references in HMHB songs range from the well-known to the arcane. Most fans will recognise Bobby Charlton (God Gave Us Life), Kenneth Wolstenholme and Nobby Stiles (Carry on Cremating), Mario Kempes (Took Problem Chimp To Ideal Home Show), Alan Brazil (Our Tune), Barry Venison (Paradise Lost (You're The Reason Why)), Paolo Rossi (Tour Jacket with Detachable Sleeves) and the titular subject of Bob Wilson, Anchorman.
But chief songwriter Nigel Blackwell specialises in cataloguing that which you'd forgotten, like Ipswich old boy Romeo Zondervan (The Referee's Alphabet), Feyenoord midfielder Wim van Henegem (Girlfriend's Finished With Him), Elton Welsby (A Country Practice), former FA bod Sir Stanley Rous (Albert Hammond Bootleg), '70s pre-season beano The Watney Cup (Rod Hull Is Alive - Why?) and the list of '80s international keepers that is "Arconada, Pfaff and Bats and Joseph Antoine-Bell" (Emerging From Gorse).
And you would have to be a hardcore fan of the teams in question to remember Grimsby's '70s goalkeeper Peter Grummet (Let's Not), '50s Blackpool keeper George Farm (1966 And All That) or '70s Colchester striker Bobby Svarc, whose contract wrangles feature in Fear My Wraith: "I read the news today, oh boy/ Svarc rejects new Layer terms". There are also references to "Stromsgodset Under-Fives" (Malayan Jelutong) and "SupercalafragilisticBorussiaMoenchengladbach" (Bastard Son of Dean Friedman).
You'd expect nothing less from the band that recorded I Was A Teenage Armchair Honved Fan, Dead Men Don't Need Season Tickets, Even Men With Steel Hearts (Love To See A Dog On The Pitch), Mathematically Safe ("On a lilo, in a sea of alright/ I'm a mongrel and I just won a dog fight") and the startlingly dystopian Gubba Look-a-likes, wherein the narrator is understandably haunted by doppelgangers of Grandstand's "bits-and-pieces" veteran.
As is often the case, Blackwell sides with the underdog in The Referee's Alphabet: "G is for the gnarled face of someone who's on 90 grand a week and reckons he should have had a throw-in... Q is the quiet word which I sometimes need to have with some of the more fiery participants. I usually choose the word 'pleat'."
Crowd chants are recalled with the ear of an expert. In PRS Yearbook - Quick, The Drawbridge!, Blackwell doesn't need to complete the reference when he sings "Agony aunt, if I had the arse of a crow/ And the wings of a sparrow and you were below...", while Liverpool's terrace anthem is rewritten for Turned Up, Clocked On, Laid Off: "Sign on, with no hope in your heart/ When you walk through a storm, you get wet."
So if HMHB are unarguably the finest exponents of the football lyric, which is their best effort? There are a thousand answers, but medals must be struck for the Topol-toned bridge of Paintball's Coming Home ("If I were a linesman/ I would execute defenders who applauded my offsides"), while Uffington Wassail throws down the gauntlet to those who spend their weekends re-enacting long-ago wars: "Sealed Knot Society, let's see you try and do this one/ Luton Town-Millwall, 1985."
But the top award must go to the song that crystallises the band's eagle eye for the minutae of life's disappointments, big and small. Friday Night And The Gates Are Low - its title twisting Abba's joyous Dancing Queen into an accurate reflection of those sparsely-attended Prenton Park games HMHB much preferred to the glamour of the TV studio - is a mordantly witty exploration of a football team failing to attract 'customers', most of whom would rather be anywhere else.
This being HMHB, there's humour in the references to "home defeats by Jeunesse D'Esch in the Looks Familiar Cup" but there's also a canny dissection of football's commercialisation since "the family bit got big in the late-'80s":
"Stick a burger in my mouth

Shove a seat beneath my arse

Buy the shirt, the shorts, the socks

Win the keeper's sweaty jocks

Point a gun down at your foot

Am I supposed to be at home?"
There's no overbearing, table-thumping message - that's not their style. But only the ignorant would ignore the chasm between the old style of football fan ("Dad's a steward in the stands/ Brace of comps in his hand") and the new ("Fiancee said that it was fun/ Even though the others won"), while there's a subtle warning of the dangers inherent in targeting 'customers' who can quickly take their money elsewhere:
"So you came and went

'Cos on crap three million was spent

And if Josh wants a five-man tent

There must be forfeits."
But as the song acknowledges, some of us will still be there long after any floating voters drift away. Long may the observers include Half Man Half Biscuit's Nigel Blackwell, football's Poet Laureate.
Previous Rock'n'Goal Week blogs:

Monday: Sing When You're Winning - meet rock loyalty

Friday: If Premier League teams were bands

Thursday: When footballers become pop starsWednesday: How football became the new rock'n'roll
Thank you for reading 5 articles this month* Join now for unlimited access
Enjoy your first month for just £1 / $1 / €1
*Read 5 free articles per month without a subscription
Join now for unlimited access
Try first month for just £1 / $1 / €1
Get FourFourTwo Newsletter
The best features, fun and footballing quizzes, straight to your inbox every week.
Gary Parkinson is a freelance writer, editor, trainer, muso, singer, actor and coach. He spent 14 years at FourFourTwo as the Global Digital Editor and continues to regularly contribute to the magazine and website, including major features on Euro 96, Subbuteo, Robert Maxwell and the inside story of Liverpool's 1990 title win. He is also a Bolton Wanderers fan.