Hamburg's heritage at risk as they prepare to sell out for success on the pitch
Jonathan Harding evaluates the latest mess at HSV...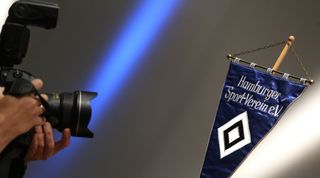 In Germany, the fans rule supreme - or at least that's the perception. It's true to a certain extent - Germany's 50+1 rule prevents commercial bodies gaining majority control of any club, with the exceptions of Bayer Leverkusen and Wolfsburg, who both originated as working sports clubs and have enjoyed the backing of their respective companies (Bayer and Volkswagen) for long enough.
Audi and Adidas only own 9% of shares at Bayern Munich, meanwhile. The fans own the rest. Around 80% of Borussia Dortmund is owned by a large number of different people (i.e. members with less than a 5% share). In fact, only six of the 18 Bundesliga teams follow the traditional German, fan-owned structure, as opposed to turning their football department into companies. One of those is Hamburger SV.
Hamburg, though, are also a club who haven't won the Bundesliga for over 30 years. In fact, it's over a quarter of a century since they won a thing. The fans are tired - and now they've had their say.
Nearly 80% of Hamburg's members have voted in favour of a club restructure, thus opening the door for added financial backing through the money men. The club, like many in the Bundesliga, are set to become a corporation capable of selling 24.9% of its football-department shares, which could bring in around €100 million to aid the club's ailing coffers.
As odd as a football department sounds, it's fairly normal for the majority of German football clubs to play different sports under the same crest. Hamburg have around 30 under their umbrella including cricket, darts and baseball. There's no chess team, though, unlike the very successful one at Bayern Munich (*sigh*, will they be beaten at anything?).
The suggested reform, named HSV Plus, is headed up by former chairman of the board, Ernst-Otto Rieckhoff, who hails the voting as his "greatest success at the club". Billionaire motormouth Klaus-Michael Kuehne (Germany's seventh richest man, according to Forbes) has backed the club before and looks set to do so again if it takes place. Even the club's 1983 European Cup legend, Horst Hrubesch, was quoted as saying it "can take us to the next level in the Bundesliga."
Although this means change is likely, nothing is certain. Chairman Carl-Edgar Jarchow must now prepare a restructure plan so fans can come together and vote again at the end of June. Pivotally, the request for external voting (i.e. by phone or letter) was rejected, and as a result Rieckhoff must hit the campaign trail to encourage as many members as possible to vote his way in the summer. Even when they do, a 75% majority is needed for change to happen.
Running the club as a private company is by no means revolutionary in the Bundesliga - Bayern have made themselves a formidable force on and off the pitch in this way, even if it hasn't won them many friends along the way. While English clubs take huge chunks of their income from ticket receipts, their German counterparts tend to take the majority of their income from commercial deals, often with booming local businesses who quickly turn international.
Tradition is important in Germany, though - and some Hamburg fans are furious at the prospect of selling out. The northern side boast a wealth of history (namely seven league titles and a European Cup to their name) but the arrival of external support may well see them tarred with the same brush as notorious money clubs Bayer Leverkusen, Wolfsburg and Hoffenheim.
Their second fear is winding up like second division outfit TSV 1860 Munich, who must sing to the tune of their Jordanian investor. It has badly affected their transfer policy, managerial stability and, ultimately, the club's chances of progression. Perhaps the difference at Bayern is that, in Audi and Adidas, they have investors who are all in for the collective.
Should Hamburg's finances be shored up with a shake-up, the next question is what they'll actually do with their newfound cashflow. There's a strong possibility it could be used in the U16 and U17 academies, something almost certainly required considering their worryingly thin U19 squad. The temptation to buy foreign talent will be strong, but the club couldn't be in a better league to resist.
In the short-term, Hamburg are searching for answers in the Bundesliga, after only four wins from their first 17 league games this season. Unfortunately, though, they might well need the combined services of Sherlock Holmes and Hercule Poirot to find them anytime soon.
Thank you for reading 5 articles this month* Join now for unlimited access
Enjoy your first month for just £1 / $1 / €1
*Read 5 free articles per month without a subscription
Join now for unlimited access
Try first month for just £1 / $1 / €1
Get the FourFourTwo Newsletter
The best features, fun and footballing quizzes, straight to your inbox every week.