How Jose Mourinho became the manager he used to mock
By Richard Jolly published
The Portuguese has needled and mocked throughout his career, but leaves Manchester United as the specialist in failure he once jeered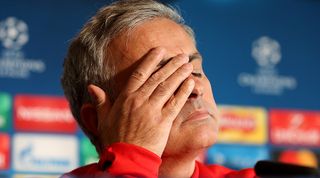 They were three grossly unfair words, but the sort of soundbite that, because it becomes memorable, lasts. "Specialist in failure," Jose Mourinho once branded Arsene Wenger.
There are different definitions of failure, and the Portuguese was referring to the Frenchman's trophy drought, but the former Arsenal manager only finished outside the top five once in 22 seasons in England. The former Manchester United manager was on course to come sixth twice in three campaigns when he was sacked having failed: definitely this season, arguably over the course of his time at Old Trafford.
It unravels
The problem with making disparaging judgments from a position of superiority comes when a specialist in success no longer meets his own lofty standards. "How many [league] championships has [Rafa] Benitez won since he joined Liverpool?" Mourinho asked in 2008. How many did Mourinho win at Old Trafford?
"Second place? It's just the first loser," he once said of Manuel Pellegrini, which presumably made him the fifth loser when United fired him. "I don't want to win the Europa League," he declared at Chelsea. Fifty per cent of his trophy haul at United come courtesy of the Europa League.
"To finish fourth is not the aim," he declared upon his unveiling at Old Trafford. It became his highest objective as he started instead talking about being confident of finishing ahead of Everton. Claudio Ranieri was branded "too old" and "almost 70" in 2008 when the Italian was 56. Coincidentally, Mourinho turns 56 in January.
SEE ALSO FourFourTwo's 100 Best Football Players in the World 2018 (opens in new tab)
"There are a lot of poets in football but poets don't win titles," he proclaimed in 2017. Pep Guardiola pocketed two last season. If he doesn't retain the Premier League, it will be because Jurgen Klopp has won it instead. The top five are all managed by poetic types; they may get a clean sweep of the trophies, perhaps with added silverware in Europe.
And in the meantime, Mourinho, who was defined by purely by winning and wasn't winning, became the type of manager he used to mock.
Life bites hard
Perhaps life makes hypocrites of us all, to varying degrees and sooner or later, but Mourinho's outspokenness and his willingness to disparage his peers made him an extreme example.
Perhaps worst of all, he became the anti-Mourinho; the opposite of what he used to be. It was a point the Portuguese inadvertently underlined at Anfield on Sunday when he said his United lack the intensity of his Porto team, the counter-attacking prowess of his Real Madrid side and the defensive excellence of his Inter Milan outfit.
He was the byword for defensive excellence; the man who once declared he didn't enjoy watching a 6-3 win at Goodison Park because of errors at the back. In 2004/05, his Chelsea conceded the fewest ever goals in an English top-flight season. Now only Fulham have fewer clean sheets than United.
That Chelsea side was built on such solid foundations that they only trailed for 173 minutes in a league campaign. His United were behind for 452 by the time he was dismissed. Forever playing catch-up was not the Mourinho way. Nor, for a manager who brought great clarity of thought, was invariably tinkering with both personnel and formation in increasingly desperate fashion.
He was considered the ultimate big-game manager, the one whose blueprint paid off so often that "Mourinho masterclass" became a cliché. Not this season, when United took two points from a possible 15 against the top five. In the 2000s, Mourinho's teams seemed packed with his disciples, players who would follow him anywhere. By the late 2010s, there was the sense they disliked him.
It may have reflected his rhetoric. Mourinho approached Frank Lampard in the shower to tell him he could become the world's best player; he was almost as good as his word, with the midfielder finishing runner-up in the 2005 Ballon d'Or. Fast-forward a decade and he has spent more time undermining his players than building them up.
Few play to their potential for him now. If Lampard delivered more for Mourinho than any other manager, his 2018 counterpart, Paul Pogba, has played better for Didier Deschamps, Massimiliano Allegri and Antonio Conte. Mourinho (the 2014/15 version) got more from Nemanja Matic than Mourinho (the 2018/19 variant) did. If his transfer record featured a series of coups at Porto, Chelsea and Inter, players who reached new levels and improved his teams, the opposite was true at Old Trafford: his reign was defined as much by Pogba, Fred and Alexis Sanchez.
Mourinho was the most relentlessly consistent manager in the business – his sides won 76 per cent of league games between 2002 and 2006. At United that figure dropped to 41 per cent this season, as old certainties were destroyed. Mourinho's teams became all the things they were not: erratic, inconsistent, fallible, porous.
Behind the times
Achiever and, at times, overachiever became underachiever. Moderniser became anachronism, with the footballing fashions leaving Mourinho behind; he was the DVD player who prospered against the VHS but was left out of date by online streaming.
The image of a man who controlled his own destiny, bending the fates to suit his own will, disappeared as he looked helpless and hapless, complaining of the signings that weren't made, the injuries that did happen and the players who did not follow his instructions.
And a manager who wrote others' footballing obituaries fell in fitting fashion. United's wretched 2018/19 was, to borrow Conte's famous phrase, a "Mourinho season".
Had the Portuguese conjured the expression, it would have meant something else. Now it's shorthand for a fractious meltdown that culminates in the deserved dismissal of a failing manager, Special One turned Sacked One.
SEE ALSO FourFourTwo's 100 Best Football Players in the World 2018 (opens in new tab)
Thank you for reading 5 articles this month* Join now for unlimited access
Enjoy your first month for just £1 / $1 / €1
*Read 5 free articles per month without a subscription
Join now for unlimited access
Try first month for just £1 / $1 / €1
Richard Jolly also writes for the National, the Guardian, the Observer, the Straits Times, the Independent, Sporting Life, Football 365 and the Blizzard. He has written for the FourFourTwo website since 2018 and for the magazine in the 1990s and the 2020s, but not in between. He has covered 1500+ games and remembers a disturbing number of the 0-0 draws.
Quizzes, features and footballing fun
Get the best features, fun and footballing frolics straight to your inbox every week.
Thank you for signing up to Four Four Two. You will receive a verification email shortly.
There was a problem. Please refresh the page and try again.