Tuchel to watch Curb Your Enthusiasm, ignore training ahead of Manchester United game
The Ligue 1 giants are taking absolutely everything for granted, Back of the Net reports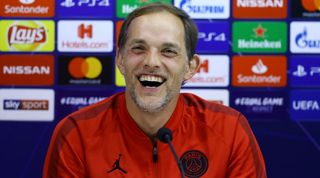 Paris Saint-Germain boss Thomas Tuchel has reassured supporters that he has no intention of treating Manchester United as worthy Champions League adversaries, insisting his players will be 'complacent, lethargic and fat' by the time of the encounter.
As the names were paired in the draw, Tuchel leapt from his chair, punching the air repeatedly and yelling 'we're through lads' before seeming to recover his restraint, only to then drown out much of the rest of the draw with a chant of 'we're in the quarters'.
Asked by journalists whether the quality of individuals in Manchester United's squad could make them a threat, Tuchel was emphatic in announcing that it could not. Instead he confirmed that, rather than watching videos of Jose Mourinho's men, he would instead binge-watch all nine seasons of HBO series Curb Your Enthusiasm in order to 'see what all the fuss is about', insisting that he'd 'seen clips' but wasn't sure if 'he was [star of Curb Your Enthusiasm star Larry David] like, acting, or is it pretty much for real or what?'.
"I expect United to turn up to both legs, albeit probably a bit late, and I'd back them to get 11 players on the field wearing the correct kit, but anything more than that is beyond them," Tuchel sneered to FourFourTwo while swigging champagne.
"You guys asking me whether they can beat us – that's like asking whether a team of squirrels could beat us. No, no they couldn't. I mean, I don't even know how that'd come to happen but if it did then no, they couldn't beat us.
"I'll be very strict with my players that I don't want to see any of them doubting we're in for an easy ride against [Manchester United].
"All talk of the last 16 is banned in my dressing room. I only want to hear the players speculating about our quarter-final opponents and arguing over who gets the match ball in the event that two players score a hat-trick against United."
Curb his enthusiasm
Tuchel, already beginning to snigger at Larry David's social awkwardness on an iPad, then made it clear that his players wouldn't need to train ahead of the United clash and that he would be encouraging them to gorge themselves on junk food simply because they could.
"I say let them have at it," Tuchel smirked.
"Neymar could eat his body weight in goose fat every day until the first leg and still stroll past [Chris Smalling]."
Chortling loudly at the image of Neymar embalmed in animal grease, Tuchel failed to respond when asked whether or not football could be a 'funny old game'.
At the time of publication, Tuchel was loudly enquiring whether he could add the names of his children to the Champions League squad list and idly Googling what the highest Champions League aggregate win in history was.
Please note: As much as we wish Thomas Tuchel would combine 'Neymar' and 'goose fat' in a sentence, this story is indeed satirical. Who knew?
Quizzes, features and footballing fun
Get the best features, fun and footballing frolics straight to your inbox every week.
Thank you for signing up to Four Four Two. You will receive a verification email shortly.
There was a problem. Please refresh the page and try again.