How Jurgen Klopp became Pep Guardiola's kryptonite
Liverpool's stunning 3-0 first-leg win over Manchester City means the German has bested Pep seven times in their 13 meetings – and now twice this season. Kiyan Sobhani evaluates why the Bearded One has such a hold on the world's most revered boss...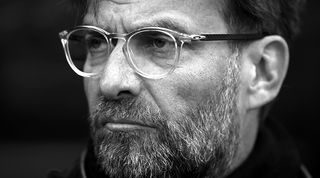 One of the most harrowing moments for Manchester City during Wednesday night's 3-0 defeat at Anfield went under the radar, but painted the entire picture of just how badly Pep Guardiola's men suffered against Jurgen Klopp's system – for the second time in 2018.
Just minutes after Liverpool scored their third goal, Kevin De Bruyne – Manchester City's key player who is looked to as a calming presence in these chaotic, season-defining moments – gave the ball away when Liverpool gave him plenty of time on the ball.
That moment led to a dangerous counterattack, which Fernandinho snuffed out deep in his penalty box. But those moments, where Manchester City looked rattled in possession, were peppered throughout the first half.
The fast and furious
Dealing with Klopp's counter-press takes its toll mentally. It was difficult for Guardiola's side to find outlets out of the back, since Liverpool's front three of Mo Salah, Sadio Mané and Roberto Firmino forced defenders into playing the ball out wide to their full-backs before losing possession.
When Liverpool strategically stood off and waned their press, they blocked passing lanes instead. By that point, City were already in panic mode, misplacing passes uncharacteristically.
Klopp, in his last two swings at Manchester City, has been able to execute a very rare blueprint: completely unnerving Guardiola's technically gifted players in possession.
While most of City's opponents hedge back into a low block and look to plug gaps, Liverpool press high and hound. When they lose possession, the aim is to retain it immediately high upfield. Everyone is on the same page defensively, making it very difficult for City to get in behind the lines.
City are masters of playing their way out of tight spaces, but it's rare they face a side as defensively cohesive as Liverpool.
In Firmino, the Reds have one of the most intelligent off-the-ball strikers in world football – he understands how to press while simultaneously suffocating passing angles. Everyone behind him follows suit. If you want to know just how much City struggled in finding outlets, the passing map below tells you everything.
From the excellent @11tegen11 (opens in new tab) on Twitter
City's possession was recycled predominantly between Vincent Kompany and Nicolas Otamendi, while De Bruyne, David Silva, Ilkay Gundogan and Gabriel Jesus were smothered in the middle of the park.
It was hard to see where a goal would come from. Leroy Sané stretched play out on the left as best he could, but Gundogan tucked centrally while Raheem Sterling looked on from the bench in horror as his side struggled to get into the final third.
Zilch
One of the things that Guardiola seemingly learned from his 4-3 loss at Anfield earlier this season was that in order to avoid Klopp's furious press, he'd need to keep the ball in the opponent's half more.
He succeeded in doing this to start with, as City pinned Liverpool deep. But even in those moments, as well as in the second half where Liverpool took their foot off the gas and sat deeper, Guardiola's men couldn't threaten. They ended the match with zero shots on target. Just one of their passes in the first half found its way into the box.
On another day, David Silva's six key passes would do more damage – his team-mates just weren't in sync offensively. City's xG was just 0.55 in this match, while Liverpool's increased rapidly even when they didn't have the ball in the second half. It may have seemed that Klopp's men peaked when Mané scored the third goal, but Liverpool were a constant threat to Ederson.
From @11tegen11 (opens in new tab)
Alexander-Arnold takes out Sané
When Liverpool defeated Manchester City 4-3 earlier this season, one player who stood out for Guardiola as a positive was Sané. His creativity that evening was a rare relief point for City to break Liverpool's stubborn defence. It's no surprise, then, that they looked to him often in this match.
This time, though, Sané had cooled. His touches weren't great, he had difficulty dribbling past his man and Liverpool, fully recognising the young German as a threat, defended him masterfully. By the end of the match, Sané had four unsuccessful touches and was dispossessed five times.
When you're a funnel for your team's attack, you're bound to lose the ball a few times, but Liverpool locked him down brilliantly.
Enter Trent Alexander-Arnold, the home side's 19-year-old right-back who had Sané in his pocket. He struggled at Crystal Palace on Saturday, but was a machine here with 10 clearances, seven interceptions and four tackles. Alexander-Arnold hugged the right touchline and made it his own – Sané had no answer for him.
Andrew Robertson, on the opposite side, was impressive too. He defended the left flank expertly (where City didn't have much of a presence until Sterling came in, apart from the odd Kyle Walker or De Bruyne run). But it was Alexander-Arnold who stood out in dealing with Liverpool's biggest and most recurring test of the night at Anfield.
Nobody was sure how Guardiola would react to that loss against Liverpool earlier this season, but now that another trip to Anfield has passed it's clear that his problems against Klopp are real. Even a manager as brilliant as him is finding that there's no easy way out.
Thank you for reading 5 articles this month* Join now for unlimited access
Enjoy your first month for just £1 / $1 / €1
*Read 5 free articles per month without a subscription
Join now for unlimited access
Try first month for just £1 / $1 / €1
Get FourFourTwo Newsletter
The best features, fun and footballing quizzes, straight to your inbox every week.