How much is Pep Guardiola actually to blame for Manchester City's woes?
A crushing 4-0 defeat at Everton has left the Catalan's new club 10 points adrift of Chelsea, and City fans bitterly disappointed. But is Pep the only man to point fingers at? Thore Haugstad discusses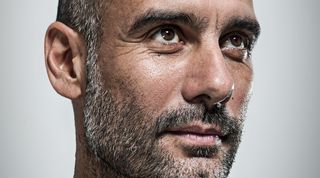 Harry Redknapp and Pep Guardiola may not have much in common, but Redknapp used to have a saying that the beleaguered Manchester City boss may relate to. In 2008, as Portsmouth geared up for the FA Cup final, Redknapp insisted their success had little to do with tactics. "It's all about good players." he said. "I could say I've drilled them for 12 hours a day on the training ground, but I'd be talking a load of bollocks."
There is a simple truth to it, and one suspects Redknapp has not been shocked to see Guardiola find it tougher at City than at Barcelona and Bayern Munich. The players seem increasingly incapable of executing his complex plans. Improvement is on the agenda but the squad remains one of the oldest in the league, filled with veterans less likely to pick up new concepts than open-minded youngsters.
The team's potential would have been huge if Guardiola had a squad comparable to those at Barça and Bayern. But without quality even he may end up fifth after 21 games, 10 points off the top, contemplating a 4-0 defeat at Everton. Tactical errors have abounded but, beyond Guardiola, there has also been a failure in long-term planning that traces to the club directors.
Preparing to fail
Firstly, though, it is important to state that Guardiola deserves criticism. His adaptation to the Premier League has been slower than expected, particularly in terms of stopping counter-attacks and outplaying compact defences, and while he has simplified his tactics somewhat, he is yet to find a model that retains his fundamental principles – high pressing, possession, playing out from the back – while also negating the idiosyncratic challenges thrown at him by British teams.
His critics will surely say his backline would work better in a more rigid structure in which John Stones is not forced to cover an entire half of his own. And no manager can complain about a lack of creativity when Sergio Aguero, Kevin De Bruyne and David Silva are at your disposal.
City spent big last summer and Guardiola will have had a significant say in it. Being fifth and having given up the title in mid-January represents a huge underachievement.
Yet for all that, we live in the knowledge that Guardiola's ideas have proved strikingly successful elsewhere. He has a track record that merits patience, credibility and faith. The same is not so true for certain others at the club.
Particularly the two Spanish directors, Txiki Begiristain and Ferran Soriano, should have seen this coming. They have built towards this project since arriving at City in 2012, knowing that they might get Guardiola due to his relationship with Begiristain, a former team-mate of his at Johan Cruyff's 'Dream Team' in the late '80s and early '90s who was later influential in his appointment to the Barça first-team job in 2008.
They knew what players he might like; what it would take for him to make it work. And yet their groundwork has been anything but adequate.
Next: A sorry list of bank-breaking flops...
Flops and farces
Particularly lamentable is the recruitment overseen by Begiristain. In 2013, City's main signings were Fernandinho (about £34m) and Martin Demichelis (£4.25m), who were solid additions, but also Stevan Jovetic (£22m), Alvaro Negredo (£21.5m) and Jesus Navas (£17m).
Jovetic scored eight goals in 30 league appearances before been shipped out to Internazionale, who have now loaned him out as well. Navas is still there but, with four goals and 22 assists in 113 league games, his arrival can hardly be called a roaring success.
A year later, City brought in Fernando (£12.75m), Eliaquim Mangala (£26m) and Wilfried Bony (£27.5m). Mangala never convinced and has now been loaned out to Valencia, who sit just above the relegation zone in La Liga. Bony recorded six goals in 36 league appearances across 18 months before being loaned to Stoke, where he has averaged a league goal every 345 minutes.
In 2015, City got it right with De Bruyne (£63m), but Nicolas Otamendi (£38m) looks overpriced and Fabian Delph (£10m) has rarely played. Raheem Sterling (£53m) is still only 22, but he looks cheap based on his returns so far.
Finally, last summer, City signed Stones (£47m), Nolito (£15m) Ilkay Gundogan (£23m), Leroy Sané (£42.50m), Gabriel Jesus (£27m) and Claudio Bravo (£15m). Some are still young, one is injured and another is yet to arrive, but overall it is hard to pick out a bargain based on the evidence provided so far.
Old problems
This record does not put Begiristain's work at City in a good light and it is worth remembering that the cornerstones of the title-winning teams of 2012 and 2014 – Aguero, Samir Nasri, Silva, Yaya Toure – were all put in place before the two directors arrived.
Their subsequent planning left City with the oldest squad in the league last season and, considering their current problems, perhaps Manuel Pellegrini deserves some sympathy for the woes he endured in his final year.
As recently as the debacle at Everton on Sunday, the City line-up had an average age of 29, even with Stones and Sterling included. Five of the seven senior defenders in the squad are past 30. There have been stories of Guardiola wanting as many as six new players, including four defenders, and, given the current travails, the rumours hardly seem implausible.
Such issues suggest Guardiola and his tactics are only part of the problem. He has made mistakes of his own but, equally, he should not have encountered an unbalanced and geriatric squad in the first place.
The recruitment process deserves more scrutiny than it gets. Guardiola, after all, has had six months to make his imprint on the squad. The directors, who have had about six months and four years, are at least as culpable as him.
Thank you for reading 5 articles this month* Join now for unlimited access
Enjoy your first month for just £1 / $1 / €1
*Read 5 free articles per month without a subscription
Join now for unlimited access
Try first month for just £1 / $1 / €1
Quizzes, features and footballing fun
Get daily World Cup 2022 news, updates and other football frolics to your inbox
Quizzes, features and footballing fun
Get daily World Cup 2022 news, updates and other football frolics to your inbox
Thank you for signing up to Four Four Two. You will receive a verification email shortly.
There was a problem. Please refresh the page and try again.