How Shkodran Mustafi became the awkward problem Arsenal fans couldn't take anymore
What is one mistake too many? For Unai Emery, such a deadline has passed – but the Gunners are struggling to offload their other 2014 World Cup winner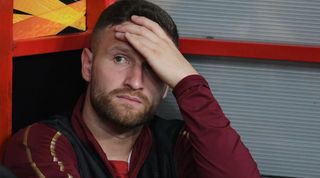 "Dear God, make this happen" ... "This news gave me butterflies" ... "This sounds too good to be true."
Consider which recent piece of transfer news might have provoked such an excitable below-the-line response from Arsenal supporters. Signing a Real Madrid midfielder with the footwork of a flamenco dancer, perhaps? Or maybe it was breaking the club transfer record for this summer's en vogue winger, despite offering only Europa League football in exchange?
Now consider again. In the messageboard equivalent of wildly celebrating an opponent's VAR-nixed consolation goal, we8spurs, gooner4lyf and xhakacan't (please note, all names have been changed to protect posters' identity) were actually popping cybercorks at a dubiously-sourced story linking Shkodran Mustafi with Roma. On loan.
How has it come to this, Shkodran? How can a £35m World Cup winner sink so fast, so soon that even his own manager – a man whose ever-improving English still restricts him to the blandest of utterances – is owning up to three separate conversations during which the most expensive defender in the club's history has been told he can leave?
Tempting as it is to answer "let's have a look at the centre-half-sliding-ill-advisedly-on-his-arse-shaped evidence", let it be noted that Arsenal's fans are falling over themselves to wave off a player who last season – statistically, at least – outperformed all of his team-mates bar Pierre-Emerick Aubameyang and Alexandre Lacazette. In fact, if the algorithms employed by WhoScored count for anything, Mustafi was the star turn among Arsenal's regulars the previous season and second only to Alexis Sanchez in 2016/17 – his debut season after arriving from Valencia.
The future seemed to be Mustafi's back then. Arsene Wenger appeared confident that one of his side's most picked-over problems had been solved as he welcomed "a great player" to the Emirates. Meanwhile, Gary Neville – whose ill-starred managerial spell at Mestalla coincided with Mustafi's time there – spoke of a 24-year-old with "an incredible amount of natural ability and talent".
Eighteen months on, Neville would brand Mustafi's role in a Sergio Aguero League Cup final goal as "pathetic". And shade was cast on the genuineness of his original glowing reference for the German by a claim from Lee Dixon, possibly playing to the crowd a little as he addressed an Arsenal supporters' event: Neville, apparently, had once told him that "Valencia couldn't give Mustafi away".
How to get to the truth? Is Mustafi another perfectly serviceable centre-half whose reputation has been shattered by Arsenal's adherence to attacking football? (I once interviewed Mikael Silvestre, who averted his gaze with the demure demeanour of a Victorian lady asked to dance at a Debutante's Ball when it was suggested that playing centre-half at Arsenal might be up there with sport's toughest gigs.) Or is he an incorrigible, untrainable ball-chaser who was always an accident waiting to happen?
A cursory trawl back through the messageboard archives reveals Mustafi was not always Arsenal supporters' favourite whipping boy. Reports of a move to Inter 12 months after his arrival met with responses ranging from "ridiculous mismanagement" to "bat-shit crazy". But as his second season in England progressed, a front-foot, visibly vocal style came to be seen less as proactive leadership and more impetuous blame-shifting.
Obvious mistakes developed an unfortunate habit of leading to goals (see also: Xhaka, G.), while the modern fan's obsession with transfer fees meant the cost of every howler was calculated via an overly-simple equation: one gaffe from £35m Mustafi equals three-and-a-half from £10m Laurent Koscielny.
And let's be clear: none of Mustafi's colleagues have been blemish-free. It was Koscielny who failed to track his friend Olivier Giroud's simple movement for Chelsea's opening goal in the Europa League final. It wasn't just Mustafi, but Sokratis too, left sliding around like the Wet Bandits on Kevin McAllister's toy cars as Roberto Firmino danced through Arsenal's defence at Anfield around Christmas.
By that stage, though, the mob had reached for the pitchforks; one fan site after another demanding Mustafi's sale, to the point where every half-hesitation was highlighted, and blame for every grey-area goal heaped on his slumping shoulders. The nadir came when his name was booed, pantomime-style, ahead of a pre-season game against Lyon. When you become a laughing stock, the game's up.
But then there's always been a touch of the pantomime about Mustafi's methods ('He's be-HIND you, Shkodran!'), and while the modern-day phenomena of messageboard mobs and finance-focused fans have played their part, there is a sense that his Arsenal demise owes something to a more time-honoured tradition: supporters just find him very annoying.
WhoScored stats might highlight his four headed clearances per game or 7.05 season rating. What they won't record is the number of times he's followed up a needless barge on a boxed-in forward with a pained, pleading gesture at the referee. Or all the occasions he has instinctively berated a team-mate in the wake of a goal which, at least partly, is on him.
These are faults, on an exaggerated scale, which all supporters recognise in their five-a-side team-mates and – hell – quite possibly in their own behaviour. Football fans can be forgiving sorts, but maybe in the end, Mustafi became a mirror Arsenal's no longer wanted to look in.
EXPLAINEDHow Champions League reforms mean the League Cup risks being scrapped
While you're here, why not take advantage of our brilliant subscribers' offer? Get 5 issues of the world's greatest football magazine for £5 – the game's greatest stories and finest journalism direct to your door for less than a pint in London. Cheers!
NOW READ
EXPLAINED How realistic is a salary cap for clubs in the Football League? We asked an expert…
QUIZ! Can you name all 55 players to score in the Premier League so far in 2019/20?
WATCH Premier League live stream 2019/20: how to watch every game from anywhere in the world
Thank you for reading 5 articles this month* Join now for unlimited access
Enjoy your first month for just £1 / $1 / €1
*Read 5 free articles per month without a subscription
Join now for unlimited access
Try first month for just £1 / $1 / €1
Get FourFourTwo Newsletter
The best features, fun and footballing quizzes, straight to your inbox every week.