How realistic is a salary cap for clubs in the Football League? We asked an expert…
Bury have met their tragic fate, and Bolton's two-week countdown has begun. As football finance guru Kieran Maguire points out, clubs' wage bills are the major concern with secure futures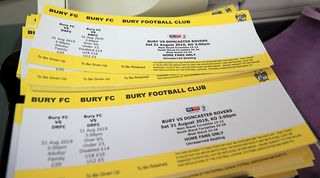 Kieran Maguire is a Senior Teacher in Accountancy at the University of Liverpool and runs the excellent priceoffootball.com (opens in new tab)
What did Notts County, Reading, Morecambe, Southend, Bolton, Bury, Macclesfield and Oldham have in common during the 2018/19 season?
The answer is that they all failed to pay wages at least once, leading to some commentators suggesting that a wage cap is needed in the domestic game.
But how much is too much?
UEFA recommend that clubs pay no more than 70% of their income in wages. In the Premier League, this 'red line' was surprisingly exceeded by eight clubs in 2017/18, the last season for which there are published figures.
What's noticeable in the top flight is that the self-styled Big Six are all well below the danger limit – the clear significance that participation in UEFA competitions has for their income totals.
The three clubs relegated that season, Stoke, West Brom and Swansea, all exceeded the danger level – perhaps due to broadcasting money being distributed by the Premier League via clubs' final position in the table.
Championship: the Wild West of football finance
The figures are far more alarming in the Championship. Over the past five seasons, second-tier clubs have generated income from matchday, broadcasting, commercial and parachute payments of £3.03 billion. Wages in the same period? £3.13 billion.
The biggest rise in that period took place in 2016/17, as the new Premier League TV deal kicked in and resulted in a 70% rise in cash from BT and Sky. This filtered through to the EFL in the form of increased parachute and solidarity payments – effectively, handouts from the Premier League to EFL clubs that don't receive parachute payments. These increased from £2.3m to £4.3m that season.
In 2015, former Tottenham owner Alan Sugar said that the top flight's new TV deal would be like 'prune juice' – that is, the money inherited from it would simply "go in one end and out the other".
He's been proved correct. Increases in income have been immediately converted into wages as agents and players have demanded their share of the extra TV money, as evidenced in 2016/17 by a £167m income boost being absorbed by a £161m rise in staff costs.
The following season, wages in the Championship increased by an additional 11% as clubs such as Aston Villa, Birmingham and Derby went for broke under owners who wanted promotion at all costs – resulting in near liquidation, a nine-point penalty and creative accountants inventing cunning schemes that would make Baldrick in Blackadder doff his cap.
With Championship clubs coughing up more in wages than they're generating in income, they are making losses before they even pay for switching on the floodlights.
Wage spending at this level has led to losses in the Championship doubling over the last five years, up to £570m in 2017/18, despite the theoretical restraint of the EFL's 'profitability and sustainability' version of Financial Fair Play (FFP).
These losses can only be financed by player sales (which tend to be volatile from season to season), owners underwriting them (risky given events at Villa, Bolton, Sunderland and other clubs where the owner is in a can't pay/won't pay situation), or by clubs agreeing to some form of wage restraint.
There seems to be little will for this from club owners, however, and ultimately they're the ones who will vote on any changes to how club finances are organised.
Leagues One and Two: Acronym City
There is (in theory, anyway) already wage control in existence via the snappily named 'Salary Cost Management Protocol' (SCMP) rules – part of the EFL's 108-page document that governs FFP. Player wage costs are broadly restricted to 60% of income in League One and 50% in League Two.
But not all clubs in the lower leagues publish wage data, with many using legal loopholes to avoid disclosing it. The clubs that do show their wage costs reveal that most are above the UEFA-recommended 70% threshold – some by huge amounts.
So how do clubs manage this when they have the SCMP limits? Well, the answer can be found by carefully reviewing the regulations' small print.
Different interpretations of income and what constitutes player wage costs mean that the emphasis from some clubs is on 'compliance' with the rules, rather than keeping a lid on wages. Chesterfield were fined £12,500 in 2018 (opens in new tab) by the FA for paying them through a third party.
Types of wage cap
There are, realistically, two types of wage cap that could be implemented. There could be a 'hard' cap, where every club is given a maximum total wage bill to spend on players. It's good for competitive balance, so highly unlikely to be supported by those clubs that have a financial advantage over their rivals.
The alternative is a soft cap, where the wage bill is a percentage of income – perhaps like in MLS, where clubs can have one or two marquee players whose pay packet is excluded from the wage total.
Conclusion and recommendations
Football clubs, especially those in the EFL, are in increasing danger of insolvency and there is no doubt that poor wage cost control is a significant contributory factor.
A cap would cause havoc in the Championship, however, given the financial disparity between clubs because of parachute payments up to £41m. The result would surely be promotion and relegation becoming even more of a yo-yo situation.
Even if rules are implemented, clubs will look for loopholes; some reckless owners are impatient for promotion and want to spend their money on players. In 2015, Derby County signed Tom Ince but paid his mother £700,000 (opens in new tab) for 'scouting services' to avoid increasing the wage bill too much. Ex-chief executive Sam Rush agreed 10 'sham' player scouting agreements, according to court papers filed against him.
Will they ever learn? This cannot go on.
While you're here, why not take advantage of our brilliant subscribers' offer? Get 5 issues of the world's greatest football magazine for £5 (opens in new tab) – the game's greatest stories and finest journalism direct to your door for less than a pint in London. Cheers!
NOW READ...
EXPLAINED How did Bolton Wanderers get here? Featuring Pink Floyd, Laurence Bassini and an angry magician
QUIZ Can you name newly promoted Premier League teams' top goalscorers over the past decade?
LIST 11 Premier League players who scored once – but made it an absolute corker
WATCH Premier League live stream 2019/20: how to watch every game from anywhere in the world
Thank you for reading 5 articles this month* Join now for unlimited access
Enjoy your first month for just £1 / $1 / €1
*Read 5 free articles per month without a subscription
Join now for unlimited access
Try first month for just £1 / $1 / €1