How Spurs got it so wrong while City got it very right – and it's nothing to do with money
Four-and-a-half years on from pipping Man City to the Champions League, Tottenham have fallen light-years behind them. Rory Smith examines why...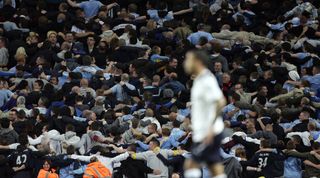 At the time, it felt seminal. Like the sort of moment that might, in years to come, be hailed as the moment, the well-spring and the watershed, the end of one experiment and the start of an era. Looking back now, in the sharp focus of hindsight, it was nothing of the sort. It was a finger in the dyke, a scream into the wind.
MCFC 23, THFC 8
Since summer 2010:
14.08.10 Spurs 0-0 City
10.05.11 City 1-0 Spurs
City 3rd, Spurs 5th
28.08.11 Spurs 1-5 City
22.01.12 City 3-2 Spurs
City 1st, Spurs 4th
11.11.12 City 2-1 Spurs
21.04.13 Spurs 3-1 City
City 2nd, Spurs 5th
24.11.13 City 6-0 Spurs
29.01.14 Spurs 1-5 City
City 1st, Spurs 6th
A little more than four years ago, in May 2010, Manchester City and Tottenham Hotspur found themselves on precisely the same step of English football's great golden pyramid. Not in roughly the same place, not in comparable realities, not aiming for vaguely the same thing: precisely the same step.
Theirs was the Premier League's great undercard rivalry. Chelsea and Manchester United was still the headline act, but City's tussle with Spurs felt like something about to break, the two young bucks competing for the right to challenge the stags. There was a sense that this was the next generation, a new order in the making.
May 2010 was supposed to be the first great bout. Only four years ago, but football moves so fast that it feels like a lifetime. Harry Redknapp's Spurs travelled to the Etihad – before it was even the Etihad, when it was still good old down-at-heel Eastlands – for one of those end-of-season showdowns the Premier League fixture list seems to throw up, completely by coincidence, every single year.
The scenario was perfect. Roberto Mancini's City had to win, nothing else, to retain any hope of entering the Champions League for the first time. Spurs would seal their place by denying their hosts that victory. Liverpool were in disarray that year; the Big Four, that suffocating cartel, had been broken. Winner takes all; dead man's boots.
The build-up to the game had been bad-tempered. Redknapp had accused City of bully-boy tactics in their pursuit of Craig Bellamy, claiming they had threatened to gazump his bid for Wilson Palacios if he did not honour their claim to the Welsh striker. That was the role City had, then: the arrogant arrivistes, brazen and brash in their thirsty pursuit of glory.
Spurs were their contrast: run, broadly, the right way by Daniel Levy, Joe Lewis's proxy on the ground, according to strict economic logic, selling high and buying low, the counterpoint to new-money City. If Sheikh Mansour's plaything were trying to pay their way into the Champions League's exclusive club, Spurs were determined to haggle with the doorman.
It took 82 minutes to separate them before Peter Crouch scored the only goal. Spurs had landed the knockout blow. They would be in the Champions League; City, poor accursed City, still able to snatch defeat from the jaws of victory even when soaked in the sort of wealth to make Croesus green, would have to wait. At that stage, two years into their new dawn, it looked like they might have to wait forever. They would not.
It's not all about the money
City and Spurs meet at the Etihad this weekend. Their games no longer have the feel of a blossoming rivalry. Since that game, City have won the FA Cup, League Cup and Premier League twice; Spurs, well, have not.
The temptation is to follow Redknapp's thread and make it about the money. That, for Spurs, is quite a soothing narrative: it takes their destiny out of their own hands, removes from them the responsibility of agency. And, to some considerable extent, it is true. But money, hundreds of millions of pounds of it, is not the only thing that has helped City streak away from their one-time peers. Far from it.
Just as in May 2010, this City, the established-power City, are everything that Spurs are not. They are a club that knows very clearly where they are going, and how they are planning on getting there. It would be naïve, blind, to pretend that the money has not helped, but it would be unfair to pretend that it has not been used extraordinarily effectively.
The way City have built themselves, at lightning speed and yet somehow with a degree of patience, is admirable. They have marked out the milestones in their journey – fourth place, title challenge, title win, Champions League quarter-finalists (this season), Champions League contenders (two seasons on) – with pain-staking deliberation.
They were mocked for dismissing Roberto Mancini for his failure to grow the club "holistically", the new-age language jarring in a game still redolent of the golf club and the pint glass, but that is the best word to sum up City's approach.
They wanted a vision, a philosophy, so they brought in Txiki Begiristain and Ferran Soriano, who had helped nurture just such a thing at Barcelona. Then they got rid of Mancini, that wilfully firebrand Italian, for a manager who resonated more with their project. They talk a lot about projects. They have a project to rejuvenate East Manchester, a vast swathe of it, into the Etihad Campus, where they will train this year's first team and cultivate their replacements, all playing the same style of football.
They have displayed, too, a desire to be taken seriously. That is why they threatened Redknapp with the lawyers four years ago; that is why they have treated managerial sackings with ermine ruthlessness, lining up the replacement before the incumbent is sacked. They have shipped out any player who did not help that image and brought in more level-headed alternatives.
At every level of the club, they wish to be the best they can be. One applicant for a job on their digital team was told the aim was to have the "best website in the world" – not the best football website, just the best website. They got Jamie Oliver in as a consultant on the food offered at the stadium. For a long time, Simon Pearce, one of the Middle East's most respected PR gurus, was one of the most influential figures at the club. You can tell how good he is by the fact that you have probably never heard him speak.
There has always been a sense of direction about City. There have been missteps, of course, provocative posters and poor signings. The same, of course, cannot be said of Tottenham.
It would be unfair to pretend Spurs come off badly in every department in which City have succeeded. It would be foolish to think Levy and Lewis do not have a destination in mind for their club – a new stadium, a regular presence in the Champions League – but it does not seem unnecessarily curt to suggest they do not seem entirely clear on how they want to go about it.
Levy has toyed with a Director of Football model – first Damien Comolli and now Franco Baldini – but then abandoned it when it has not brought immediate success, despite the fact that such a system is not really designed to pay off straightaway.
His taste for dispensing with managers is well-known, but it is more the apparent lack of consistency in appointing them that is troubling. A foreigner doesn't work, so in comes a native. A wise old head doesn't work, so in comes a prodigy. None of those work, so here comes Tim Sherwood, groomed by Levy for years as a future manager, then effectively written off as the current one a fortnight into the job.
It is the same with players. There is no clear recruitment strategy, beyond the need to sate a new manager's demands for fresh blood. Levy wants a team that is successful in the short-term, but he prioritises buying the sort of prospects who can only ever prosper in the long, running a microwave club at slow-cooker heat.
That, as much as the money – almost as much as the money – is what has separated City and Spurs from that brief moment when they stood in the same place, on each other's toes. City have got the temperature just right to bring themselves to the boil. Tottenham have developed a nasty habit of scalding themselves. That game was the moment. It was just not the moment we thought it was.
Thank you for reading 5 articles this month* Join now for unlimited access
Enjoy your first month for just £1 / $1 / €1
*Read 5 free articles per month without a subscription
Join now for unlimited access
Try first month for just £1 / $1 / €1
Quizzes, features and footballing fun
Get daily World Cup 2022 news, updates and other football frolics to your inbox
Quizzes, features and footballing fun
Get daily World Cup 2022 news, updates and other football frolics to your inbox
Thank you for signing up to Four Four Two. You will receive a verification email shortly.
There was a problem. Please refresh the page and try again.