How Sunderland have to fix Di Canio's failings
Where Paolo went wrong - and how to put it right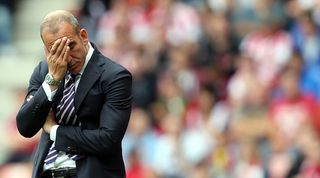 Almost inevitably, the end of Paolo Di Canio's brief reign as Sunderland manager was brought about more by off-field antics than the actual performances of the Black Cats. With stories of a player revolt taking precedence over all else, little genuine thought has been given to the displays the Wearsiders have served up thus far this term.
Indeed, while Di Canio was not removed entirely because of his side's poor results – they garnered just one point from five games before he was dismissed – it remains that Sunderland's problems run far deeper than the eccentricities of their former manager. His replacement, whomever it may be, has some very real issues to resolve if the club is to avoid a first relegation in seven years.
Central midfield woes
Sunderland's greatest problem is one which has plagued them for the better part of three years: the centre of midfield. To his credit, Di Canio found a short-term fix: bypass it. Recognising the squad's lack of quality there and thus the inability to control games, the Italian emphasised a style that focused on getting the ball forward as quickly as possible, stealing the ball from the opposition high up the field and looking to make quick transitions.
Initially, he found great joy. Buoyed by a new manager, Sunderland's players were eager to impress; during the rampant 3-0 victory over Newcastle United in April's Tyne-Wear derby, they looked to steal the ball all over the pitch, notching a hefty 20 interceptions and scoring three goals on the counter-attack in a game where they had just 34.2% of possession.

However, the tactic was never likely to last, at least as long as Di Canio insisted on only selecting two central midfielders. In his final game, a 0-3 defeat at West Brom, his side made a paltry nine interceptions, with Ki Sung-Yeung the only midfielder in the side to contribute to that tally. Di Canio's torrid man-management skills no doubt contributed to this – his players no longer wanted to play for him – but the continuing selection of inadequate midfielders such as David Vaughan and Craig Gardner also contributed to the downturn.
Shorn of Alfred N'Diaye, who impressed in the latter days of last season, Di Canio bafflingly turned to the likes of Vaughan, Gardner and Sebastian Larsson, despite the three having proven over successive seasons that they are not the answer. Defensively they suffer from a lack of positional awareness; in an attacking sense, they are neither mobile nor incisive.
Interim head coach Kevin Ball's reintroduction of Lee Cattermole to the lineup against Liverpool was the correct move. Ostracised under Di Canio, the former captain offers a grit and determination much needed by a midfield so short of genuine quality. Whereas Crystal Palace had succeeded against Sunderland with numerous central dribbles, Liverpool were frequently snuffed out. This was due to both Cattermole's presence and the decision to select three central midfielders instead of two.
From an attacking point of view, Swansea loanee Ki Sung-Yueng could prove key to the Wearsiders' ambitions. Against Liverpool, he created three chances in the final third and didn't misplace any of his 20 passes there, spreading the ball the width of the field. With Cattermole providing the anchor, the tidy South Korean offers a passing ability unrivalled by his teammates. By comparison, Vaughan, against lesser opposition in Crystal Palace, could offer only nine successful final third passes, with only one going forward into a central area.

The role of full-backs
The performance against Liverpool was the red and whites' best of the season. However, for the fourth league game in succession they conceded three goals. Despite an improved attacking display, a defence that spent much of last season looking impervious is now worryingly porous.
Last season's defensive prowess was partly a product of Martin O'Neill's negativity. Perhaps understanding the limitations of his squad, the Ulsterman set his side up to defend first and foremost: he discouraged attacking in numbers and pegged his wide defenders back, leading to impotent attacks and infrequent goals.

Di Canio sought to change this. Realising Sunderland's profligacy, he encouraged his full-backs to attack with vigour, looking to support every possible move forward.
Worryingly, he failed to realise that this would leave his side subject to opposing counter-attacks, particularly when he neglected to choose a midfield anchor who could sit while those around him moved forward. Box-to-box worker Cabral played well in the opening home defeat to Fulham, but the Cape Verdean was subsequently dropped from his manager's plans altogether.
Arsenal's opening goal in their 3-1 victory at the Stadium of Light three weeks ago laid clear the imperfections in Di Canio's system. Right-back Ondrej Celustka was expected to be a consistent attacking threat, often receiving the ball well into the opposing half.

When moves broke down, Sunderland were inevitably and invariably wide open, with no anchoring midfielder to cover the gaps left at the back. Arsenal's opener came from a straightforward ball upfield to Mesut Ozil, who played in Oliver Giroud to open the scoring with the simplest of goals.
It was far from the exception to the rule: time and again this season, Sunderland have found themselves struggling to deal with simple direct balls. Going back to last season, the 1-6 thrashing at Aston Villa saw much the same occur.
Defending set-pieces
Di Canio also changed how Sunderland sought to defend set-pieces. The existing system of zonal marking at corners was ditched in favour of more traditional man-marking. This may have been Di Canio's own individual preference, or perhaps a pointed attempt to make a clear break from the O'Neill era.
But the Italian's decision to change this aspect of Sunderland's play was rather baffling when we consider that it was one of the few things the side was good at before he arrived. In O'Neill's 55 league games, Sunderland's zonal marking allowed a minuscule two goals from corners. Going back to the beginning of the 2011/12 season and the latter days of Steve Bruce – who also favoured zonal marking – that figure becomes just three league goals conceded in 69 games.
Under Di Canio's man-marking strategy, the team conceded four goals from corners in just 12 league games. In the season opener at the Stadium of Light, Fulham managed just one corner – and scored from it. Where the Black Cats were once supremely confident in defending wide set plays, now they looked vulnerable.
Even during that 3-0 win at Newcastle, widely seen as the best performance of the Di Canio era, the signs were evident: the Magpies won five duels out of the nine corners that were lofted into the Sunderland area, while across the pitch the home side won an average of three our of four aerial duels.

Despite Ball's decision to revert to the zonal system against Liverpool, Sunderland conceded yet another goal from a corner, suggesting a real crisis of confidence amongst the players when it comes to defending this type of attack. True, Daniel Sturridge bundled the ball home with his hand and Seb Larsson should have done better on the post, but the Liverpool forward was unmarked some four yards out from goal.
Some blame can be laid at the door of goalkeeper Keiren Westwood, who is tentative about coming off his line, but whoever takes charge at Sunderland must make a return to defending set-pieces correctly a major priority.
The way forward
There are a number of problems facing the next Sunderland manager, but reducing the number of goals conceded is surely top of the list. Although Liverpool scored three last weekend, Ball has already gone some way towards doing this by abolishing Di Canio's ludicrously ambitious 4-2-4 formation. The Italian's desire to play inventive, attacking football was admirable; his inability to recognise he did not possess the personnel to do this was less worthy of praise.
Ball's reversion to a flexible 4-3-3 system (changing to a 4-5-1 without the ball) offers hope, even with the next visitors to the Stadium of Light being mighty Manchester United. With Cattermole, Larsson and Ki in the central roles, wide attackers Emanuele Giaccherini and Adam Johnson got into much more promising positions without leaving the team constantly wide open to the counter-attack.
Giaccherini crowned a fine display with a goal and, while Johnson had an off-day, it showed that the club does still have some quality players at its disposal. What the new manager must do is work out how to get the best out of them without compromising the side's defensive responsibilities. Whatever the off-field antics, this was an area in which Paolo Di Canio failed abjectly.
Chris Weatherspoon writes for RokerReport.com, among others
ALSO ONLINEThe FourFourTwo Preview: Sunderland vs Man United
Thank you for reading 5 articles this month* Join now for unlimited access
Enjoy your first month for just £1 / $1 / €1
*Read 5 free articles per month without a subscription
Join now for unlimited access
Try first month for just £1 / $1 / €1
Get FourFourTwo Newsletter
The best features, fun and footballing quizzes, straight to your inbox every week.