Incredibly low bundle deal for a PS5 + EA Sports FC 24 released by Amazon at the end of Cyber Monday
Christmas has come early for football fans with a record low price for a PS5 + EA Sports FC 24 dropping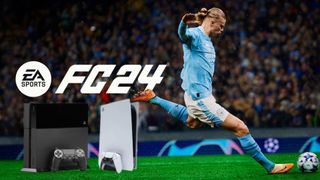 (Image credit: EA Sports/Sony)
Cyber Monday is almost over but online deals are still dropping left, right and centre and I've spotted an amazing bundle deal for a PS5 + EA Sports FC 24 from Amazon that is unlikely to be beaten this year.
The new EA Sports FC 24 game is still fresh and if you've playing on a PlayStation 4, or were considering buying the title for this platform you should seriously consider an upgrade to a new-gen console while this offer is still around.
Christmas is just around the corner, so this would also make for an incredible gift to place under the tree for that football fan in your life.
Amazon's latest deal nets you the game and console for just £399.99!
Please note, this is one of the most volatile deals of the week, with the price flexing by over £100 depending on which way the Amazon wind blows.
My advice? Sit tight, and keep trying the link!
I should point out that PS5 consoles typical RRP is £539.99, so adding a copy of EA Sports FC 24 basically means that you're getting the console for much cheaper – with a "stupendously fun, ridiculous celebration of football" thrown in.

Not my words, but the words of FourFourTwo's official EA Sports FC 24 reviewer, Ed McCambridge.
This unreal bundle deal may not be around forever – so act fast. Don't forget to check out our Cyber Monday live football hub. We'll be adding the best deals as and when they drop between now and the end of the day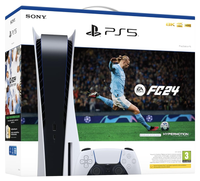 Sony PlayStation 5 + EA Sports FC 24
Was: £539.99
Now: £502.32
More soccer savings
Our live hub is where we will be posting the latest Black Friday soccer deals
Black Friday: Best football shirts deals
Bargain! EA Sports FC 24 + controller bundle hits lowest ever price in Black Friday deals
Thank you for reading 5 articles this month* Join now for unlimited access
Enjoy your first month for just £1 / $1 / €1
*Read 5 free articles per month without a subscription
Join now for unlimited access
Try first month for just £1 / $1 / €1