Irked Ozil the real loser in Wenger's new system – and it's unlikely to change anytime soon
The World Cup winner has been marooned on the wing again this season, but he's drawn the short straw for a reason, writes Thore Haugstad...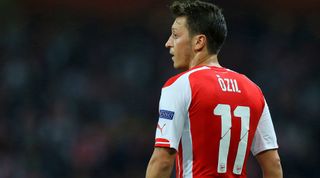 When Mesut Özil lines up against Borussia Dortmund tonight, he may be forgiven for casting an envious look at Shinji Kagawa. The Japanese playmaker has been unshackled from his left-wing role at Manchester United, and crowned his second debut with Dortmund by scoring in a 3-1 win over Freiburg on Saturday. The choice of his position was a no-brainer for Jürgen Klopp, who last year despaired at how United 'wasted' Kagawa by playing him wide. The Japanese, a central attacking midfielder, would of course play in the centre.
Özil is not so lucky. Having initially impressed after his £42.5 million move from Real Madrid last year, the fleet-footed Gelsenkirchen native has gradually been shifted out wide. Culpable is Arsène Wenger's 4-1-4-1 system in which the anchoring Mathieu Flamini allows Aaron Ramsey and Jack Wilshere to move forward.
It has assigned Özil tasks ill-suited to his languid nature, such as tracking dynamic full-backs, all while robbing him of his natural game. A dip in form was logical, yet a stream of criticism has still come his way.
In a Telegraph interview in late August, the 25-year-old offered a reminder of what might be the problem. "I'm one of the best players in the world in that No.10 position," he said. "It is different playing on the left."
He elaborated by saying he even preferred the right wing to that side, as it enabled him to cut inside and deliver that final pass. The message has gone unheard. In the three games since, Özil has started each one on the left. Zero goals, zero assists.
Same old Arsene
The move is classic Wenger. A long list of playmakers have joined the Frenchman's team as central midfielders, only to be moved wide. But while most have had the validating characteristic of being reasonably hard working, the same cannot be said of Özil. He is a rather more precious and luxurious commodity that demands to be used in a very particular way.
And that way is an unrestricted attacking midfield role. Özil's chief strength is his intelligent movement, especially when leaving his central position to help overload the flanks. In this context, his current role creates a paradox. These days Özil drifts inside from wide, much like your average playmaker-turned-winger. But his natural game is about doing exactly the opposite.
Arsenal's first home game in the Champions League last season exemplified Özil in his natural habitat. He scored one and assisted another to inspire a convincing 2-0 win over Napoli. Unburdened by defensive duties, he frequently drifted wide to seek out pockets of space. His pass completion hit 91%, his movement was varied and his influence profound. Contrast that with the draw against Manchester City last weekend, where he wandered into central areas, delivered fewer passes and completed 81% of them.
Lefty loser
True to Özil's own remarks, he is particularly efficient down the right. The passing angles suit his left foot and team-mates are easier to connect with. When he manages to cut through the opponent's defensive block (to borrow a phrase from the André Villas-Boas dictionary), it tends to happen down that side.
The first of two meetings between Arsenal and Dortmund last season, in which the Germans won 2-1 at the Emirates, illustrated the same point. Özil again sought out the right side, spending little time in the centre. He created three chances from open play.
In general, there is a fundamental difference between starting out wide before drifting inside, and starting centrally before drifting out wide. And particularly for Özil. Firstly, he is deceptively quick and thrives on both releasing and providing overlaps. This is best used near the touchline. Secondly, he needs others to combine with. When playing as a winger, Özil often comes one-on-one against the full-back when in possession out wide. His team-mates will all be positioned centrally, perhaps except his own full-back. This sometimes leads Özil to dribble against organised defences inside the final third, which has never been his speciality.
Özil has limited finesse beyond his outstanding passing ability. There are no tricks, no stepovers. Rather, he excels at combining with others – quickly and intelligently. Comparing the games between Napoli and City, it is notable how often Özil trades passes with his full-back when inhabiting the No.10 role. The overlapping element is crucial.
Energy is another key component. When used as a playmaker Özil conserves power for attacking bursts. On the wing, much of this is wasted on sporadic defensive jobs. Even if the commitment and required stamina had been inherent – it clearly is not – Özil's sometimes-oblivious attitude and lack of positional awareness creates risks anyway. The way Seamus Coleman snuck in behind him to score for Everton last month underlined those flaws.
Sacrificial lamb
For all this, few signs suggest Wenger will alter his system. If anything, Wilshere's recent comments about wanting to score more goals may solidify the status quo. Another factor against change is Ramsey's fine form. With the roles of Alexis Sánchez and Santi Cazorla largely untouched, the only real loser is Özil.
Arguments can be made for and against Wenger. With many players thriving in the current structure, reverting to 4-2-3-1 to cater for one player seems unproductive. Yet a cornerstone in any manager's strategy is surely to maximise the influence of his most gifted player.
Whichever compromise should be made, one eternal truth is that all players are at their best in their natural position. It will be Kagawa, not Özil, who will be one to watch this evening.
Quizzes, features and footballing fun
Get the best features, fun and footballing frolics straight to your inbox every week.
Thank you for signing up to Four Four Two. You will receive a verification email shortly.
There was a problem. Please refresh the page and try again.