Jesse Lingard contract doesn't explain what it is that he does
Manchester United are willing to pay big money for Jesse Lingard to do his thing, Back of the Net reveals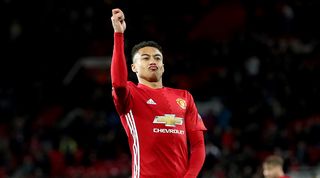 Jesse Lingard has signed a new contract at Manchester United to keep doing whatever it is that he does for the club, the club has announced.
In a brief statement on United's website it was confirmed that Lingard would be paid a sum approaching £100,000 per week, but the club were less forthcoming about what they wanted the 24-year-old to do to earn that pay packet.
"We are delighted to announce that Jesse Lingard has signed a renewed contract that keeps him with Manchester United until 2021, working in the same capacity as he currently works for us," a Manchester United spokesman told FourFourTwo.
"Jesse is highly valued at Manchester United for all the many things he does for us. Those many, clearly tangible things which may include but not be limited to playing on the wing, or in the centre, or working shifts in the club shop."
The news of Lingard's new deal has been met with some cynicism from United supporters, but it has been very warmly received by Jesse Lingard.
"They asked me to name a number, so I said 100,000 because that's the biggest number I know," Jesse Lingard told FourFourTwo.
"Well, to be fair, first I said infinity and then infinity plus one, but United are shrewd negotiators and pointed out that wasn't possible, so I'll settle for £100,000 per week.
"United have never sent me a job spec, and until they do I'll just continue doing what I am doing. Whatever that is."
Please note: This satirical news story is not real. Like, obviously.
More funny stuff • New features you'd love on FourFourTwo.com
Quizzes, features and footballing fun
Get the best features, fun and footballing frolics straight to your inbox every week.
Thank you for signing up to Four Four Two. You will receive a verification email shortly.
There was a problem. Please refresh the page and try again.