Jose Mourinho threatens Alexis Sanchez's dogs to test his loyalty
Sanchez's beloved pets the latest victims of Mourinho's methods, Back of the Net reveal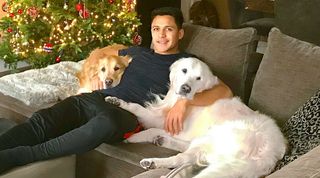 Jose Mourinho has ordered Manchester United officials to euthanize Alexis Sanchez's beloved pets, to ensure his total commitment to the Old Trafford project.
After securing the Chilean's signature, Mourinho ordered a hit squad of highly trained 'special operations' vets to infiltrate the Sanchez family home and liquidate golden retrievers Atom and Humber.
"There is no room for sentimentality in this Manchester United team," Mourinho said, while stroking a long-haired white cat. "There is no room for emotion. There is no room for love.
"There is room only for the full-court press, the tactical periodisation, the inverted Christmas tree and, occasionally, the parked bus. Dogs do not feature in this picture. Not even good boys like Atom and Humber.
"Alexis can accept my methods," Mourinho said. "Or he can discuss his options with the club's chosen representatives in this aquarium," he added, chucking in a lump of charred meat still wearing a No.7 shirt with 'Mkhitaryan' on the back, where it was immediately set upon by ravenous tiger sharks.
Mourinho added that without the distractions of companionship and relaxation provided by his dogs, Sanchez would be free to concentrate entirely on his life's sole mission: to close down opposition full-backs.
"When Antonio Valencia came here, he was a happy-go-lucky winger known as 'Dancing Tony the Laughing Party Boy'," Mourinho added. "We made him eat his white flared disco suit while I read aloud to him from the Dictionary of Psychosexual Dysfunction.
"By the end of the first month, he was the dead-eyed machine-like full-back we all know and love - and by love, I mean impassively acknowledge."
He added that Sanchez would not be available for comment, as he was due to spend the next 72 hours in the isolation tank to test how he would react to being buried alive.
Please note: This satirical news story is not real. You'd think we didn't have to say this, wouldn't you? 
Quizzes, features and footballing fun
Get the best features, fun and footballing frolics straight to your inbox every week.
Thank you for signing up to Four Four Two. You will receive a verification email shortly.
There was a problem. Please refresh the page and try again.