Ken Monkou: What Happened Next?
"We do loads of different pancakes, with 99 different fillings. I think my favourite is banana and raisin – that's very nice"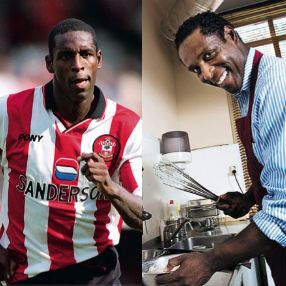 Signed by Chelsea from Dutch club Feyenoord in 1989, Ken Monkou won the Blues' Player of the Year award nine months later. The hefty centre-half then enjoyed a seven-year stint at Southampton followed by a less-successful spell at Huddersfield, where he played his final league match in 2000.
"I don't think many people realise that I finished my career at Chelsea: I went back as a reserve under Claudio Ranieri in 2003. I was going to make my second debut at the age of 38 against Aston Villa, but I pulled my calf on the Friday and young Robert Huth made his debut instead. That would have been my last game.
Back in Holland my parents ran a bar-bistro and I always wanted to start something like that when I retired: a coffee house or a tearoom. So I went to the owner of the old pancake house I used to go to as a 16-year-old and asked if I could run around in the restaurant and get some experience. He said, 'Anytime, Ken, but you know this place is up for sale?' Eight months later I was the owner.
It's called the Old Town Pancake House, and is in a building dating back to 1682 in a really nice part of Delft, near Rotterdam. We've renovated quite a bit and been quite sympathetic to the history, so it took about eight months to get it up to what we thought was the right standard. That was two years ago and I've been running it for a year now.
I do two weeks in the kitchen and two weeks off, so I brought my mum out of retirement to rule the roost. My sister works in there as well so it's a family business, and they look after the place when I'm away.
It's quite a difference, from playing to standing behind the stove flipping the pancakes. It's good, though, and for me it's sport. Once you're busy it gets you going, as there's only two of you in the kitchen and you're trying to make 150 pancakes a day. I don't reckon any of the present players would do it!
Delft is an old pottery town, so we get a lot of English people coming on day trips. It's quite funny seeing their faces when they walk in and go, 'I know him from somewhere.' We've had a couple of Chelsea fans over because someone took a picture of me there and they got hold of it, so I'm sure my old team-mates will start coming over to get free pancakes too. It's all good fun and I love working here because I'm a real people person.
Pancakes are very traditional in Holland, and we do loads of different ones, with 99 different fillings. I think my favourite is banana and raisin – that's very nice – but I don't get tempted too often. Once you've been in the kitchen all day, for about 10 hours, the smell, the taste, the look of them... No! No! No!
We don't really have any plans to expand – it's just a little family business that fell into my path. I guess you could say I've got enough on my plate!"
Interview: Si Hawkins. Kitchen portrait: Regi Blinker (no, really). From the November 2008 issue of FourFourTwo.
Thank you for reading 5 articles this month* Join now for unlimited access
Enjoy your first month for just £1 / $1 / €1
*Read 5 free articles per month without a subscription
Join now for unlimited access
Try first month for just £1 / $1 / €1
Get FourFourTwo Newsletter
The best features, fun and footballing quizzes, straight to your inbox every week.