Leicester fan convinced his team has got haters
Everyone's biased against the Foxes, deluded man tells Back of the Net...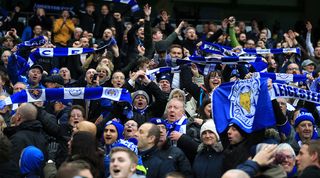 A Leicester City supporter cannot wait to put one over on all the people he imagines have been desperately waiting for his team to slip up.
Toby Best, 26, is ecstatic about the Foxes' unprecedented title charge, partially for the glory but mostly so that he can stick it to everyone he believes has disliked Leicester for years.
"That one was for the haters," Best said of Leonardo Ulloa's winner against Norwich that kept his side on course to win the league. "When that went in they must have choked on their anti-Leicester dinners.
"I know we've always been the team the whole country loves to hate," he continued, referring to the medium-sized Midlands club that not even Coventry fans can muster the energy to hate. They hate Showaddywaddy, Richard III and the National Space Centre, but they hate Leicester City most of all.
"They're always slagging us off for spending so little money and for hiring Claudio Ranieri, who's pretty much public enemy No.1. The neutrals are especially desperate for us to slip up, because everyone hates an underdog. I suspect they're burning effigies of Riyad Mahrez as we speak."
Agenda
Best conceded that the haters had been relatively quiet recently, which he attributed to Leicester's form, and not the possibility that the whole country wants to see them win the league.
"Every biased so-called journalist wants Arsenal or Manchester City to win it," said Best. "And I know for a fact they're all praying Jamie Vardy gets a season-ending injury next weekend because they hate the fact he can open bottles with his teeth."
Mick Wright, Best's workmate, said: "I said I thought N'Golo Kanté was the signing of the season, and Toby said I must hate the fact he only cost £5.6 million and that I'd soon shut up when they beat West Bromwich Albion, just like all the other haters. I don't hate Leicester. I just hate Toby."
Quizzes, features and footballing fun
Get the best features, fun and footballing frolics straight to your inbox every week.
Thank you for signing up to Four Four Two. You will receive a verification email shortly.
There was a problem. Please refresh the page and try again.