Cristiano Ronaldo has imaginary friend he never passes to
By Back of the Net published
Real Madrid ace has made-up friend, Back of the Net has learned...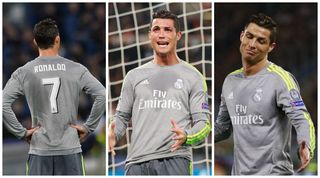 Cristiano Ronaldo has revealed he has a made-up friend who is not nearly as good at football as he is.
Ronaldo yesterday spoke publicly about his closest friend, João, a winger or centre-forward whose career has been hampered by a lack of natural ability, and by not existing.
The Portuguese star recalled how he would always speak to João in preference to living, breathing acquaintances, and how the two would play football together, with Ronaldo regularly besting his imaginary opponent.
Play mate
"João understands me better than any of my actually-existing team-mates or coaches," Ronaldo told FourFourTwo. "He doesn't laugh at my fashion choices or tell me to track back or remind me I'm not as good as Lionel Messi. That's why he's my best friend.
"Plus, he never pretends he's anything like as talented as me, or good looking, or rich," he added. "I'd say he's as skilful as Karim [Benzema], and as handsome as Gareth [Bale], which is to say, not skilful or handsome at all compared to me, Cristiano."
Never passes
The 31-year old said that João moonlighted as a journalist who asked nice, supportive questions, and a fashion advisor who shared Ronaldo's opinions about shiny pants.
He added that it was João's willingness to admit his inferiority, though, that made him truly value their friendship.
"My favourite thing about João is when he says it doesn't matter if I never pass to him, or Luka [Modric], or James [Rodriguez], or Miguel [Ronaldo's other imaginary friend]," Ronaldo said.
"So I don't. Luka and James and Miguel get upset, and Miguel says he will hunt me down when I close my eyes and cut off my feet, but João tells me not to worry and that he will protect me.
"I think if real people were more like João, the world would be a better place."
Please note: This satirical news story is not real. But you already knew that, right?
Thank you for reading 5 articles this month* Join now for unlimited access
Enjoy your first month for just £1 / $1 / €1
*Read 5 free articles per month without a subscription
Join now for unlimited access
Try your first month for just £1 / $1 / €1
Quizzes, features and footballing fun
Get the best features, fun and footballing frolics straight to your inbox every week.
Thank you for signing up to Four Four Two. You will receive a verification email shortly.
There was a problem. Please refresh the page and try again.