Van Gaal enters toilet with pile of Mourinho CVs
By Back of the Net published
Van Gaal literally doing to Mourinho what Mourinho figuratively doing to him, Back of the Net reveal...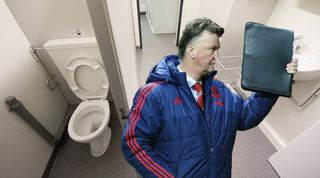 Louis van Gaal is collecting Jose Mourinho's CVs as they emerge from the fax machine and taking them with him to the bathroom, it has emerged.
Mourinho has been spent several months attempting to replace Van Gaal at Manchester United, but the Dutch maniac has declared himself unruffled by the Portuguese lunatic's repeated job applications, handwritten letters, heartfelt sonnets and desperate sky-writing.
Van Gaal said: "I am treating that preening, needy failure with all the respect he deserves. And I greatly enjoy reading his CV, especially mid-morning, after a few coffees and some porridge have loosened things up.
"It's a good CV, not too much white space. Even less by the time I'm finished, of course. I think I'll send a copy back to him with my improvements. The Special One is no match for the Special Number Two."
Economical
United midfielder Jesse Lingard said: "There's a pile of CVs by the toilet door, and another stack of them in the canteen to use as napkins. The gaffer's told us to clean our boots with them, too. Jose keeps sending them, though, so there's no chance we'll run out."
Van Gaal also announced plans to invest in Manchester United's squad, and in softer, more absorbent printer paper.
He said: "Too much time with Jose and I get this nasty rash. I think you say in England, pain in the arse. Fortunately, I flush Jose away easily, and I never think of him again, until I have a curry."
Please note: This satirical news story is not real. But you already knew that, right?
RECOMMENDED
Louis van Gaal's friends and foes: a who's who guide
Thank you for reading 5 articles this month* Join now for unlimited access
Enjoy your first month for just £1 / $1 / €1
*Read 5 free articles per month without a subscription
Join now for unlimited access
Try your first month for just £1 / $1 / €1
Quizzes, features and footballing fun
Get the best features, fun and footballing frolics straight to your inbox every week.
Thank you for signing up to Four Four Two. You will receive a verification email shortly.
There was a problem. Please refresh the page and try again.