Manchester United players terrified to find 'baby-faced assassin' not just nickname
Solskjaer is quite literally whipping United into shape, Back of the Net reports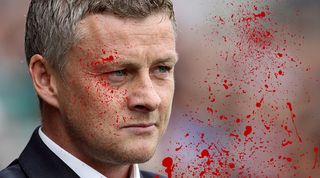 Manchester United players have come to the gradual and terrifying realisation that Ole Gunnar Solskjaer's presumed nickname, 'the baby-faced assassin', is in fact not a nickname at all.
The 45-year-old's first meeting with United players was largely a positive one as Solskjaer outlined his playing philosophy, detailed his expectations of the players in training and then harpooned Phil Jones, gutting him like a kipper.
"Ole flashed his trademark impish grin and said that he was a caretaker manager, and as such he intended to take care of us," Luke Shaw told FourFourTwo.
"Then his genial smile turned into more of a menacing scowl and the next thing we knew, Phil had been reduced to a pile of mush.
"Without pausing for breath, the gaffer then asked us where you get your lunch from and whether a few of us would 'be good lads' and scoop up the remains."
Despite the initial shock of Jones's sudden demise, the players had more or less forgotten the defender by the time they returned from lunch to find Matteo Darmian's severed head waiting for them in the changing room.
"I'll admit that [the decapitation of defender Matteo Darmian] did shake up a few of the lads," Shaw continued, a strange red spot flickering on his forehead intermittently.
"But when a new boss comes in he does tend to swing the axe. This time it has been more literal than usual but it's certainly kept us on our toes."
Group activity
Insisting that hiding the bodies and creating an inventive alibi to give to the police would be 'great for team bonding', Solskjaer was quick to point out that United knew what they were getting when they brought him in.
"I've been very open about my murderous tendencies," Solskjaer told FourFourTwo.
"Why do you think people called me 'the baby-faced assassin'? Because despite appearing to be pre-pubescent I would pop up twice in the 89th minute to score two tap-ins? That doesn't seem likely now, does it?"
Sources inside the United camp have reported that initial concern over the gruesome killings quickly dissipated when it emerged that the victims were Jones and Darmian.
"The first question on everyone's lips was: 'Does that mean we can tear up Jones's contract?' The second was: 'How quickly can you dissolve a functional centre-back in acid?'" an insider revealed.
"The squad needs some streamlining and whether that means loaning some guys out to Roma in January or brutally dismembering them is really neither here nor there."
At the time of publication, Solskjaer had asked to meet Alexis Sanchez directly behind the manager's car to 'run over a few things' with him.
Quizzes, features and footballing fun
Get the best features, fun and footballing frolics straight to your inbox every week.
Thank you for signing up to Four Four Two. You will receive a verification email shortly.
There was a problem. Please refresh the page and try again.