Marcel Desailly: Perfect XI
By Nick Moore published
"He did things that didn't seem humanly possible"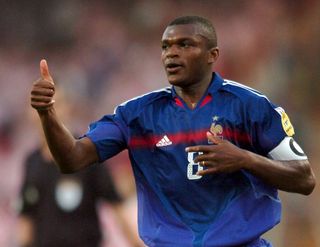 Goalkeeper
Angelo Peruzzi
He played for Juventus during my time in Italy and was the second-choice goalkeeper of the Italian squad for the World Cup in Germany. He was almost unbeatable, had perfect timing when coming out of goal and was a real cat between the posts. He was very unlucky with injuries, otherwise he would have gone on to be even better.
Right-back
Lilian Thuram
A great player and a wonderful friend. At the back he displays a rare mixture of elegance and professionalism. Not just an excellent defender, he can also be very dangerous when he goes forward as Croatia [in the 1998 World Cup] could certainly testify. I was thinking about putting him in the centre of defence but it would be a pity to limit his attacking talent.
Left-back
Paolo Maldini
A real monster. Amazing that he is now almost 40. I find it incredible he has never been World or European Footballer of the Year. Alongside Franco Baresi he was the best defender I've ever seen in my career. Although everybody tends to think of him just as a full-back, he could also play as a stopper. Most people remember that great Milan side of the late-'80s for its attacking play and for the forward pair of Ruud Gullit and Marco van Basten, but it was a team built on a very solid defence, and Maldini was the cornerstone.
Centre-back
Franco Baresi
What more words are there to describe this man? Simply the best defender of the last three decades, and the last great libero. He always seemed to know in advance where the ball would go and there was no centre-forward on the planet who was capable of surprising him. He also had very good technique when it came to playing the ball, and when he attacked, he was always dangerous. A real icon.
Centre-back
John Terry
I see certain similarities with Franco Baresi, primarily his leadership qualities. He is incredibly athletic and physically strong, but he is very fair and always plays the game correctly. The perfect captain: courageous, decent and charismatic. If I was a manager, he would be one of my first picks.
Midfield
Steven Gerrard
A wonderful player. I can hardly think of another player who can deliver a shot with such perfection and beauty. Such a versatile performer: good at winning the ball from opponents, always trying to create something for team-mates, and lethal when he shoots on goal. Also, like Terry, he is a leader.
Midfield
Zinedine Zidane
A true artist. What he could do with the ball was incredible. Only Maradona could do the same. Zizou was also a player capable of rising to the occasion at important moments, and deciding games. Remember those two goals in the final against Brazil in 1998? And that fantastic goal in the final of Champions League for Real against Bayer Leverkusen. It was a pity the way he finished his career, but nothing can erase what he did for football.
Midfield
Patrick Vieira
Two players in one. He has tremendous physique, but also sophisticated technique. And, what is very important for a modern midfielder, he has the goleador ['goalscorer'] instinct. I think is still the best player in his position, although he has problems with his muscles.
In the hole
Diego Maradona
The best player I've seen in my life. He did things that didn't seem humanly possible. When he was on top of his game, and even without training that much he was always in form, he was simply impossible to control. He decided matches alone, carrying average teams like Napoli, and Argentina in 1986, to glorious achievements. A genius. I would play him just behind my two centre forwards.
Striker
Ronaldo
I'm a great fan. I've never seen a player able to show such precise control at such a high speed. Watching him was like watching a character in a video game. Even now, though he is fatter and weaker due to all the injuries he suffered, I still think he's the best forward in the world.
Striker
Marco van Basten
I couldn't omit him. He was elegance personified. He could score in millions of different ways and always with an unbelievable touch of class. He had no weak points – he was completely two-footed, and he was strong with his head, but he didn't just score goals, he also created many, many assists. It is a shame that he stopped playing at such a young age. Had he continued into his thirties, I think he could have become a great 'number 10'.
Manager
Fabio Capello
For me, the best coach in the world. I know he is having problems at Real Madrid at the moment, but this doesn't affect my opinion. He would be the only man capable of taking my squad, packed with attacking talent, and turning it into a well-balanced team.
Thank you for reading 5 articles this month* Join now for unlimited access
Enjoy your first month for just £1 / $1 / €1
*Read 5 free articles per month without a subscription
Join now for unlimited access
Try first month for just £1 / $1 / €1
Nick Moore is a freelance journalist based on the Isle of Skye, Scotland. He wrote his first FourFourTwo feature in 2001 about Gerard Houllier's cup-treble-winning Liverpool side, and has continued to ink his witty words for the mag ever since. Nick has produced FFT's 'Ask A Silly Question' interview for 16 years, once getting Peter Crouch to confess that he dreams about being a dwarf.
Quizzes, features and footballing fun
Get the best features, fun and footballing frolics straight to your inbox every week.
Thank you for signing up to Four Four Two. You will receive a verification email shortly.
There was a problem. Please refresh the page and try again.