Mario Kempes: Perfect XI
"If you think Camacho sweats a lot as a coach, imagine how much he sweated as a player..."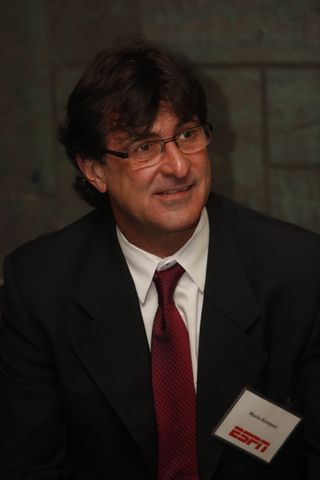 Goalkeeper
Miguel Reina
Nowadays everybody speaks about Pepe, but his father was incredible. Always in the right position, always concentrating, and always hard to play against. As a striker, you got to feel the only way to score was to shoot him first! When he retired, I felt like celebrating.
Right-back
Jose Antonio Camacho
If you think he sweats a lot as a coach, imagine how much he sweated as a player. He was like a hunting dog; wherever you went on the pitch, he went. You knew that if you looked over your shoulder, he'd be there waiting for you. He didn't talk either, he just breathed in a very strange way – "Fsst, Fsst, Fsst, Fsst"! A real nightmare.

Centre-back
Juan Carlos Arteche
You had to think twice before trying to get past him. He was the warrior of the Atletico Madrid defence and a centre-back that you would much rather have on your side than playing for the opposition. He was born to defend and break up play every time the opposition had the ball. When I hear centre-backs claiming to be tough today, I think of Arteche and laugh. Now he was tough.

Centre-back
Andoni Goikoetxea
Probably the toughest player of all time. Every time you finished a game against him, you would be thankful if you could enter the dressing room walking on your own and in one piece. Diego Maradona and Bernd Schuster weren't as lucky as me when they faced him. He comfortably tops the list of players I hated playing against.

Left-back
Paul Breitner
Excellent going forward: you never knew where he was going to get the ball. But he was still very disciplined when his team didn't have possession. In most cases, when a full-back is good going forward, he's lacking defensively, but with Breitner that didn't happen – sadly!

Right-midfield  
Junior
When someone plays for so long despite being a midfielder – where you have to run the most – it undoubtedly says something. Junior was very good with the ball but extremely accurate when making tackles and excellent at recovering possession. And the worst thing is that he played as though he was barefoot on the beach; his feet had a unique rapport with the ball.

Centre-midfield
Miguel Alonso
He wasn't tall, he wasn't big, but you didn't want to face him. 'Periko', the father of Xabi Alonso, really patrolled the pitch as though he owned it. Often you'd wait for a pass from your team-mate, only for him to jump in and steal it at the last moment. And like several others in my line-up, he wasn't afraid of a bit of physical contact either...

Left-midfield
Zico
With the six warriors I've already picked, Zico would have the freedom to do whatever he wants. Which is a terrible thing indeed if you are playing for the opposition! He was a magical playmaker with amazing quality and a super-fast football brain; by the time you realised what he was trying to do, he had already done it.

Forward
Emilio Butragueno
I like players who score goals and Butragueno was one of them. I only caught the beginning of El Buitre's career, when he was playing for Castilla and then for Real Madrid, but believe me when I say that that was enough to pick him. A relentless goal-poacher, it didn't matter to him from where or how he scored. He just scored and scored.

Forward
Paolo Rossi
Everybody remembers his hat-trick against Brazil but not only would he score lots of goals, he was also a team leader. After we lost in the 1978 World Cup at home, thanks to his goal, I started hating playing against him – but he's way too much of a nice guy to hate for long!

Forward
Juan Carlos Heredia
Perhaps an odd pick to those that didn't see him play, but Milonguita, as we called him, was an Argentinian that later became a naturalised Spaniard and played six incredible seasons for Barcelona. He had the typical attributes of a South American but also the speed and the strength of a European.

COACH
Javier Clemente
Because you simply didn't want to play against his teams!

SUBSTITUTES
Jorge D'Alessandro
Incredible reflexes and very quick. I didn't like playing against him.
Benito
If Arteche has been sent off, this is the player I'd most like to replace him with to keep the opposition suffering.
Migueli
If Goikoetxea was injured, he'd step in to show just how tough '70s football was.
Roberton Bettega
Gets his place because of that one-two with Paolo Rossi at the 1978 World Cup.
Diego Maradona
I had to play against him at Boca and at Barcelona. Too much.
Quizzes, features and footballing fun
Get the best features, fun and footballing frolics straight to your inbox every week.
Thank you for signing up to Four Four Two. You will receive a verification email shortly.
There was a problem. Please refresh the page and try again.