Martin O'Neill at Nottingham Forest: an appointment based on hope or evidence?
The club legend is replacing Aitor Karanka in the City Ground dugout – but is this really the hiring they need to stop the rot?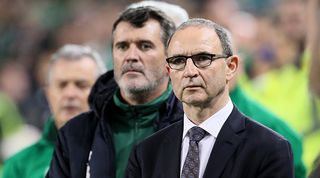 When Martin O'Neill is confirmed as the new Nottingham Forest manager this week, his will be the 20th permanent appointment since his old mentor Brian Clough sadly shuffled into retirement in 1993.
Seven of those 20 were former players at the City Ground. For some that description only loosely applies: Gary Megson spent five months there in 1984 but didn't make a league start, sold to Newcastle partly – so the story goes – because Clough was unimpressed with his habit of vomiting before games.
Others had a rather stronger connection, like Stuart Pearce, but O'Neill will be the second member (after Frank Clark) of that glorious side which went from Second Division no-marks to double European Champions in the 1970s to take the job.
History boys
Forest revel in their past more than most clubs. For their fans, this isn't necessarily a bad thing: when the present is 20 years outside the top flight with a transient squad from which the best homegrown youngsters are routinely plucked, why not enjoy a spot of nostalgia?
But those seven returning former players give the impression that this is a club unable to avert focus towards its history. Joe Kinnear, a Forest manager who it's safe to say wasn't raised in the Cloughian ideal, would complain about the pictures of when they used to win things that adorned various walls around the City Ground.
For some, history can be suffocating. Appointing O'Neill, a huge part of that history, is either an admission that it's inescapable so you might as well get someone who understands it, or simply serves as emphasis that this is a backwards-looking choice.
In an interview with the Telegraph recently, O'Neill bristled at the idea that he's "yesterday's man"; a manager whose methods are no longer suitable in modern football.
But even if you don't entirely subscribe to that idea, the basic facts do lean that way: his last club job was almost six years ago. His last successful club job ended nine years ago. He last managed in England's second tier 23 years ago.
Same again?
These are not credentials that inspire a massive confidence – and that's before you consider the style of football, which could generously be described as functional. If the club are expecting a marked improvement from Aitor Karanka – with style of play apparently one reason they dismissed O'Neill's predecessor – they might be in for a shock.
There's also the curious pattern that emerged in his latter days with Ireland, as people doggedly searched for the answer to a rather basic-sounding question: what is it that O'Neill actually does?
Assorted players would shift their eyes slightly uncomfortably and mumble something about trusting the players to do their jobs, or creating an atmosphere – but when it came to the nuts and bolts of tactics or instructions or even practising set-pieces, nobody could shed any convincing light on things.
O'Neill's former player Matt Doherty was particularly outspoken, claiming after his manager's departure: "You didn't really have that much coaching. It was more go and play a little five-a-side game or an 11-a-side game and then that would be it. You would go into a game and were thinking to yourself, 'What shape we are going to play?'
"You'd have a few players thinking, 'We are going to play this shape' or you might have someone else thinking, 'I think it might be this one'. You can't really have that, especially at international level, people not really sure on what their role is the next day."
O'Neill was reportedly furious with Doherty's comments, however, and perhaps it was merely just a clash of styles. Like Clough, the Northern Irishman considers keeping things simple as football's greatest virtue, and that can be successful. Indeed, as much of his career has showed, it has been successful.
Forest have one of the Championship's more talented squads, with the promise of new arrivals in the transfer window, and he will join with them four points outside the play-offs. Perhaps cutting through the treacle and just getting these good footballers to play good football is just the thing Forest are looking for.
As O'Neill's two-time former player Emile Heskey told FFT recently: "When you look at great managers, what do you want? You want someone who can lead players and someone who is a driving force off the field to get people to do what he wants on it. Not everyone has that knack; it takes a special type of person. He did."
Track record
O'Neill's defenders will say that he's succeeded – sometimes spectacularly – in every club job he's had aside from Sunderland, and as the last few years and a Netflix documentary have shown, that's a club where managerial souls go to die.
They'll say that while the last couple of years with Ireland were grim, that was broadly down to a rapidly diminishing talent pool and the first two-and-a-half were pretty good. In those earlier days, his Ireland had a knack of pulling a huge performance from nowhere, against Germany or Italy or Wales.
You could also argue that while O'Neill's way of doing things is perhaps not in step with the way many younger managers work, that could be a positive; a way of combating the intricacies of the modern game.
That all might sound like someone trying to convince themselves this is a good idea. Maybe it is, maybe it isn't. You won't be able to doubt his commitment, at least. O'Neill and his colleagues from the European Cup-winning teams have been brought closer to the club in recent years by the documentary I Believe In Miracles. At gatherings associated with the film, O'Neill would apparently turn to John Robertson, his old team-mate and erstwhile assistant, and say: "What do you reckon John, should we go back and fix it?"
In any case, the wider point is that if O'Neill fails, or is dismissed before his time, it won't necessarily be his fault. Forest are a club that is being run better than before, but that is a toenail-low bar to jump over. To describe former owner Fawaz-al-Hasawi as hapless would be a significant understatement, but even since Evangelos Marinakis officially took over around 18 months ago, the revolving door has continued spinning.
On it goes
O'Neill will be the third permanent boss in that time. He'll be the 12th appointment in the eight years since a manager started and finished the same season at the City Ground. That was Billy Davies. Let that one percolate for a moment. Those managers have been afforded an average of a little under 33 games each. Even Kinnear, in charge for 10 months in 2004, got 44.
Maybe O'Neill's emotional connections with the club will buy him the time that his predecessors have needed. Maybe the connections will smooth over any issues similar to those that caused a breakdown in relations between the club and Karanka. Maybe Forest need a little emotion.
But it feels like an appointment of hope and sentiment over expectation and evidence. It feels like the right man at the wrong time, the problem being that the right time was 1993.
O'Neill turned down the chance to succeed Clough 26 years ago, when he was a manager on the up at Wycombe. "I'm sure I'll probably live to regret it," he said back then, "but isn't that life?"
Quizzes, features and footballing fun
Get the best features, fun and footballing frolics straight to your inbox every week.
Thank you for signing up to Four Four Two. You will receive a verification email shortly.
There was a problem. Please refresh the page and try again.