Marvin Sordell column: As players and fans, we need to reconnect with one another
In his brand new, unghosted series on FourFourTwo.com, the Burton Albion and former England U21 striker discusses the often-complicated dynamic between supporters and stars – a give and take process on both sides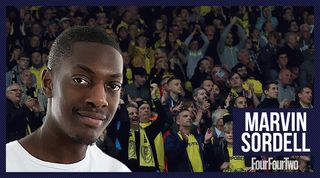 Marvin has been a professional footballer since April 2009, since when he has made over 250 appearances for the likes of Watford, Bolton, Burnley and current club Burton Albion. He has played in the Premier League, Championship and League One, won 14 caps for England's under-21s and turned out for Team GB at the 2012 Olympics.   
--
In a world where social interaction is at its peak, and where football players and football fans have direct, instant access to one other, I wonder why there is such a large barrier between the two groups at present.
Like you, I am a modern-day football fan, but I am also a modern-day football player.
We all hear stories and discuss the times gone by when players were tougher, more loyal, in touch with society and properly represented the badge of the clubs they played for. There were the one-club legends like Nat Lofthouse of Bolton Wanderers, Jack Charlton of Leeds and Tony Adams of Arsenal.
Then you had the players that no amount of money could sign – Alan Shearer at Newcastle, Matt Le Tissier at Southampton, Stuart Pearce at Nottingham Forest – and the mavericks like Paul Gascoigne, Eric Cantona and George Best. In generations gone by, these and so many other players were adored in a way which is alien now. There was a real, genuine love from fans towards them, and vice versa.
But somewhere over the last 20 years there has been a disconnect.
The other guys
Throughout my career I've been fortunate enough to play at a range of levels, including international football for Team GB and England's youth teams, as well as clubs in the Premier League, Championship and League One.
My experiences with fans have contrasted as much as the teams I've played for. Having been on the receiving end of adoration, dislike, misunderstanding, hatred and disinterest, I have a fairly well-rounded perspective on how the current generation of players are thought of.
But being a fan has also helped to shape that opinion. The general consensus is that we tend to believe players are overpaid, soft, lazy, robotic, disloyal, show ponies. But my 10 years as a professional has also given me an insight into what modern players generally think of modern day fans – hyper critical, overly emotional, fickle and intrusive.
As many other fans do, I often listen in awe to retired heroes tell stories of the shenanigans they used to get up to. As a player, however, I listen in envy and wonder how they managed to live so care free, yet still remain so loved.
Social media wasn't around of course, so rumours and gossip about what they were getting up to was spread by word of mouth to tens of people, rather than thousands or millions... all within seconds. Camera phones weren't even a figment of the imagination, let alone owned by almost everyone within touching distance, so a drunk Ray Parlour knocking over three tables in a restaurant doesn't become common knowledge until the man himself speaks of it.
What's news?
We're also living in a time where football holds a much higher news value than it used to. Stories about Raheem Sterling's toilet, Paul Pogba's emoji and WAGs have nothing to do with football, yet all carry negative implications with them.
A combination of these over time has led to players building up their walls, to protect their characters and egos from being scorned. But such a self-protective defensive mechanism presents the risk of shutting fans out, which in itself is a danger to our wonderful game.
Where football clubs have become worldwide brands and football has developed into a powerhouse industry, a bi-product is players becoming highly expensive objects rather than human beings. Further still, that explosion of increased finance throughout football is not something that replicates society. When, for example, a player may have previously been earning £250,000 per year and a fan £15,000, those sums may now look like £5 million and £30,000 respectively.
As fans we see this and believe that we deserve more from football, be it access to players, opinions on club business, a say on performances, better players or better coaching staff.
Within the business that football has become, everybody is disposable. Board members, groundsmen, managers, physios, coaches, chefs, players and kit men can all be made surplus to requirements at a moment's notice if their performances slip anything below the standard at which they are paid to adhere to. In years gone by, most were afforded the time needed to grow and develop into their roles.
Sadly change is now a regularity at every club, which we must all accept. Our favourite players may want to leave our childhood teams, just as on the flip side, fans may no longer want us to stick around as players. That merry-go-round is now the nature of this business.
We've got the love
But together, we can do more. For every soft 50/50 you may hate, there is an amazing piece of skill you marvel at. For every image-obsessed player you can't stand, there is the fitness-freak workhorse you adore. For every dive you despise, there is the player who won't go down even when he could. For every dancing celebration that annoys you, there is the player who is desperate to score goals.
For players, it's exactly the same. For every hyper-critical opinion that gets you down, there is overwhelming support which elevates you. For every group that heckles you at a game, there are the thousands of roaring others who cheer you on. For every invasion of privacy there is the child who, just like you would have, wants to see and know everything about their hero.
There are many things about modern football that we don't like, but there is far more to love.  
As fans and players, we are the heartbeat of the game. At times we have let each other down, but we must find a way to reconnect. Without passionate fans, our game is weakened. Without passionate players, our game is weakened. Without both, our game is dead.
Quizzes, features and footballing fun
Get the best features, fun and footballing frolics straight to your inbox every week.
Thank you for signing up to Four Four Two. You will receive a verification email shortly.
There was a problem. Please refresh the page and try again.