Marvin Sordell column: Let me change your mind about footballers' off-field activities
By Marvin Sordell published
In his latest unghosted story for FourFourTwo.com, Marvin explains why players need an identity outside of football – and how one club tried to prevent him taking up other interests while he struggled with depression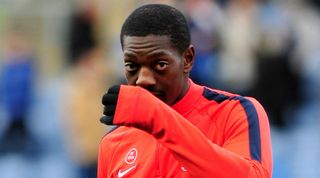 Marvin has been a professional footballer since April 2009, making over 250 appearances for the likes of Watford, Bolton, Burnley, Burton Albion and current club Northampton Town. He has played in England's top four divisions, won 14 caps for England's under-21s and turned out for Team GB at the 2012 Olympics.
--
'Professional football player' may be my job title, but it doesn't define who I am.
There are numerous cases where a player's performance level has dipped and their extracurricular activities are brought to light. It doesn't seem to matter what it is – clothing ranges, branded photoshoots, special emojis even – because often it will be pinned as an underlying reason why they aren't playing well.
A widespread opinion is that football should be every single player's number one priority. I agree with that – but only to an extent. Just focus on the game and do all that other stuff when you retire, I often hear.
As you're reading an article that I've written, you can probably see why these opinions are ones which disappoint me. Some of you may disagree and believe that football players are paid enough, so should never think of or do anything else.
But before you come to a conclusion, I'd like you to hear things from the perspective of one.
What works?
A common misperception of football players posting on social media, going to events, joking around off the pitch or launching their own businesses is that they aren't focusing on football.
Of course, a professional athlete has a responsibility to remain in peak condition. It's why they're paid so handsomely. But if what they're doing doesn't affect this, then how they spend their free time outside of work should completely be up to them.
There will no doubt be a multitude of people whose job was initially their hobby, and then quite understandably found a new pastime to have a relaxing and stress-free environment away from work. In most cases this is a completely normal thing to do, yet we seem to hold football players to different standards.
It's not an outlook that's exclusive to Premier League players either. I'll use the example of Marvin Morgan, who previously played for several Football League clubs including Hartlepool, Shrewsbury and Plymouth.
He found barriers in creating his (now very successful) clothing brand Fresh Ego Kid. Marvin has spoken before about how he was discouraged to pursue it; that when you win or play well then it's looked at as a great thing you're thinking beyond the game, but when you don't you're told that all of the nonsense is a distraction.
Been here before
Like many other players, I also have passions outside of the game. Music is a major one, and in my younger days I loved to cook. Had football not worked out, I would have tried to become a chef.
At a previous club where I was living on my own, I filled my free time with learning to play the piano and expanding my love for the culinary arts. I was subsequently told in no uncertain terms that I was to stop doing this and concentrate on football.
At the time I was fairly young and hadn't played much, which was clearly disappointing the club and fans alike for my perceived non-interest in football. My counter-argument was that trying to develop myself as a human being was surely better than just frying my brain with hours of video games or going to the pub and drinking every day.
Little did they know, I was in a deep depression at the time and was actually doing these things to aid my mental health by creating a real identity for myself. You see, when a player begins his journey in football, which can be as early as six years old, their entire lives are tailored around maximising their chances of becoming a professional.
This is arguably fine for the most part, but when things such as education, family, friendships and health are placed second, it can have a devastating effect once someone finishes playing. Either football needs to be more encouraging and progressive with its outlook on education, or players should be able to look towards secondary careers while still playing.
Future-proofing
Footballers have the potential to amass large fortunes over the duration of their careers, but that's not always the case. With that in mind, I find that frowning upon those who try to secure their futures and create identities beyond the game a little bit harsh.
The fact of the matter is that an overwhelmingly large percentage of players will have to find a second career once they retire at the grand old age of around 35. The damning reality is that many of them leave school without a GCSE to their name.
Interestingly, when the extracurricular subject is coaching badges, attitudes shift completely.
I know what you might be thinking right now: it's completely different. Working towards badges can actually help a player's career. But to that I have two questions. What's the difference between one player spending several hours a day doing coursework, and another drawing up t-shirt designs, when neither are supposedly "properly focusing or preparing" for their upcoming fixtures?
And if playing and coaching are so beneficial to one another's jobs, then how have marvellous players become poor coaches, and some outstanding coaches never played at a high level?
Breaking the bubble
I love to write and would now consider myself a writer, yet I feel as if I was a few years younger and perhaps at a bigger club, I wouldn't be allowed to do so in this forum without receiving criticism.
I still yet may do so; be told to concentrate on football or even be reminded of my supposed 'fall from grace', with me being distracted the reason for it.
In reality, I'm just in a place in my life and career where I've realised that I don't have to stay inside the bubble until it bursts. I can step outside and prepare for a world in which I will inevitably live one day.
Because when our job is our identity and we lose that, who do we become?
SEE ALSO What's it like to control Match of the Day? FourFourTwo finds out...
Thank you for reading 5 articles this month* Join now for unlimited access
Enjoy your first month for just £1 / $1 / €1
*Read 5 free articles per month without a subscription
Join now for unlimited access
Try first month for just £1 / $1 / €1
Quizzes, features and footballing fun
Get the best features, fun and footballing frolics straight to your inbox every week.
Thank you for signing up to Four Four Two. You will receive a verification email shortly.
There was a problem. Please refresh the page and try again.