Marvin Sordell column: What it's like to be a deadline day signing in January – when it doesn't go right
In his latest unghosted story for FourFourTwo.com, Marvin reflects on his 2012 transfer to then-Premier League Bolton – the potential dream move that didn't pan out as hoped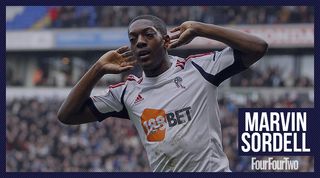 Marvin has been a professional footballer since April 2009, making over 250 appearances for the likes of Watford, Bolton, Burnley and current club Burton Albion. He has played in the Premier League, Championship and League One, won 14 caps for England's under-21s and turned out for Team GB at the 2012 Olympics.
--
I'll be frank. If a player moving in the winter transfer window presents a mountain of risk, then January 31 is the peak of Everest – for both player and club alike.
Like any perilous deal, the exchanging of a player's registration on this particular day can produce glorious rewards or cost all parties dearly. More often than not, a club going to market at the halfway point of their season will be looking for a player who can come come in and make an instant impact; helping to push for promotion, save a team from relegation, replace an injured player, or just perhaps bolster the squad. Either way, you're expected to perform.
Things move very quickly on deadline day. Clubs normally do their due diligence on new arrivals, but that can often go astray amid their desperation to get a player in.
They also tend to lose out on several main targets throughout the window, which sometimes leads to them working their way down metaphorical shopping lists before time runs out. With hours and minutes slipping away, only the obvious things get briefly looked into: fitness, form, attitude, ability.
But the absolute key to a successful deadline-day move that gets overlooked the most: as a person, what effect will a transfer have on the player?
This was me
Going back several years to January 31, 2012, I was the subject of a lot of transfer speculation. Would I be staying at Watford? Would I be going? Was I playing tonight? If not, then who was I signing for?
These were all questions that I couldn't even answer myself up until about 9pm that evening. While readying myself to play a game at Millwall later that night, my immediate future was in the balance. (Matches being played the same evening as deadline day are chaotic to say the least, and I'm sure both clubs and players would like to see an end to this.)
To give you a flavour of how things can sometimes go down, here's how my day went from arriving at the team hotel around 1pm:
2pm: Told by agent that not much is happening, so I should continue preparing for the game as normal.
3pm: Cardiff make contact with club/agent.
5:30pm: Told by manager that owner has taken me out of the squad for the game in case something needed to go through.
5:45pm: Get on team coach to The Den.
6pm: Club agrees fee with Cardiff; agent agrees personal terms.
6:15pm: Arrive at Millwall.
6:30pm: Told by agent that car is picking me up to take me to Vicarage Road to sign contract for Cardiff.
7:15pm: Bolton make contact with club/agent.
8:30pm: Get to Vicarage Road to sign contract with Bolton (presumably).
9pm: Club agrees fee with Bolton; agent agrees personal terms.
11pm: Sign extension for transfer deadline to sort paperwork.
2am: Officially sign for Bolton.
With Watford seemingly quite keen on selling me to balance the books, Bolton looking for another attacking option to help in their survival bid, and me excited at the prospect of fulfilling a dream to play in the Premier League, it was a move that all parties were pleased with at the time.
Leaving behind a lot of very close team-mates, and a club that I'd been at for several years, was difficult – but ultimately it was a decision I had to make. It may have been the only opportunity I ever had to step up to the Premier League.
Back at school
The next morning I was up about 9am, packed a couple of bags and then headed north for the hotel that was to be my home for the next two months. Fortunately, I didn't have a family that I needed to uproot back then, but I still found it remarkably difficult to adapt to my new circumstances. Moving 200 miles up the road may not seem like such a big deal, but having to up sticks on a couple of hours' notice was hard for the 20-year-old me.
I joined up with a squad of highly skilled individuals at Bolton, but not a great team. With the transfer fee hanging above my head, and the expectations of helping my new team stay up to go with it, I felt pressure to deliver instantly.
As a player signing for a new club, it's like being back at school. You try to figure out where you fit in and how everything works. For a while, I didn't particularly have a place I fitted into. Most of the players who were a similar age weren't yet with the first team, and with me being so inexperienced in the art of moving clubs, my early days were fairly lonely ones.
Where most of my time after training was previously spent doing things with team-mates, friends or family, I ended up spending the majority of my time alone; be it in a hotel for the first couple of months, or in my apartment after that, I didn't have any sort of life outside work.
At the time, I didn't quite realise how big an emotional step the transfer actually was.
Most of my team-mates had friends, families and entire lives built around them. I had my job and that was it. As a result, I would spend most of my days off heading back down to London to see my friends and family, which led to a lot of talk about me being homesick. But it was never home that I particularly missed; it was the people around who made it feel that way.
The mental fight
For the remainder of that first season I only played a handful of minutes over three appearances. Understandably, this led fans to question why a big fee (at the time, £3 million) was spent on a player for him to not be involved.
Patience grew thin, and from there the relationship between myself and them deteriorated. I received a lot of criticism for seemingly not caring. Like any player with an ego, I put on a facade and pretended that it didn't bother me.
Not playing is, in fact, the single most difficult thing in football. Everyone's reasons for how they got to that point are different, but regardless, it hurts a player to not be out there doing what he loves no matter how much they pretend otherwise.
As my confidence withered with the lack of game time, I felt as if the manager didn't believe in me – and so too the fans who were on my back. Relegation so quickly after signing, without being able to have any effect on it, was tough. As players do, though, I just kept going, trying to grind away with the belief that my opportunity would soon come.
Strangely enough, what didn't help me was missing the majority of pre-season to compete in the Olympics. Pre-season is usually a pressure-free, bedding-in period where players really have the time to properly settle. Not having that tends to set you back a little bit.
When I came back and started that season, I was expected to hit the ground running – especially seeing as I'd had an extremely slow first few months.
It just never happened, though, and things picked up from where the last season ended. There weren't many opportunities, I put in some poor performances, suffered from low confidence, had a poor relationship with the fans, and from there it was only heading one way. Once a player loses the fans, it's generally very difficult for them to then be a success – at the end of the day, they are usually the ones who call the shots. Maybe not directly, but they have an overwhelming influence in decisions that are made (and rightly so, I should add).
Human after all
Sometimes, as fans, we find it difficult to understand why a big money signing doesn't hit the ground running. We just spent millions on him, with tens of thousands on wages, yet he hasn't come close to replicating the form he showed at his previous club.
There have been many cases where this has happened. Alongside my own move to Bolton, I can think of Juan Cuadrado to Chelsea, Andy Carroll to Liverpool, Benjani to Manchester City, and even Fernando Torres to Chelsea.
MORE FROM MARVIN
As players and fans, we need to reconnect with one another (opens in new tab)
A transfer is such a complicated thing for so many reasons, so when your team signs a new player, just give him a little bit of leeway – you never know what consequences the move may have had on his personal life.
Before you lose patience after a month or two, imagine right now that you were offered all the money you could dream of to move jobs – but you would have to move home, leave behind your friends, uproot your partner from their job and your kids from school, all with the pressure of performing at a higher level in your new role... and you had to do it tomorrow morning.
Regardless of the finances involved, we're all human.
Thank you for reading 5 articles this month* Join now for unlimited access
Enjoy your first month for just £1 / $1 / €1
*Read 5 free articles per month without a subscription
Join now for unlimited access
Try first month for just £1 / $1 / €1