Mat Ryan: Asian Cup redemption, bad haircuts and... Liverpool?
The Socceroos No. 1 talks to FourFourTwo's Zee Ko about club life in Belgium, Asian Cup glory and why his haircut has improved so much...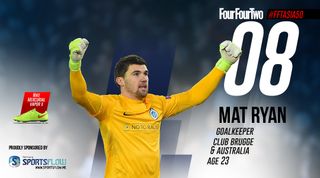 Was there a belief before the Asian Cup started that this batch of Socceroos could actually win the whole thing?
The boss at the top, Ange Postecoglou, instills that successful vibe in the team with the motivational talks he gives us. Our goal was clear from the start — we wanted to win this tournament. I'm not sure how many people thought we could achieve that, especially with everyone thinking this was still a new squad finding our rhythm together. It's one thing to plan a successful campaign like that, but it's definitely another thing to fulfil it and to accomplish what we set out to achieve. It was such a great feeling come that final whistle of a great tournament.
What is it about Ange Postecoglou that makes him so special? Is he one of the best coaches you've worked under?
Definitely. I think it's that aura around him, his presence. He has such an authoritative coaching style and he epitomises what it means to play for the national team. He's very big on his motivational speeches before matches in order to get the players up [for the game] by the things he says. It's the way in which he delivers the final message before we go out. I've said time and time again, that everytime I come out of a meeting with the Socceroos and obviously with him taking it, I forget about everything else in the world and all I want to do is give my best performance for my country.
Massimo Luongo was named Asian Cup MVP. How well do you know him? What's he like in person? Do you think he could dominate the midfield for Australia in years to come?
He's a really quiet, easy going... (pauses) Actually he's not quiet! He comes across as a quiet sort, but he's actually chirpy around the guys. He's just a friendly, nice guy who's always up for a conversation. He'll never do anything wrong by you, never have anything negative to say about anybody. Just a really down-to-earth nice guy. As a young kid, from the age of 12, I started playing against him and all through my juniors. He took off overseas around 16-17. I played against him for many years and we had a number of great battles and to find ourselves together in the Socceroos, it's a nice little journey for the both of us.
If he keeps progressing the way he is, he can definitely make his mark. To deliver the consistency he did in the Asian Cup is not easy. From now, we obviously want to go and conquer the world and not just Asia, and it's going to take another lift from everyone within the squad in order to do that. From what Mass showed — the consistency, what he has in his game, what he's shown in the national team thus far — I think he's continuing to learn. He's at Swindon at the moment and I'm sure that he'll be moving on fairly shortly on to a bigger club, and that can only help his progress also.
You were named the best goalkeeper in the Asian Cup. Do you feel that was an acknowledgement of how far you've come in your football career?
To be honest, I didn't even think about the MVP award. I wasn't even aware that there were awards. Common sense will tell you that there would be awards like that for a tournament like that but it didn't even cross my mind.
I've always said that I'd take a team achievement over the personal accolades, and I was solely focused on trying to deliver my best performances in order to help the team to win the Asian Cup, which we did. Everything from there is just a bonus, like the number of players that got named in the team of the tournament, and Massimo and I picking up personal awards. Obviously, it's something I'm going to cherish for a long time — just the whole occasion of the tournament being on Australian soil and the first major trophy I've won with the Socceroos in front of my friends and family. I dare say it's going to be something I'll remember for the rest of my life.
Let's talk a bit about the low points too. How disappointing was it to crash out after three games at the World Cup, albeit from a tough group?
Our effort in games was there but it just wasn't meant to be at the end of the day. I guess you could argue that we were a little bit raw as a team together but we didn't want to make any excuses going into that tournament. We wanted to all give the best that we could. We were confident, with us being the underdogs in that group, of giving some of the teams a run for their money because at the end of the day, it's only other human beings you're facing. Eleven Australians against eleven Spaniards.
It was very disappointing results-wise at that time. I think we performed well for the large part of games but we weren't able to sustain it for as long as we would have liked and it's important moments in football — the little mistakes where you get punished — and at that level we discovered that.
Any personal regrets from the tournament?
We all go out there to try our best and no one ever goes out there to make a mistake but obviously they happen. Obviously, I had that famous… well not that famous, but the clear error against Holland to go behind. The World Cup was the biggest learning curve in my career to date. I've never experienced that level before and it was a good little insight for me to see where I'm at in my development and little things that I learnt that can help my game and take it to another level where I can perform better on a more consistent basis. Looking at the opponents we faced at the World Cup, and our recent friendly against Germany, we're pretty much going up against the pinnacle of the game now. There's not going to be too many other nations that are better than what we've faced now already. We've all had a taste of that now and we're all better for the experience. It's just going to help us now for future results when we play nations like that again.
Congratulations on your second Goalkeeper of the Year award in the Belgian Pro League. Did you expect to make such a quick transition when moving from the A-League to Belgium?
I'm the kind of personality that wants to play and show what I have to offer. Looking back on it now to see that it's gone as well as it has, it's been nice. At the same time, I have high ambitions for myself and I don't think I've surprised myself too much. I've just been trying to do the best I can and I've been pretty proud of what I've done and how consistent I've been. I've just been enjoying my football and life at the moment.
What was it like when you made your debut for Club Brugge? How different was it to what you were used to?
It always takes some time to adjust to new things like that. My first game against Charleroi I didn't really have too much to do. I just had a couple of high balls and it was a pretty comfortable game to be honest. It wasn't till a couple of weeks after where I started to get a bit busier making saves. It started off pretty well in the beginning. I got a couple of man of the match awards in some games we played away. From the get go, I pretty much hit the ground running.
What's the level like in Belgium? Would you encourage more Australian players to give it a go? Have any of them asked you about the football there?
It's a nice competition, it's very physical. The technical aspect is a step up from the Australian A-League which I played in. It's quite competitive in the way it's structured and set up with a lot of teams. It's a competition I really enjoy.
There have been a few who have asked me about coming over here. James Troisi actually asked me about Belgium at the World Cup and then obviously he came across [to Zulte Waregem]. There's been a couple of other boys who have mentioned it to me too. I think Belgium is definitely similar to Holland, it's a good step for young Australians to make a leap into Europe. It's a nice competition to begin your European career.
Looking at photos from your days back in the A-League with the Central Coast Mariners, you seem to have undergone quite a change in hairstyles. Any comment on that?
[Laughs] I guess I'll put that down to life experience and growing up a little bit. Coming from the Western Suburbs and having a single mum working for my sister and I growing up, it taught me that nothing really comes easy in life. The more I grew up and became a footballer, and started to earn a bit of money myself and started to look after myself a little bit more… I guess that's just what it's down to — life experience.
On a more serious note, do you think the A-League has provided a good springboard for young Australian talent lately?
It's given a lot of young Australian guys the opportunity to get a taste of being a professional footballers. Then there are a lot of coaches like I had in Graham Arnold, they love giving young guys a go. There have been a number of talents who've come through the A-League and gone on to Europe as a result. Hopefully, stories like myself, Tommy Oar and Robbie Kruse can pave the way for some more youngsters to make the grade.
Liverpool have been strongly linked with your services, and there were reports that they'd sent scouts to watch you at the Asian Cup. Is such a move of interest to you, whether in the near future or a few years down the road?
Yeah but I'm just trying to focus on being as successful at Club Brugge first. I'm not really worrying too much about the future, I have an agent who looks after all that. Obviously, I want to test myself at the highest level one day, whether that be next season or the season after. It's hard to say, I can't tell the future. I'll just concentrate on taking it one step at a time and hopefully one day I can find myself in a stronger competition than where I am, perhaps one of the top leagues somewhere around the world.
Debate the #FFTASIA50
The FourFourTwo Asia50 is in association with Samsung SportsFlow – bringing you the most comprehensive sports coverage in one place via a single app. Find out more and download at www.sportsflow.me (opens in new tab)
Thank you for reading 5 articles this month* Join now for unlimited access
Enjoy your first month for just £1 / $1 / €1
*Read 5 free articles per month without a subscription
Join now for unlimited access
Try first month for just £1 / $1 / €1
Quizzes, features and footballing fun
Get daily World Cup 2022 news, updates and other football frolics to your inbox
Quizzes, features and footballing fun
Get daily World Cup 2022 news, updates and other football frolics to your inbox
Thank you for signing up to Four Four Two. You will receive a verification email shortly.
There was a problem. Please refresh the page and try again.