Meet Liverpool's ideal Steven Gerrard replacement
John Robertson explains why Roma's Miralem Pjanic is the ideal man to lead the Anfield side into a new era without their legendary skipper...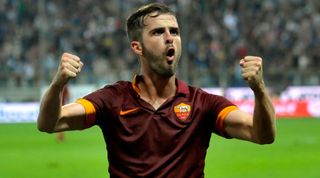 PJANIC IN SERIE A
2014/15 22 apps (3 goals, 6 assists)
2013/14 35 apps (6 goals, 6 assists)
2012/13 27 apps (3 goals, 6 assists)
2011/12 30 apps (3 goals, 9 assists)
With dread, the question hangs over every Liverpool fan: how do you replace Steven Gerrard? With the Reds talisman set to leave at the end of the season following a reluctance for club and player to agree terms on an extension to their lengthy relationship, many are worried that a vacuum of leadership and ability will develop on and off the field.
Finding a replacement will be no easy task. From a certain angle, it's an impossible one. Gerrard grew up with Liverpool, dedicated his career to them, sacrificed the silverware glory offered to him by other, recently more successful clubs. From a 'one of us' perspective, he's irreplaceable.
On the turf, however, he's not getting any younger, quicker or more productive. To continue to rely on him for a source of goals and assists is unhealthy for Liverpool, especially with a crop of talented youngsters seeking to cement their place in the club's future.
Rome raid
Liverpool are a noticeably slower side with their captain in the team, something that Brendan Rodgers seems keenly aware of.
Gerrard has been substituted much more frequently this season and has generally failed to hold down a dedicated position in the starting XI, particularly since his team's switch to 3-4-3 in December.
The formation change has seen the Reds become England's most in-form team, dropping two points in their last six Premier League games. Gerrard's increased absence has hardly resulted in wider failure.
If the rumours surrounding Rodgers' recent trip to the Italian capital are true then the Merseyside club see Roma's Miralem Pjanic as a suitable replacement, the perfect cog to fit in alongside Jordan Henderson, Philippe Coutinho, Raheem Sterling et al.
Ten years Gerrard's junior, Pjanic fits the age requirement and ticks the 'constantly improving' box. The Bosnian is on track to record the most assists of his Giallorossi career (9) this season, as well as retain his 91%+ pass-completion rate. Simply, Pjanic has become the key source of Roma's goals.
By contrast, Gerrard is struggling. He has 1 Premier League assist this term. Take away the penalties and his goal tally would read 2. For Pjanic to have any chance of slipping into the space vacated by Gerrard, he's going to have to replicate a range of passing that has seen the local lad become a Kop hero.
More than that, he's going to have to show an improvement on Gerrard's current output in order to justify what is likely to be a price tag in the region of £30 million.
In Roma's recent draw at Verona, Pjanic was involved in 7 of the 10 most common pass combinations for both teams, proving successful with 106 of 115 attempts. 6 led directly to scoring chances.
It's the spread of forward passes that is particularly interesting from a Liverpool perspective here. An enormous number of Pjanic's balls fall into the area just in front of the opposition box that Sterling and Coutinho like to operate within. It's easy to see the playmaker slotting straight into his preferred role at the heart of midfield, with Liverpool's established attackers in front of him.
Gerrard's last start came in mid-February in the 3-2 win over Tottenham and, while he didn't finish the game, the difference in passing style from a similar position is clear – Liverpool rely on longer, more direct passes that are less likely to lead directly to scoring opportunities.
Focused influence
The last time Gerrard played 90 minutes was in the goalless draw with Everton on February 7, a game more memorable for its promise than execution. Despite being on the right side of an attacking three, Gerrard managed to play the ball from, and receive it into, an enormous area of the pitch.
This highlights just how willing his team-mates are to defer responsibility to him, potentially negatively impacting the opportunity for others to become more involved. It might sound crass to suggest that Gerrard is sedating the performance of team-mates, but recent evidence points towards that being the case. By way of contrast, Pjanic's Roma role is much more defined without being predictable.
Against Verona he picked up the ball across the entire width of the pitch, allowing him the freedom to pick out each of the players more advanced than him. Earlier in the season against Empoli, Pjanic stuck more rigidly to the right side, providing width and stretching the defence to make room for his team-mates.
His ability and discipline to perform different roles is clear, a characteristic that Rodgers values within his preferred system of aggressive pressing and constant movement.
Premier adjustments
It's not fair, of course, to directly judge players playing in different leagues. Style and strategy changes between countries and, while good players are rightly expected to adapt, a number of high-profile flops litter Premier League (and Liverpool) history.
Pjanic's impact against Premier League opposition has been minimal this season, although our sample size is limited to two Champions League matches against Manchester City. Across both games he created just 2 chances, only 1 of which came from open play.
Additionally, his passing suffered immensely. While completion rate remained high, there was little attacking penetration – particularly into the kind of central areas Liverpool like to exploit.
Gerrard saw greater success against City in completing dangerous passes and creating chances, but Liverpool still lost this early-season match 3-1. Telling, though, is the number of backward passes he received, suggesting a player who has become increasingly about support over driving the team forward.
It's not that an auxiliary role is one lacking value, but it's one where Liverpool are spoilt for choice. With Henderson providing the energy, any one of Lucas Leiva, Joe Allen or Emre Can could comfortably fill the withdrawn central midfield role, making reliance on Gerrard a reality that has well and truly passed.
With Pjanic taking over core distribution duties, Liverpool would almost certainly see a further increase in output. At the very least, the Bosnian's presence would give them an extra layer of flexibility and future potential that Gerrard no longer provides.
Roma vs Juventus LIVE ANALYSIS with Stats Zone
Quizzes, features and footballing fun
Get the best features, fun and footballing frolics straight to your inbox every week.
Thank you for signing up to Four Four Two. You will receive a verification email shortly.
There was a problem. Please refresh the page and try again.