New players, new boss, new era: why it's time to start taking Valencia seriously again
The club from orange county have been blighted with financial difficulties, but does a new owner mean the future is bright for the former Champions League finalists? Lee Roden investigates...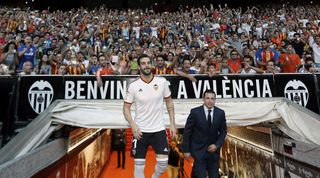 After a decade of slipping backwards, Valencia are currently riding a wave of optimism, going unbeaten in their first six La Liga games and keeping pace with last season's champions Atletico Madrid. While Los Che floundered in recent years, Diego Simeone's men have enjoyed the opposite trajectory, becoming the third big powerhouse in Spain and moving increasingly further away from the chasing pack – just as Valencia once did.
With perfect timing, Peter Lim enters the scene. The Singaporean billionaire hasn't quite put the finishing touches on his purchase of Valencia, but the club have effectively been acting as if he was already owner, bringing in new players and a new manager, all combining to make them look like competitors again.
The biggest test yet of Valencia's quality comes this Saturday at the Mestalla, when the very side that usurped them from their place as Spain's third club come to town. Last season Valencia lost at home to the Rojiblancos for the first time since 2003, and to make things even more interesting, this weekend's clash is effectively a straight punch-out for second place. Lim is due to attend. Will Valencia show they are now ready to compete with the big boys again, or will it prove to be a false dawn?
VALENCIA'S BIG INS
Alvaro Negredo (Man City, loan)
Shkodran Mustafi (Sampdoria, £7m)
Andre Gomes (Benfica, £13m)
Rodrigo (Benfica, loan)
Then and now
Ten years ago Valencia were at the pinnacle of Spanish football, having just won a UEFA Cup and La Liga double (the latter their second in three seasons), and with the memory of back-to-back Champions League finals still fresh. Yet instead of building on that and mounting a sustained challenge to Barcelona and Real Madrid, what followed was the most dramatic of falls; seven different managers took charge of the club in the four years after Rafa Benitez's departure, while spiralling debt chipped away at the squad as the best players were sold en masse every summer.
Valencia had to sell just to make their debt payments, but that kind of talent exodus was unsustainable, and their subsequent slip threatened to become a permanent decline. Last season the club missed out on the Champions League for the second year in a row, and they even finished outside of a Europa League spot in eighth. Lim's arrival on the scene couldn't have come at a better time.
Supporters desperate for something to get excited about welcomed their prospective new owner with open arms, getting behind him and the club in the most unified display of support at the Mestalla since the days of Benitez. A common enemy in the form of Bankia (who Valencia owe €230 million) certainly helped. Lim's takeover could be finalised within the next week – hence his desire to appear like a knight in shining armour at the Mestalla this Saturday – and the use of 'loan to buy' deals mean his players are already at the club.
Cosmetic surgery
Valencia's squad has been reworked from top to bottom, with only nine players remaining from last season. There have been 12 new arrivals – a mixture of permanent arrivals, players returning from loan and new ones coming in – as well as the consolidation of players like Jose Gaya and Robert from the academy. A core group of young Spaniards have also been given an increasingly prominent roles in the team.
Lim's hand is already evident in the number of players signed from Portugal, where he has an interest both in terms of his strong friendship with Jorge Mendes, and the Singapore businessman's own investment fund which purchased players from the Primeira Liga earlier this year.
So far the imports from Portuguese football are having a positive impact: forward Rodrigo and midfielder Andre Gomes (who both came from Benfica and are owned by Lim) have been two of Valencia's more impressive players since the season kicked off.
Right-back Joao Cancelo (on loan from Benfica and owned by Lim) and midfielder Filipe Augusto (signed from Rio Ave and represented by Mendes) have also put in good shifts, while former Porto defender Nicolas Otamendi has surprised more than a few observers with uncharacteristically assured performances.
There have also been strong showings from the young Spaniards already at the club. Midfielder Dani Parejo seems to improve almost by the game as a metronome in the middle for new boss Nuno. Striker Paco Alcacer is turning his immense potential into consistency, scoring four goals in six games and giving Vicente del Bosque a selection dilemma after finding the net on his first international start for Spain.
Then there's Gaya, who is following in the steps of Jeremy Mathieu, Jordi Alba and Juan Bernat by thrilling at left-back. Gaya turned a few heads in pre-season, and since then has gone on to exceed expectations with exceptional displays on a weekly basis. Intelligent in his movement and reading of space, the homegrown 19-year-old is quickly becoming a fan favourite.
Alvaro Negredo and Shkodran Mustafi are the two big-hitters to arrive. Both winners of major international trophies with their respective nations, the former has yet to play due to injury (though recently started training with the group), while the latter has proven to be a quality addition since breaking into the starting line-up against Cordoba.
Negredo is the more obvious 'name' of the two – some 14,000 fans filled the Mestalla to catch a glimpse of him during his presentation – but it's worth noting Mustafi is the first World Cup holder Valencia have signed since Didier Deschamps in 2000. The Frenchman was at the end of his career when he arrived, but Mustafi is just hitting his peak, and the €50m buyout clause in his contract suggests Los Che know his real worth.
Nuno the nice guy
When Valencia sacked Juan Antonio Pizzi in the summer and replaced him with Mendes-represented Nuno Espirito Santo, it looked like another in a long list of self-destructive mistakes from the club. But on the contrary, Nuno has proven an inspired choice, with veteran players claiming they have never worked this hard, and the Portuguese introducing a modern, balanced brand of football.
The former Rio Ave coach reads from the gospel of Simeone in attempting to manage supporters, making sure to salute the fans after every home goal at the Mestalla and drilling home how important they are at press conferences. Nuno has demanded that his players should always stand in the centre circle and applaud the home crowd at full-time (or go to the away end on their travels), and he's winning friends as a result.
Valencia supporters are often unrealistically demanding, and Nuno seems to understand that getting them onside could be the difference when things inevitably get tough. He's perceived as a humble, hard-working man, but the 40-year-old is also proving to be an astute man manager.
If players have a bad game he is quick to comfort them, and has gone to great efforts to make squad players feel important by singling them out for praise. As a consequence, a surprising degree of harmony is radiating from the typically combustible Valencia dressing room.
Flexible, but demanding
When it comes to systems Nuno is flexible, using a 4-3-3, a 4-4-2 and also a 4-2-3-1 so far. What is consistent is the manner in which he wants Valencia to play. When attacking, the Portuguese demands constant movement (and particularly adventurous full-backs) in an effort to overload opponents.
The midfield is, unsurprisingly, hugely important. Parejo and Gomes are a formidable pair, the latter tending to be more adventurous and attempting more dribbles, while the former sits slightly deeper and looks to filter passes through or occasionally shoots from outside the area.
The unsung hero is Javi Fuego, the deepest of the three. Often dropping back between the centre-backs in the style of Sergio Busquets to initiate play, he allows Gaya in particular to push up, while he is also hugely important in winning the ball back.
A look at Fuego's area of influence against Cordoba shows just how deep he tends to operate (firmly between the two centre-backs, Otamendia and Mustafi), while his passing was also strong, with 54 out of 60 completed.
Up front, Rodrigo and Alcacer are developing a good understanding, with five goals and five assists between them in the league. An obvious question pending is how Negredo will fit into the equation, and while sporting director Rufete insists all three strikers can play together, that looks unnatural considering both Alcacer and the on-loan Manchester City man tend to play centrally. It's not exactly the worst dilemma for Nuno.
At the other end of the pitch Nuno has achieved a noteworthy defensive record in the league, with Valencia's three goals conceded one fewer than Atletico Madrid and bettered only by Barcelona's remarkable zero. A big part of that is how Los Che work off the ball; when robbed of possession they shift to something resembling a 4-1-4-1, with Fuego sitting just in front of the back four and slightly deeper than the rest of the midfielders.
Mustafi looks like he will be particularly important when Valencia are on the back foot, as he covers well for Otamendi, who has a habit of losing his position. The German's goal-line clearance against Real Sociedad was worth a point in itself, while goalkeeper Diego Alves – who has been in exceptional form – has won his team a few more. With Vicent Guaita out of the equation, Alves is now undisputed No.1 at the Mestalla, and he's responding to Nuno's confidence with assured displays.
The future's bright?
All of this looks incredibly promising, but there are a number of big questions left to be answered. Talk of super agent Mendes having a say on signings once Lim completes his takeover should set off alarm bells. There are also doubts over the Nou Mestalla, the half-finished stadium that exists seemingly with the sole purpose of taunting Valencia fans over what could have been.
On the one hand Lim has suggested he wants a modern stadium, but there have also been suggestions he could sell the ground and cut his losses. The issue of the stadium has been a deal-breaker for debt-owner Bankia, who have refused to sign off on the sale of the club until there are guarantees over its future.
In a sporting sense, Saturday's fixture will give us a much clearer picture of where exactly Valencia are going in the near future: a Champions League spot or something bigger?
Notably, Real Sociedad provided an intriguing blueprint for how to combat Nuno's team, pressing them quickly and then looking to counter before Los Che could shift to 4-1-4-1. The positive for Nuno is that without midweek European football, he has more time to work on correcting issues like those from the Anoeta, so his team could potentially exploit that break to good effect, just as Liverpool managed last year.
Atleti are the toughest test around, and if Valencia can overcome Simeone's men it will be a genuine statement of intent – if not quite definitive proof that the big team from Spain's third city is ready to become Spain's third team once again.
Valencia vs Atletico Madrid LIVE ANALYSIS with Stats Zone
Quizzes, features and footballing fun
Get the best features, fun and footballing frolics straight to your inbox every week.
Thank you for signing up to Four Four Two. You will receive a verification email shortly.
There was a problem. Please refresh the page and try again.