Okazaki: Moving to Europe meant my lifetime dream had finally come true
Shinji Okazaki, the most prolific Japanese striker in Bundesliga history, talks to Mark Lovell about Japan's recent failures and his own successes in Germany...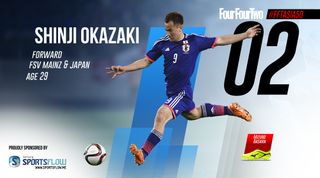 Congratulations Shinji! What does it mean to be named in FFT's inaugural list of the best 50 Asian footballers in the world? Who do you think is THE best Asian footballer right now — apart from yourself of course?
Thanks. It's a real honour! There are so many good Asian players around at the moment and as a player myself it's quite difficult to judge. Asian Champions Australia have so many talented players — Mile Jedinak not only skippers the Socceroos, he also captains a Premier League side [in Crystal Palace]. Of course, Son Heung-min has to be high up on the list, as well as my two Mainz teammates Ja-Cheol Koo and Jo-Hoo Park. Ki Sung-yong is starring in the Premier League too [with Swansea City].
In January 2011 VfB Stuttgart signed you from Shimizu S-Pulse in Japan. Tell us how that move came about.
I'd always dreamed of playing in Europe so I was just happy that my lifetime dream had finally come true. I didn't know anything at all about Stuttgart or even Germany for that matter, but I was still very happy and relaxed about the move.
After 10 goals in 63 Bundesliga appearances, why didn't it work out in Stuttgart?
I needed a lot of time to acclimatise in Stuttgart, not only to a strange new country, the lifestyle in Germany, new teammates — the whole communication within the team was difficult. Also I'm a centre forward but I was often used out wide. I didn't help my cause either by missing a few too many chances.
Thomas Tuchel replaces the outgoing Jurgen Klopp as Borussia Dortmund's coach in the summer. You enjoyed playing under Tuchel's tutelage after moving to Mainz in 2013. What's Tuchel like as a coach?
He's a really good tactician and I learned a lot from him. He used well thought-out training methods that I had never even experienced in my career. Although he puts pressure on players to perform, he's also able to hand out praise when the time's right. When I wasn't finding the back of the net, he still continued to select me and ultimately I have him to thank for being a success today in Mainz.
He seems very intense. Is he serious all the time or does he like a joke?
Yes, he's actually got a good sense of humour and he likes a joke. Obviously when the team wasn't performing he wasn't particularly friendly or in a good mood, but he kept on motivating us to improve and achieve better results as a team.
Moving on to Japan, what happened at the 2014 World Cup? Why did "Nippon" fare so poorly in Brazil?
If only I knew. We simply weren't good enough. At a World Cup you've got to get everything right, both physically and mentally. There are always teams at a World Cup that aren't great footballing sides but they make up for it with a strong defence and great attitude or collective effort, enabling them to still manage to win games. We also need this will to win and develop a win-at-all-costs-mentality. We definitely showed mental frailty too. Halilhodzic said when he took over that we were miles away from being able to challenge at a World Cup.
What is your first impression of new Japan coach Vahid Halilhodzic?
He's really passionate and has made a decent impression early on in his tenure. The new coach began by analysing and highlighting what went wrong at the World Cup. Since then we've really worked on our weaknesses and what we lacked as a team. I'm all for this approach as he also wants to improve communication within the group.
… and of former Japan coach Javier Aguirre?
Aguirre also left a good impression, even if his stay ended a little abruptly. He was a good motivator and made us battle on the pitch but I'm wary of comparing the two coaches.
You're 29 now, do you think you can still make the 2018 World Cup in Russia?
Yes, I really want to play in the next World Cup. Of course, it depends on how I perform on the pitch and how many goals I score. I know what to expect and how difficult World Cups are. My ambition is to perform better than I have done in both my previous two World Cups I've played in.
You were recently quoted during the Asian Cup that it's always been your dream to play in the Premier League. Why didn't the move to Leicester quite happen in the January 2015 transfer window?
Transfers are never that straightforward. Of course, it was nice to get an offer from a Premier League club such as Leicester City but it simply wasn't the greatest timing for a move. Mainz were also struggling at the time against relegation from the Bundesliga. Basically, I spoke to Mainz and we agreed that I should stay and help us out of the relegation mire, bearing in mind I'm still under contract till next year.
Did you support any particular Premier League team when you were growing up?
When I was younger I didn't support any particular Premier League club, but games were always shown live on TV. Clearly it's a very physically demanding league, totally different to the J-League for example. England is the "Motherland of Football".
Mainz general manager Christian Heidel has insisted that you cannot move to another Bundesliga club and if you leave then only to a foreign club. Do you agree with that?
You never know as a footballer what's around the corner. Ultimately, it all depends on Mainz as I've got another year on my contract but while I'm playing I'm more than happy to stay here.
Debate the #FFTASIA50
The FourFourTwo Asia50 is in association with Samsung SportsFlow – bringing you the most comprehensive sports coverage in one place via a single app. Find out more and download at www.sportsflow.me
Thank you for reading 5 articles this month* Join now for unlimited access
Enjoy your first month for just £1 / $1 / €1
*Read 5 free articles per month without a subscription
Join now for unlimited access
Try first month for just £1 / $1 / €1
Get FourFourTwo Newsletter
The best features, fun and footballing quizzes, straight to your inbox every week.