Opinion: I was 'Wenger In' until the end – but thank goodness he's going, for his sake
Lifelong Arsenal supporter Chas Newkey-Burden on the greatness of Arsene, whose departure signifies the cutting of the last tie to those old Highbury days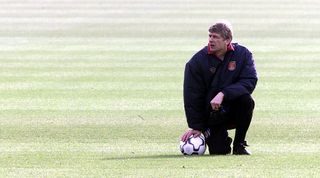 Ask most football fans what their most painful moment was and they'll tell you about a horrible defeat, or the brutal departure of a star player. My worst moment as an Arsenal fan came in 2014 when I watched a video of Arsene Wenger being abused by Gunners fans at Stoke station. 

As the Frenchman arrived at the station following a defeat to the Potters, a group of supporters furiously booed, demanded he "get out of our club" and swore at him. The video only briefly captures Wenger's reaction but his shock is palpable. It was a sickening video.
The longer his reign went on, the more commonplace and poisonous the abuse became. One video, filmed outside the Emirates on matchday, caught Gunners fans singing: "Au revoir, au revoir, Arsene Wenger, we'll be happy when you die in May."
Yes, these were extreme examples, but the wider fan base became increasingly hostile to Wenger. Stupefied by the phenomenal success and scintillating football he had introduced, they became impossible to please.
Dividing times
It is tempting to divide Wenger's tenure into two clear eras: his first 10 years which brought two doubles and the unbeaten campaign, and the subsequent 12 years which are traditionally described as a period of barren disaster.
Yet in that barren period the club won three FA Cups in four years, the latter of the trio a thrilling, comprehensive victory against newly-crowned champions Chelsea. The sort of 'disaster' that any sincere supporter would bask in.
Indeed, if you add in the semi-finals, Community Shield and League Cup, between 2014 and 2018, the Gunners made 10 visits to Wembley and won nine of them. That was the context in which Arsenal fans hurled abuse at Wenger and spat out their dummies during narcissistic post-match video rants.
Fans who had leapt up and down in ecstasy as the Gunners won another FA Cup would, within no time at all, be demanding Wenger's head. It's no use winning the FA Cup, they would decide – what they wanted was progress in the league.
Yet just a few years earlier they had complained about Arsenal's consistent top-four finishes, arguing that what they wanted was a trophy. Modern football, bloody hell.
Over the past 12 years, he became an increasingly isolated figure. His shrewd ally David Dein was brutally sacked, both his parents passed away in quick succession, and Arsenal fans turned against him. Star players exploited his loyalty and then tossed it back in his face. It was often heartbreaking to look at him on the touchline.
More than a manager
As a Wenger loyalist to the end, I grew accustomed to the look people would give me when they found out. The bewilderment and pity, probably a bit like the one with which we greet Jehovah's Witnesses on the doorstep.
But for me he will always be about so much more than the football. I love his elegance and dry sense of humour. I love that a comparatively introverted man excelled and defined an arena dominated by barrel-chested boors.
His loyalty was also a thing of wonder. Patrick Vieira commented that Wenger's loyalty was both his biggest strength and greatest weakness. That loyalty was indeed sometimes hugely frustrating (his perseverance with mediocre players and his refusal to buy new stars, for fear they would "kill" the confidence of the aforementioned averages).
Yet what beauty there was, too. This is the man who stuck with the club even as they slashed his budget and as the cowardly incompetents of the boardroom used him to deflect scrutiny of their amateurish ways.
The man who, when asked why he never sat up in the stands for the first half of matches to get a better view, replied that he could not bear to be separated from his players.
It's astonishing that the same fans who criticised the likes of Ashley Cole, Cesc Fabregas and Emmanuel Adebayor for their alleged disloyalty were so quick to also turn against the most loyal servant Arsenal Football Club has ever had and probably ever will have. He had his faults but, unlike George Graham, he never took a bung.
People will point to the fact that the Gunners haven't won the league for 14 years, and a lack of European silverware. These disappointments are undeniable and shared by Wenger loyalists. But I've long felt the intangible fuel of fans' anger was the move from Highbury to the Emirates. When the money-men knocked down our charming home, they were also tearing down the club as we knew it.
The last tie
Nothing is the same as when Wenger arrived in 1996. We have a new stadium, which is as soulless as it is lucrative. A new club logo. A new board. A new fan base, full of over-expectancy and entitlement. 

The only thread to the past is Wenger himself. It hurts to have that thread cut but it's also a relief. With him gone I can finally offer the last rites to the club I grew up supporting, and instead support this new entity that has sprung up in its place.
That's not the only relief I feel on this strange, sad day. I'm relieved that Wenger himself will no longer have to face the ire of the fans who he spoiled so extravagantly. No manager deserves what he has faced, least of all one as polite and gentlemanly as Wenger.
He will soon be spared that daily venom, but for the club, the poison remains. The 'Wenger Out' lobby may soon find out that Le Boss was not the centre of all the club's problems. Those problems have spiralled out of control this season, yet even then he has reached a cup final and may yet reach one more before he leaves.
I was 'Wenger In' until the end but I'm relieved for his sake that he's going. I'll never forget what he did for the club and I'll never forgive the fans who abused and hounded him. It is they who should get out of our club.
Thank you for reading 5 articles this month* Join now for unlimited access
Enjoy your first month for just £1 / $1 / €1
*Read 5 free articles per month without a subscription
Join now for unlimited access
Try first month for just £1 / $1 / €1