Ossie Ardiles: Perfect XI
By Neil Billingham published
"Everybody talks about Pele but this guy was out of this world"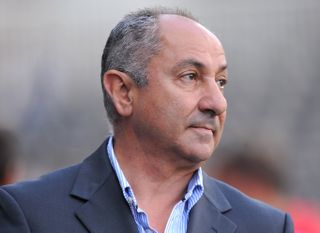 Three at the back, with Garrincha and Cruyff defending the flanks - will Tottenham and Argentina legend Ossie Ardiles ever learn...?
Goalkeeper
Gordon Banks
A fantastic goalkeeper and a true gentleman. Everyone remembers his amazing save against Brazil in the 1970 World Cup but he always produced great saves. Very consistent, a great shot stopper, good in the air, and a real calming influence. England have produced many great keepers over the years but none was as good as Banks.
Defender
Bobby Moore
Another England player and without doubt one of the greatest defenders in the world. Another gentleman, but on the pitch he was real class. He wasn't the quickest of defenders but what he lacked in speed he made up for in his reading of the game. He was always one step ahead of his opponent and his performance against Brazil in the 1970 World Cup was a masterclass in how to defend.
Libero
Franz Beckenbauer
Avery similar player to Bobby Moore. Very graceful, great on the ball and a great reader of the game. He could also play in midfield and in defence, but for me his best position is as the 'libero' at the back,bringing the ball out and linking defence with midfield. He was a great leader too, a positive influence in the dressing room.
Defender
Daniel Passarella
Passarella's finest moment came in the 1978 World Cup when he captained Argentina to glory. He was such an important member of that team – he led by example, always gave 100 percent and really played with his heart. He was a great defender and he was also one of the best in the world going forward. In the final against Holland, he was up and down the pitch for the whole game, constantly threatening the Dutch goal, he was fantastic. He also had a great World Cup in '82 and scored a wonderful free-kick against Italy.
Right-midfield
Garrincha
Everybody talks about Pele but this guy was out of this world. At times he was unplayable. His quick feet and his body shape meant he nearly always beat his man and his delivery from crosses was fantastic. He won the1962 World Cup almost single-handed – he scored four goals, amazing for a winger, and was voted the player of the tournament. He was completely inspirational. He had problems off the field, but when he played football, he was a genius.
Centre-midfield
Pele
He really had everything – goalscoring ability, a great passer, good inthe air, quick, he used both feet, almost the perfect footballer. Many words have been written about Pele but his record speaks for itself –more than 1,000 goals and three World Cup victories. He also played at a time when attacking players were not protected by referees as much as they are today.
Centre-midfield
Diego Maradona
People often ask me who was better, Maradona or Pele, but you can't compare the two. Pele scored goals, Maradona created them. Of course Maradona scored goals as well but he created so many, not just with his passes, but by creating space for other players because the opposition would often put two or three players on him. His greatest moment came in the1986 World Cup – people in England talk about the 'Hand of God' goal but his second was probably the best goal ever at a World Cup.
Left-midfield
Johan Cruyff
I sometimes wonder if Argentina would have won the World Cup in 1978 if Cruyff had been playing but he chose not to be there. In 1974, he scored two goals against Argentina in the quarter-final but without him in 1978 we just had the edge. He was a great player at a time when Dutch football was going through a great period and deserves to be considered as one of the all-time greats.
Forward
Mario Kempes
Man of the match in the 1978 World Cup Final – he scored two goals, set up another and played the game of his life that night. He came alive in the knockout stages and ended up as the tournament's top scorer and its top player. He's a real legend back in Argentina and rightly so. He was such an elegant player, quick, strong and a great finisher.
Forward
Romario
This guy maybe doesn't get the credit he deserves, maybe because he sometimes caused problems for coaches with his attitude. But he's one of the best strikers in the history of the game. He was super-quick,could dribble past players and his finishing was second to none. He made defenders look silly because it was so hard to get the ball off him. A unique talent.
Forward
Jurgen Klinsmann
A completely different player to Romario but no less important to the team. Klinsmann always worked his socks off, and was a great influence in the dressing room and on the pitch. He was a fantastic finisher too and was always making runs for himself or to make room for other players. He was such an intelligent guy, to have played and succeeded in Germany, England and Italy shows how adaptable he was. A real gentleman and a great striker.
Coach
Cesar Luis Menotti
Menotti was under so much pressure as coach of Argentina in 1978 because we were the host nation. The whole country and the politicians all expected and demanded success but Menotti took it all in his stride and shielded the players from a lot of the pressures. He was a great tactician and a great leader.
Substitutes
Goalkeeper
Ubaldo Fillol
Played for Argentina at three World Cups. A fantastic shot stopper who played a key role in our victory in 1978.
Centre-midfield
Zinedine Zidane
The best player since Diego Maradona, an amazing talent with great balance, two great feet and a real winning mentality.
Forward
Eusabio
Quick, strong and skilful, his goascoring record is incredible. Give him the ball and he would create something out of nothing.
Interview: Neil Billingham. From the October 2006 issue of FourFourTwo.
Thank you for reading 5 articles this month* Join now for unlimited access
Enjoy your first month for just £1 / $1 / €1
*Read 5 free articles per month without a subscription
Join now for unlimited access
Try first month for just £1 / $1 / €1
Quizzes, features and footballing fun
Get the best features, fun and footballing frolics straight to your inbox every week.
Thank you for signing up to Four Four Two. You will receive a verification email shortly.
There was a problem. Please refresh the page and try again.