Parma forced to let 976,000 first-team players go
Cash-strapped Italian side Parma have had to significantly cut back their squad. Back of the Net has the details...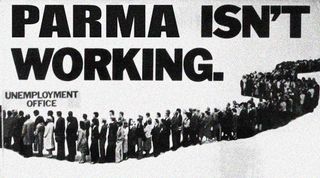 In a bid to balance the books, Serie A side Parma have reluctantly released 976,000 members of their first-team squad.
Faced with debts of around £145 million, Parma have had to take drastic measures to free up capital.
The Emilia-Romagna outfit grudgingly auctioned off the 1999 UEFA Cup trophy, but they were still left £144,999,990 in the red.
Puzzled club officials opened the books and were surprised to find they had contracts with roughly one in every 20 adult males in Italy, as well as co-owning the Sampdoria mascot, béchamel sauce, the colour cyan and a fifth of Bruno Tonioli.
"It is with regret that we will have to cancel the contracts of so many players, who we believe have been faithful servants to this club," a statement on the club's website said.
"We will go forward with a bare-bones squad of 35 and will have to accept the risks that come with not having 450 backup goalkeepers spread out across the country playing for other clubs, often against us."
Among those whose contracts have been torn up is 31-year-old striker Antonio Floro Flores, who currently plays at Sassuolo.
"I wasn't aware I was owned by Parma," he told FourFourTwo.
"In fact I'm almost certain that I wasn't. I haven't even been to Parma. I had lunch once in Ravenna, but that doesn't count does it?
"Still, it's a sad day for me and I want to thank all the Parma fans and everyone at the club for their support."
Delivery driver Massimo Ribaldi was also disappointed to receive a letter confirming his contract termination.
"It's come as a blow to me," the 54-year-old admitted. "Even though I don't really care for football and can't say I've ever been to a game, I always felt that given a decent run in the side I could prove myself.
"However, there are no hard feelings. I won't celebrate if I successfully deliver a package to Modena."
Quizzes, features and footballing fun
Get the best features, fun and footballing frolics straight to your inbox every week.
Thank you for signing up to Four Four Two. You will receive a verification email shortly.
There was a problem. Please refresh the page and try again.