Passion not enough to free Holloway from QPR scarf, worried onlookers report
The new Queens Park Rangers boss is yet to solve the first problem of his reign, Back of the Net can reveal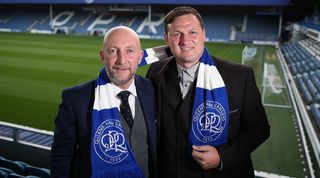 More than a day after his official presentation at Loftus Road, Ian Holloway is no closer to freeing himself from a QPR scarf he tied around his neck, sources close to the manager have revealed.
Holloway returned to QPR after the dismissal of Jimmy Floyd Hasselbaink, but he is yet to get his feet under the table, instead spending most of his waking hours wrestling with a scarf that is growing ever tighter.
The scarf was handed to Holloway as a celebratory gesture in a photoshoot for the club's website, but the Bristol-born tactician tied it far too vigorously, seemingly as a demonstration of excitement at his new challenge.
Journalists reported that Holloway's speech sounded strained and often unintelligible, and that he seemed keen to answer questions with brief, meaningless pseudo-philosophy, but nobody believed that to be out of the ordinary.
Wet look
It was only when Holloway was seen coming out of the shower with the scarf still firmly in place that it became clear to his wife Kim that there was an emergency.
"Ian kept saying that it'd take some time [to remove the scarf from his neck] but that he would find the answers," Kim Holloway told FourFourTwo.
"Then he'd give a determined roar and tug [on the scarf] with all his might. He'd pull on one end [of the scarf] only to see it get still tighter, then look deflated before tugging equally hard on the other end [of the scarf] also to no avail. This pattern has repeated many times over.
"I don't doubt Ian's passion and commitment [to removing the scarf from his neck] but I must admit I do wonder if at some stage you need a degree of finesse and technical knowhow to get a scarf off."
Double struggle
Disappointing early results came from a meeting with first-team coach Marc Bircham, who gamely battled with the conundrum before somehow finding himself entangled with the scarf and a sodden Holloway.
"I know that we have the belief and fighting spirit to get out of this [scarf]," Bircham told FourFourTwo.
"Actually, I think I've come up with the solution."
Bircham then proceeded to yank hard on the right hand side of the scarf, with the same result as the previous 25 attempts.
At the time of publication the pair are analysing video footage of previous attempts to escape from the scarf and making notes, while Holloway has scheduled a call with a man who helped him get out of a similar scarf at Blackpool.
Please note: This satirical news story is not real. Obviously.
Funny stuff • New features you'd like every day on FourFourTwo.com
Quizzes, features and footballing fun
Get the best features, fun and footballing frolics straight to your inbox every week.
Thank you for signing up to Four Four Two. You will receive a verification email shortly.
There was a problem. Please refresh the page and try again.