Mourinho blames Luke Shaw for Donald Trump victory
Manchester United boss clear where the buck stops, report Back of the Net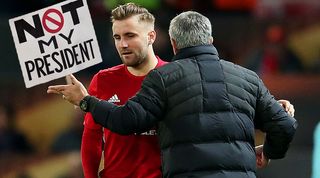 Jose Mourinho insists out-of-favour left-back Luke Shaw must take the lion's share of responsibility for Donald Trump winning last week's US presidential election. 
As the news sank in that the puce-faced TV misogynist will lead what used to be called the free world, Mourinho rounded on his Manchester United defender, criticising Shaw's failure to understand what drove Trump's support among crucial demographic groups.
"Luke Shaw told me on Tuesday that the early voting data was positive, and that Florida was in the bag," Mourinho told journalists. "I asked about Wisconsin and he laughed. So he trains with the reserves now.
"To compete you have to go to the limits," Mourinho added, "But Luke [Shaw] and Chris Smalling thought Hillary [Clinton]'s ground game would see her take the swing states without much effort. Complacency is not acceptable.
"How many doors did [Luke] Shaw knock on in Nevada? Where was Henrikh [Mkhitaryan] in Ohio? How many leaflets did [Chris Smalling] deliver in [North] Carolina? For the team [Manchester United], you have to give everything."
Not fit for the job
Shaw rejected the idea that he is to blame for Trump's elevation to the Oval Office, insisting that he lacked the necessary sharpness for a 90-minute phone bank session, while also querying why it should have been his job in the first place to prevent an angry fascist from becoming the next leader of the world's foremost superpower.
Mourinho is also believed to hold Timothy Fosu-Mensah personally responsible for the Brexit referendum, while also berating Anthony Martial for his part in the recent cold snap.
Please note: This fictional news story is not real. Obviously.
Quizzes, features and footballing fun
Get the best features, fun and footballing frolics straight to your inbox every week.
Thank you for signing up to Four Four Two. You will receive a verification email shortly.
There was a problem. Please refresh the page and try again.