PES 2018 review: FIFA's big rival impresses thanks to retooled dribbling and rebalanced pace
Last year saw PES nudge past the old enemy to capture digital title honours. Can it repeat the feat? Ben Wilson investigates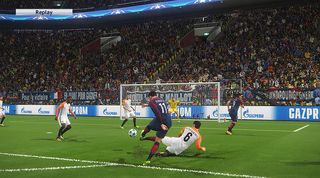 Like playing football on a perfectly manicured carpet. That's the takeaway from our first week with PES 2018: an interpretation of the beautiful game which, at times, feels even more satisfying than the real thing.
Passing (similar to last year) and dribbling (more intricate than ever) handle effortlessly on Konami's pristine pitches, making for a football sim that can once more be considered the purists' choice for the campaign ahead.
Whole new ball game
Last season there was a shift in the digital football landscape, as most critics concurred that PES 2018 outplayed rival FIFA 18 on the virtual turf. It wasn't quite that simple in FourFourTwo's eyes – it's fashionable to knock EA's game, yet there were plenty of positives found within – but those who opted for Konami's effort will find this to be a natural evolution.
The sport's fundamentals are all implemented masterfully, albeit not without a learning curve: that tighter dribbling requires some adjustment time, and shooting feels delicate. It took us more than 10 games to score more than twice in a match. In that regard patience is a virtue, and well rewarded.
Pacing is, on paper, PES 2018's simplest change – yet simultaneously its most profound. With the action a step slower than last year, that intricate dribbling really can be mastered and used to devastating effect. Soupy central midfield play is eliminated, meanwhile, as you've a touch more time to shield the ball and assess options around you.
True individual speed also really feels like a special trait as a result, with Pierre-Emerick Aubameyang – and, er, Usain Bolt, who was available as a pre-order bonus – truly uncatchable after beating the last man. As they should be.
Thought that counts
The engine does an exceptional job of making every team, and single player, feel unique. Overall ratings matter, but like real football it's on you to find individuals that perfectly fit your philosophy, and outmanoeuvre the opposition's.
Throughout a victorious Champions League campaign as PSG we used Angel Di Maria in every possible attacking role, often shifting him around three times per game to target opponent's weaknesses. And those opponents vary up their styles brilliantly; in a Master League season as Feyenoord, we encountered sides who deployed snappy passing, direct long balls, speedy wing play and all possibilities in between.
Traditional foibles remain. Peter Drury and Jim Beglin again lack chemistry on comms, and PES still lags behind FIFA in terms of presentation and licencing. The foul count per game is also far too low – which is why we specified 'first week' at the outset of this review, as that will surely be patched. Konami also says deadline day transfers, which aren't on disc, will be amended via a day-one update. But other long-standing quirks are much-improved – such as keepers, who feel mostly human, and do their utmost to properly fist balls away from danger.
Man Red vs Man Blue still won't appeal to those seeking all the authentic bells and whistles, but if you can look past that, and merely want a game that pits 11 men against 11 men while accurately mimicking real football, PES 2018 does an incredible job.
It's time to drop the misty-eyed callbacks to PES 3 and PES 6. This is a series that, where it really matters, is at its absolute peak.
4 things we love…
1. Slow and steady wins the title race
Pensive without ever being ponderous, the revised match speed transforms gameplay – making this a simulation that requires brains as well as dexterity.
2. Variation of modes
Master League, Champions League, MyClub (PES's answer to Ultimate Team), 2-on-2 and 3-on-3 games – its team list might not match FIFA's, but there's still plenty to love.
3. Likenesses and lighting
Lighting is magnificent, particularly for evening games, with total clarity in everything you do. Konami have also nailed new player faces, such as Kylian Mbappe.
4. Minor Master League tweaks
PES 2018's traditional career mode hasn't been overhauled, but pre-season tournaments are a welcome add, and being able to nab the player of your choice by meeting their release clause value means you can target stars who were off limits in previous games.
…and one minor hamstring strain
1. Unlicenced to kill
It's a broken record at this point, and will never change, but licences really do matter – and having to rely on the community to bring Premier League teams up to speed remains grating. At least this process (of swapping 'option files') is user-friendly if you're a PS4 player.
Verdict: 4.5 stars
Now read...
Quizzes, features and footballing fun
Get the best features, fun and footballing frolics straight to your inbox every week.
Thank you for signing up to Four Four Two. You will receive a verification email shortly.
There was a problem. Please refresh the page and try again.