Rafael Nadal: Sing When You're Winning
By Gregg Davies
"I was pretty good at football. I was a striker. But I always felt that tennis was more my thing."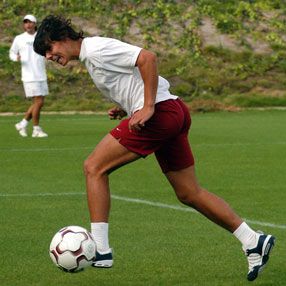 It's the end of a long hard season and Rafael Nadal has just lost his last competitive match of 2007 – to his nemesis Roger Federer, in straight sets in Shanghai.
But Nadal isn't downbeat as he walks in, dribbling a football around the cameraman, the cables and lights, jinking and dropping his shoulder with child-like enthusiasm. "I'm happy – I can have a holiday now!" says the three-time French Open champion.
If things had turned out differently, Nadal could have followed in the footsteps of his uncle Miguel Angel Nadal, the centre-back nicknamed 'The Beast of Barcelona', who made more than 200 appearances for the Catalan giants and played 62 times for Spain.
"It was very close, I can tell you," says Nadal. "I was playing both all the time. My parents worried that my studies would suffer if I played too much sport so they told me I had to choose football or tennis. I was pretty good at football. I was a striker. But I always felt that tennis was more my thing."
It proved to be a wise decision. The world's number two is arguably the greatest ever clay-court player with 23 career titles and £7m of prize money – not to mention a face that is one of the most recognisable in sport. But that's not to say Nadal doesn't secretly pine for his childhood days when tennis and football could live happily side-by-side.
Nadal's enthusiasm for football is all too clear at Indian Wells, California, the first stop of the ATP Masters Series, where he is often spotted playing impromptu games with other players. "I try and have a kickaround as often as I can," says Nadal.
"At certain tournaments you do get a chance to play a bit. At Indian Wells there's a big patch of grass and many of the players come down for a game – it's great fun, and the South Americans are very good. But we can't play too much as we could get injured, which is why I mostly play golf."
Individual sports just aren't the same for Nadal, who has admitted that tennis can be a lonely sport. "What I love about football is that it's a team game. Tennis is an individual sport and you don't get the same feeling of team spirit as you do in a football team. That's why I love playing in the Davis Cup so much: we represent Spain as a team."
But would he prefer the Spain football team to win the World Cup or himself to win Wimbledon? Nadal remains diplomatic. "I think the chances of either of those happening would be very difficult," says Nadal. "That's what both of us are fighting for and I'd like to think that one day both of us will achieve those goals".
Quizzes, features and footballing fun
Get the best features, fun and footballing frolics straight to your inbox every week.