Ranked! Chelsea's 12 worst strikers of the Premier League era
The poor Blues haven't had much luck at the sharp end of late – here's what Joao Felix is up against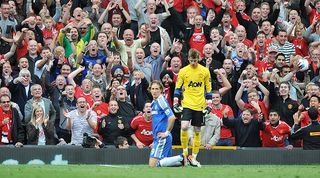 Chelsea are bringing Joao Felix to the Bridge in a move that could well shake up the race for top four and kickstart Graham Potter's era. What could possibly go wrong?
Strikers who made it out of Stamford Bridge with their reputation in tact are a rare breed, indeed. The Blues have become a social experiment of sorts, welcoming forwards of differing reputations to hit the proverbial donkey's backside with banjos, only for the likes of Frank Lampard to top-score every season. Is it something in the water? A curse?
Didier Drogba became a legend. Tammy Abraham and Diego Costa did admirably. Nicolas Anelka was all right, wasn't he? Those aside, behold at this rogue's gallery of ghastly, goal-shy flops, who put the Shed End through the wringer time and again.
12. Kai Havertz
Harsh to include him? Yes, it is. He won them a Champions League final for goodness sake and he's not even really a striker, crowbarred into a No.9 slot simply out of the exasperation of Thomas Tuchel, later Graham Potter, at literally nothing else on offer.
Yet Kai Havertz cost £72m, was the youngest player to reach the milestones of 50 and 100 league appearances in the German top flight and tipped for Ballon d'Or success one day. Chelsea beat the likes of Real Madrid to this signing and simply not delivered on half of the hype. There's still time, at least…
11. Pierre-Emerick Aubameyang
That Arsenal fans didn't go into an Arsenal fan-like meltdown when club captain Pierre-Emerick Aubameyang had his contract torn up in January 2022 – when the club were on a top four quest with paper-thin depth – was enough of a warning for rivals to avoid this Gabonese goal-getter with a ten-foot pole.
Undeterred by the warnings of Gooners though, Tuchel wanted to reunite with the man who did so well for him at Dortmund. Unfortunately, TT only got one game to work with his former protege before being ousted – and Auba has been a shadow of himself under Potter.
10. Alvaro Morata
A return of 24 goals in 48 starts looks eminently respectable. It compares favourably to anyone else on this list. And yet consider that six of those goals came early on, that a missed penalty on Morata's debut helped cost Chelsea the Community Shield, that he got more cards than goals in the second half of last season and that he lost his place to Olivier Giroud.
The £58 million signing had the strange distinction of being the most expensive player to be loaned out… well, until that was beaten by another Chelsea star.
9. Gonzalo Higuain
Under Maurizio Sarri, Higuain has scored a joint record number of Serie A goals in a season; 36 for Napoli. Under Sarri, the Argentine scored 75% of his goals against sides relegated from the Premier League that season (Huddersfield and Fulham), before adding another couple against Burnley and Watford.
A big name who looked rather too sizeable – an immobile, ineffectual presence in attack – Eden Hazard combined far better with Giroud. He's just another one of those world-class attackers from Europe that a lot of British fans heard was good but never actually saw in person.
8. Alexandre Pato
Remember him? Don't worry. You're not alone. Pato was set to return to employers Corinthians after a loan spell with Sao Paolo in 2016, simply because no one wanted him.
Then Chelsea came calling. The Brazilian, once dubbed as a Football Manager wonderkid, made two appearances for the Blues, scoring on his debut at least (it was a penalty) before heading back to his home country. This was the season that the west Londoners finished 10th: their inexplicably awful title defence in which Leicester stormed the league. Pato was just one detail they wanted to forget.
7. Fernando Torres
Torres' Chelsea career felt ill-fated from the start. His debut was a defeat to old team-mates at Liverpool, he failed to score in his first 13 games and never gelled with the totemic Didier Drogba. Managers from Carlo Ancelotti to Jose Mourinho struggled to accommodate him.
On the plus side, he scored in the 2013 Europa League Final, after capping Chelsea's against-all-odds triumph in the Camp Nou with the clinching goal in that stunning Champions League semi-final. Still, he was approached multiple times by Roman Abramovich before he managed to land him for £50 million, the kind of marquee buy that he thought could complete his project. He probably wished he'd taken no for an answer first time around.
6. Mateja Kezman
When you have a blank cheque and the remit to sign whoever you want, who do you buy? Mourinho's answers included Kezman. In the Special One's defence, one of his striking signings in 2004 – Drogba – became arguably Chelsea's greatest player. Another didn't.
Kezman had scored 78 goals in his last two seasons at PSV Eindhoven. He scored seven for Chelsea, and one of those came against Scunthorpe. At least he struck in a League Cup final win over Liverpool.
5. Romelu Lukaku
Billed as a homecoming, Romelu Lukaku's return to Chelsea was something that just felt… right. He'd been linked with a move back ever since leaving, becoming a world-class forward in that time and now he was joining a Champions League-winning side, becoming the missing puzzle piece.
A minority questioned why Chelsea paid Inter Milan, desperate to fire-sale their squad, 100 million English pounds for the player – but it looked like a sure thing, given Rom's goal record. After battering Arsenal away though, he struggled to acclimatise to Thomas Tuchel's tactics, looking sluggish, later giving an explosive interview to Sky Italia, saying he wanted to come back to Italy. He got his wish. His return season yielded roughly £12.5m every league goal.
4. Adrian Mutu
Under other circumstances, Mutu would be deemed proof that prolific Serie A strikers lost some of their scoring touch at Stamford Bridge. And indeed, six goals in 27 top-flight games feels underwhelming.
Yet the reality that Chelsea sacked him, after he tested positive for cocaine, gives him a unique distinction. And while courts have ordered Mutu to repay Chelsea his £15.8 million transfer fee, he keeps appealing the decision. They may not have the money yet.
3. Radamel Falcao
Falcao was a dreadful signing for Manchester United – and yet he still scored four times as many goals for them as he did for Chelsea. Even his solitary strike counted for nothing: it came in a defeat to Crystal Palace.
The Colombian became an emblem of the "Mourinho season"; of wretched signings and underachievement. Chelsea lost six of the 12 games Falcao appeared in and, when his injury problems recurred, he was left out of their Champions League squad for the second half of the campaign.
2. Chris Sutton
There was a time when £10 million was a lot of money. That time was 1999, when Gianluca Vialli signed Sutton to replace an ageing, iconic striker: himself. Sutton took Vialli's No.9 shirt.
But he made Chelsea less potent. They scored a mere 53 league goals, 44 fewer than Manchester United. Sutton's lone league strike came in a 5-0 rout of United; otherwise, he only found the net against Hull City and Skonto Riga, and left for a £4 million loss after a season of three goals.
1. Andriy Shevchenko
If it ain't broke, don't fix it. Chelsea had won back-to-back league titles with Drogba spearheading a 4-3-3 formation. Then Roman Abramovich signed Shevchenko, Mourinho ended up dropping his wingers in an attempt to accommodate the owner's favourite, and Chelsea's formidable formula was disrupted.
It hardly helped that they didn't get the feared, fantastic Shevchenko – scorer of 28, 26 and 28 goals in his last three seasons for Milan – but an altogether inferior figure. Their £30 million outlay brought just 23 goals in 77 Chelsea games.
Thank you for reading 5 articles this month* Join now for unlimited access
Enjoy your first month for just £1 / $1 / €1
*Read 5 free articles per month without a subscription
Join now for unlimited access
Try first month for just £1 / $1 / €1
Quizzes, features and footballing fun
Get daily World Cup 2022 news, updates and other football frolics to your inbox