Ranked! Every Liverpool manager of the Premier League era from worst to best
By Jack Lusby published
Jurgen Klopp is leading a Liverpool resurgence, but how does he rank with the Reds' other managers since 1992/93? Jack Lusby of This Is Anfield counts them down...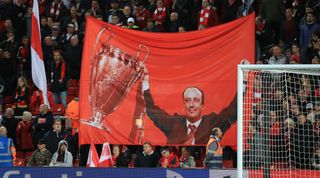 Compared to some of their Premier League rivals, Liverpool have been a bastion of managerial stability in the modern era. But as the dust continues to gather in the trophy cabinet and the holy grail of a first league title since 1990 eludes them, there's a lingering sense that the club have struggled to find the right man for the job.
Seven permanent managers have come and gone since Sky Sports invented football in 1992, and with Jurgen Klopp now truly settled in his role, the hope at Anfield is that he is well placed to restore the Reds to their former glory. That remains in the distance, however, with this a long-term project as the German looks to establish himself in the esteemed company of Shankly, Paisley and Dalglish as 'the man' on Merseyside.
So where does Klopp rank among Liverpool's managers since the Premier League began? Let's run through all eight, from worst to best.
8. Roy Hodgson (July 2010 - January 2011)
Win Ratio: 41.9%
Honours: None
Sure, he's now successfully restored his reputation as English football's reliable grandfather at Crystal Palace, but during his six-month reign at Anfield Roy Hodgson proved himself truly inept at the top level. When he arrived, Hodgson had just steered a Fulham side that included Paul Konchesky and Dickson Etuhu to their first ever European final, ultimately losing to Atletico Madrid in the climax of the Europa League in 2010 but earning the respect of a continent in the process.
Yet in such a short spell on Merseyside, the damage Hodgson inflicted was almost unparalleled. His signings, namely Konchesky, Joe Cole and Christian Poulsen, are among the club's worst in the Premier League era, while his failure to acknowledge an on-field malaise alienated the Kop in record time.
Any sympathy for his efforts in reviving a fractured club in the throes of a poisonous boardroom upheaval are completely clouded by Hodgson's insisting: "To get a result here would have been Utopia" following a 2-0 loss to Everton.
7. Graeme Souness (April 1991 - January 1994)
Win Ratio: 41.4%
Honours: FA Cup (1992)
Graeme Souness's tenure in the Anfield hot-seat is rarely looked upon fondly, but the hard-nosed former Liverpool midfielder at least deserves credit for driving the club forward at a crucial stage.
The squad Souness inherited on Kenny Dalglish's resignation in 1991 was ageing rapidly, and prompting an overhaul of that successful side from the 1980s was bold, but necessary. Souness put his faith in youth, bringing the likes of Rob Jones, Jamie Redknapp, Steve McManaman and Robbie Fowler into the fold as he looked to propel Liverpool into the modern era.
His mistake was perhaps that he made the changes too quickly. He did bring a modicum of success to the club in the form of an FA Cup final victory over Sunderland in 1992, but during a fractured reign, he quickly learned going back to basics was not the long-term solution. Great player, not so great a manager.
6. Kenny Dalglish (January 2011 - May 2012)
Win Ratio: 47.3%
Honours: League Cup (2012)
King Kenny's messianic return to management in the fallout of Hodgson's miserable spell in charge came as a jolt for Liverpool: the club's biggest legend was in place to turn things around.
Dalglish certainly made headway in that regard, steering the Reds away from the bottom half of the table to earn a long-term contract after his initial stint as caretaker, as well as sealing the club's last piece of silverware with the League Cup in 2012.
He also presided over one of Liverpool's most successful signings ever, bringing Luis Suarez to Anfield from Ajax - though the less said about the arrival of Andy Carroll from Newcastle on the same day the better. His second spell as manager was only ever seen as a temporary measure, and for the club to truly progress the need for a more forward-thinking option was clear.
5. Brendan Rodgers (June 2012 - October 2015)
Win Ratio: 50%
Honours: None
Friend first, boss second. Brendan Rodgers was appointed as the face of Fenway Sports Group's new era at Anfield, and was immediately blighted by invasive media coverage. But his caricature in Being: Liverpool aside, Rodgers was an excellent manager for the majority of his three-year reign, and he brought the Reds closer to the Premier League title than any of his counterparts.
He maximised the talents of Suarez, oversaw the arrival of a host of key figures including Philippe Coutinho and Daniel Sturridge, while restoring the ethos of 'the Liverpool way' on the pitch.
It's unfortunate that he's now as well remembered for a 6-1 defeat to Stoke as he is a 5-1 win over Arsenal, but Rodgers deserves to be acknowledged for his role in pushing Liverpool on and getting them closer to a Premier League title than any other manager.
4. Jurgen Klopp (October 2015 – present)
Win Ratio: 51.5%
Honours: None
The euphoria of Rodgers' close-run title tilt descended into a familiar misery within a year and a half, and Liverpool found the perfect tonic in the form of Klopp. Boasting genuine pedigree from his time with Borussia Dortmund, an inherent charisma to disguise his steely resolve under the media spotlight and the pulling power of a top-level manager, Klopp is the real deal.
Finishing eighth and fourth in the Premier League in his first two seasons in charge, however, makes it hard to place Klopp anywhere above the midway region; his best work is, hopefully, yet to come. But having reached the finals of both the Europa League and the League Cup, and returning Liverpool to the Champions League while overseeing a much-needed renovation of personnel, the man from the Black Forest has already eclipsed Rodgers for his all-round influence.
3. Roy Evans (January 1994 - November 1998)
Win Ratio: 50.4%
Honours: League Cup (1995)
Building on the groundwork laid by Souness, Roy Evans brought a vibrancy back to Anfield, with his young side playing some of the most attractive football in the Premier League. This was hallmarked by what is still held up as the best game since the inception of the current English top flight: the balls-out 4-3 win over Newcastle at Anfield in 1996.
Like many of his players, Evans' reputation as a Liverpool manager is hamstrung by the failure to win the FA Cup that same year, with his 'Spice Boys' more synonymous with their cream Armani suits than their achievements on the pitch. Evans' side was built on a brittle backbone, and this undermined his efforts to bring the league title back to Merseyside - but the boot room alumni brought a warmth and authenticity fitting of the club's history.
2. Gerard Houllier (July 1998 - May 2004)
Win Ratio: 52.1%
Honours: UEFA Cup (2001), FA Cup (2001), League Cup (2001, 2003), UEFA Super Cup (2001), Community Shield (2001)
The most decorated Liverpool manager of the Premier League era, and a Brexiteer's worst nightmare. Gerard Houllier initially joined Evans in the dugout in 1998, but quickly took over as sole manager.
As the 20th century drew to a close, the Reds had fallen behind their rivals in terms of off-field developments, but Houllier's European ideals quickly forced them towards modernity. The Frenchman's signings could be deemed experimental, and some certainly failed, but his widening of the net brought in the likes of Sami Hyypia, Stephane Henchoz, Didi Hamann, John Arne Riise and Djibril Cisse who, eventually, proved pivotal to the club's biggest recent success.
Houllier won five trophies in 2001 alone, with triumph in the UEFA Cup arguably his finest accomplishment, but it's his role in bridging the gap from Evans to Rafa Benitez that deserves most of the plaudits. He amicably left the club having finished fourth in 2004; a feat them deemed not good enough for Liverpool FC.
1. Rafa Benitez (May 2004 - June 2010)
Win Ratio: 55.4%
Honours: Champions League (2005), FA Cup (2006), UEFA Super Cup (2005), Community Shield (2006)
Already a success with Valencia, Benitez was headhunted as the ideal successor for a growingly stagnant Houllier, and the Spaniard built sensationally on his predecessor's groundwork.
Like Houllier, Benitez's continental approach brought in a host of less-familiar names such as Xabi Alonso, Luis Garcia, Pepe Reina, Momo Sissoko and Daniel Agger. Like Houllier, he then moulded these with his established core into a formidable side.
Benitez's crowning glory, of course, remains the Champions League triumph of 2005, but his work in sustaining the Reds as a European and domestic force (on a smaller budget than many of the clubs he was competing with) deserved an even longer list of honours.
For those with an attention span shorter than a Snapchat story, Benitez is now more renowned for his infamous "fact" rant and his demise under the ownership of Tom Hicks and George Gillett. But he remains the best manager Liverpool have had since the Premier League began.
Thank you for reading 5 articles this month* Join now for unlimited access
Enjoy your first month for just £1 / $1 / €1
*Read 5 free articles per month without a subscription
Join now for unlimited access
Try first month for just £1 / $1 / €1
Jack Lusby writes for This Is Anfield, the independent Liverpool website, and has been a regular FourFourTwo contributor since 2018. He is an expert on Liverpool's youth academy players and has a keen eye on ensuring transfer stories are sourced correctly, which means he is a proficient user of Google Translate.
Quizzes, features and footballing fun
Get the best features, fun and footballing frolics straight to your inbox every week.
Thank you for signing up to Four Four Two. You will receive a verification email shortly.
There was a problem. Please refresh the page and try again.