Richard Scudamore presented with every non-league football club as leaving gift
The outgoing Premier League boss tried to look excited, Back of the Net reveals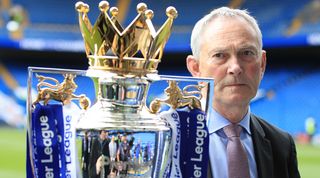 Departing Premier League chief Richard Scudamore has been handed control of the entire English non-league pyramid as a parting gift from well-meaning club chairmen.
Having raised around £5 million in a whip round, the Premier League clubs decided to shop for something that Scudamore would really like and, given his apparent interest in football, opted to purchase every club from Level 5 downwards for his amusement.
However, despite the love and care that was put into the present, onlookers report that Scudamore appeared somewhat underwhelmed.
"The guy wearing the solid gold suit [Richard Scudamore] kept telling the club chairmen that they really shouldn't have, it was so naughty of them, but he kept a vice-like grip on the envelope," a source told FourFourTwo.
Laughter turns to tears
"[Multimillionaire Richard Scuadmore] joked that the envelope was a funny shape for a watch, a car or an offshore shell company and everyone laughed.
"But when he opened it and saw the deeds to Hungerford Town, he went oddly quiet.
"The chairmen started shuffling all the pieces of paper, showing him that he now also owned Solihull Moors, Slough Town, Mickleover Sports, the lot, but Scudamore just went a bit quiet.
"As soon as the crowd moved away he could be heard asking whether there was a gift receipt in the box."
Despite Scudamore putting a brave face on his disappointment, his colleagues were all too aware that their thoughtful gesture had missed the mark when they found that Scudamore had accidentally left the envelope behind at the end of the evening, the deeds of ownership to Braintree Town poking out of the packaging had evidently been used as a rudimentary napkin to wipe oyster juice from his chin.
"It seemed like such a good idea because £5m can go a hell of a long way at that level, but it turns out that Richie [Scudamore] really doesn't have any interest in this kind of football at all," a Premier League source told FourFourTwo.

"In fact he seemed to believe the teams were fictional as he asked somewhat hopefully whether Melchester Rovers were amongst the pack on multiple occasions.
"After making a cursory and fairly quick call to try and sell Belper Town's image rights to IMG, he pulled a face and focused instead on ensuring he monopolised as many of the hors d'ouvre as possible to prevent any possibility leftovers might end up being eaten by the waiting staff."
At the time of publication, Scudamore had reclaimed the envelope and was planning to tell the entire Darlington squad to cater a party for some friends on a yacht this Saturday afternoon.
Please note: This satirical story is not real. Obviously. Do not sue us.
Quizzes, features and footballing fun
Get the best features, fun and footballing frolics straight to your inbox every week.
Thank you for signing up to Four Four Two. You will receive a verification email shortly.
There was a problem. Please refresh the page and try again.