Robbie Fowler on Collymore, Balotelli, Man United, Rodgers
By Deepanraj Ganesan published
FFT Singapore's Deepan Raj sits down with the Liverpool legend to discuss football swansongs, the Reds' transfer dealings and his coaching aspirations...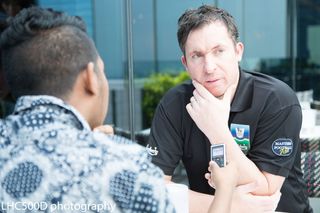 Goals have been hard to come by for Liverpool lately. With Daniel Sturridge ruled out through injury, the Reds have found the net hard to hit with new recruits Rickie Lambert and Mario Balotelli struggling to impose themselves.
Brendan Rodgers would certainly be wishing he had a striker like Robbie Fowler at his disposal. Affectionately referred to as 'God' by the Anfield faithful, Fowler was one of the most natural finishers in the English game, and turned out for the likes of Liverpool, Leeds and Manchester City.
Fowler is set to give the world, and the Singapore audience in particular, a reminder of his goalscoring prowess when he turns out for The Castlewood Group Liverpool Masters in their clash with a team of Singapore legends that includes Fandi Ahmad, Aleksander Duric and V.Sundramoorthy on November 15.
The English legend was in town this week and FourFourTwo caught up with the man himself to discuss Liverpool's indifferent start to the season, his thoughts on Mario Balotelli and a potential coaching stint in Singapore.
You've played with plenty of different strike partners in your career. Who did you enjoy playing with the most?
I was one of them players who could play with anyone so I really enjoyed that. Michael Owen was a fantastic player, Emile Heskey was a phenomenal player and I really enjoyed playing with them. I learnt so much playing with Ian Rush. He was frightening to play with, in terms of how he helped me. At Leeds, I loved playing with Mark Viduka. But if I have to pick out my best partnership, then it would have to be with Stan Collymore. We scored more goals than anyone else I've played with. So yeah, it has to be Stan.
Do you think the money from Suarez's sale was used wisely? Should Liverpool have spent it on one big signing instead?
Not a chance. Liverpool's problem last season was a lack of depth in the squad. So it was always going to be a case of bringing in a lot of new players. Brendan Rodgers is an unbelievable manager and it's a guarantee that he will get it right. Liverpool are fighting on four fronts this year with the Premier League, Champions League FA Cup and League Cup, so it is important that squad was much bigger and better than last year.
Mario Balotelli has struggled for form this season. Do you think it's down to a pure lack of effort on his part or is it just a clash of styles between him and Rodgers' tactics? If Balotelli is to be given time, what must he do to make himself a success at Anfield?
For whatever reason, it hasn't worked out for him so far. But Balotelli is a fantastic talent, he has scored goals everywhere he has been. You look at the clubs he has played for, and he obviously has something about him. He needs to concentrate on his football, forget about any off-field antics and run about a little bit more. I am sure he will be a good player for Liverpool. Players always come and go, but the manager will always have his own tactics and good players adapt to tactics. Like I said, Balotelli is a good player so we will be OK.
What do you think needs to be done in the January transfer window to address some of these problems?
I don't think anything needs to be done really. I think people are getting a little carried away with Liverpool this year. I don't think we are as bad as what everyone is making us out to be. You look at the Premier League, and Chelsea are perhaps the only standout team. Arsenal have had indifferent results, Manchester United and as of late, Manchester City have had indifferent results. But look, let's put things into perspective here. We are in the quarter-finals of the League Cup, progressing to the next stage of the Champions league is in our hands and we are close to the top four, so the season is not a disaster yet. Given time to gel, I am sure everything will work out well for the squad.
Are there any exciting prospects that have excited you as of late, in world football or England?
There are fantastic players at the Liverpool academy that excite me but you know, I don't like to put pressure on the kids. One player who is standing out is Raheem Sterling. People forget how young he is. He is the standout player for Liverpool and to me, he was the standout player for England at the World Cup. He is a very, very young lad and believe me, he will get better.
You've had a stint as head coach in Thailand, and you've also done work at the Liverpool academy, but you were also linked with the Leeds United job recently. Do you see yourself managing in England?
That is my aim. I love football but sadly you can't play forever, and coaching is obviously the next step. I really enjoyed my time over in Thailand as a manager. Who knows what's around the corner? If there is an opportunity overseas, I really am interested. Eventually I do want to get back in England and manage but for now if something crops up in Singapore, Malaysia or any countries in this region then I certainly would be interested.
Is there any joy in seeing how Manchester United are struggling at the moment? Why do you think they are in that situation?
I am not interested at all in how they do, to be honest. I want Liverpool to do well and I don't care about any other team. People ask me if I hate Manchester United and I'll say no. I don't care enough about them to hate them. I think most supporters should be like that. Worry about your own club and focus on your own team. Gaining advantage from other teams' woes is not right for me. My priority is always Liverpool.
Main Image: Kamthorn Pornsakupaisal/LHC500D photography (opens in new tab)
Robbie Fowler and the Liverpool Legends will be appearing at The Castlewood Group Liverpool Masters on Saturday November 15 2014 at the Jalan Besar Stadium in Singapore.
Thank you for reading 5 articles this month* Join now for unlimited access
Enjoy your first month for just £1 / $1 / €1
*Read 5 free articles per month without a subscription
Join now for unlimited access
Try first month for just £1 / $1 / €1
Quizzes, features and footballing fun
Get the best features, fun and footballing frolics straight to your inbox every week.
Thank you for signing up to Four Four Two. You will receive a verification email shortly.
There was a problem. Please refresh the page and try again.