Southgate tells England team to get carried away after Panama victory
The Three Lions boss has urged his men to lose their perspective after Panama win, Back of the Net reports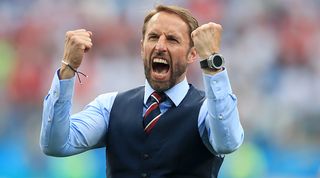 Gareth Southgate has spent the last 24 hours insisting that his squad – and especially his younger players – celebrate England's 6-1 victory over Panama by assuming they will now easily win the World Cup.
In the immediate aftermath of England's monumental triumph, Three Lions players appeared unsure about whether they should get carried away or retain a sense of proportion, and looked to Southgate for guidance.
Fortunately, the coach was on hand to confirm that such a resounding success against Panama would translate into bringing football's biggest prize back to English shores for the first time since 1966.
"Obviously we were delighted with the result but we were labouring under the misconception that thrashing a team of CONCACAF makeweights doesn't necessarily mean that we can beat Brazil, Germany or France," Jesse Lingard told FourFourTwo.
"Gareth sat us down and set us straight. He told us that while he understood we weren't all naked, necking champagne, covered in glitter and surrounded by high-end escorts, he was frankly a bit disappointed and thought we'd have the maturity required to realise that, by beating Panama 6-1, we'd navigated the final obstacle preventing us becoming demi-gods."
Caught out
A few England players eventually attempted to sneak away from the enforced merriment just after midnight on Sunday, but were spotted by Southgate after misjudging how long the manager would take to neck a shot of tequila off a live bear's chest.
"The gaffer's come down pretty hard on me," Harry Kane admitted to FourFourTwo.
"He asked me exactly what I was planning on doing and I admitted that I wanted to watch some videos of Belgium's backline and rehydrate a little.
"The whole place went silent, with the exception of the mariachi band and the fighting dogs, and Gareth's chewed me out in front of everyone. He asked whether somehow I'd misunderstood that we'd beaten Panama, the Panama, and that he'd arranged for us to take the trophy out on a preparatory open top bus trip tomorrow which he was seriously thinking of cancelling now.
"Honestly, I felt terrible and the gaffer only perked up a little when I belted out a very respectable rendition of We Are The Champions and drew an extra star on my England shirt in marker pen."
England's next test comes on Thursday when they will have to keep a straight face as they slay the feeble Belgians.
Please note: This story is satirical. Like, obviously.
Quizzes, features and footballing fun
Get the best features, fun and footballing frolics straight to your inbox every week.
Thank you for signing up to Four Four Two. You will receive a verification email shortly.
There was a problem. Please refresh the page and try again.