From spare-time sixth-tier coach to hard-pressing Bundesliga-topper: The rise and rise of Roger Schmidt
In a dizzying decade, Roger Schmidt has risen from sixth-tier part-time coach to the top of the Bundesliga. Archie Rhind-Tutt introduces the man leading Leverkusen in Europe...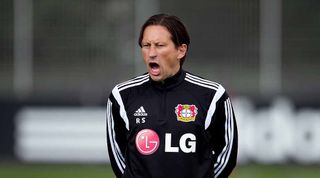 Whether it's spending time with the family, going hiking or listening to a bit of Bruce Springsteen, Roger Schmidt's use of his spare time seems fairly typical for a man of 47. What's unusual is that football used to be a spare-time activity for the intriguing new manager of Bayer Leverkusen. It even crossed his mind to give up football altogether to devote more time to his family.
Instead, Schmidt persevered in the fifth division of German football and seven years later, he's in the group stages of the Champions League.
Last Friday, Leverkusen dominated Werder Bremen for long periods but ended up drawing 3-3; still, three games in, Schmidt's side are top of the Bundesliga, partly because of the sort of win at Borussia Dortmund that might have had Arsenal's scouts taking notes.
Win percentages
Delbrücker (2004-07) 40.4%
Preussen Münster (2007-10) 47.3%
Paderborn 07 (2011-12) 50%
Red Bull Salzburg (2012-14) 63.2%
Bayer Leverkusen (2014-) 83.3%
Yet at the turn of the century, Schmidt was working at conglomerate Benteler, helping supply parts to car manufacturers while playing minor-league football in North Rhine-Westphalia. That culminated with a move to Delbrücker SC in Germany's sixth tier in 2004 as he began his coaching career. Promotions followed on and off the pitch: he moved up to quality control at Benteler, while Delbrücker went up to the fifth-tier Oberliga Westfalen.
The crossroads moment came in 2007, when Schmidt quit the day job and joined Preussen Münster, also in Oberliga Westfalen. Before talks with Münster, he'd not even considered being a full-time coach. Speaking six years later, Schmidt said "I've never regretted this decision" – understandable given that his Red Bull Salzburg side had just gone 33 games unbeaten.
Education, experience and overachievement
Schmidt had earned his move to Austria's big spenders by impressing with Preussen Münster and Paderborn. Preussen were promoted in his first season, and two regional cup wins ensured a pair of lucrative qualifications to the DFB-Pokal first round. But when the club weren't promoted to the third tier in 2010, he left – not to return to the world of engineering, but to spend a few months gaining his UEFA Pro Licence.
Fittingly, Schmidt's return to coaching came at his alma mater of Paderborn. Two decades previously he had studied mechanical engineering at the city's university, paying his way by playing semi-professionally with the club then known as TuS Paderborn-Neuhaus. He also had a spell with them in the third division in 2002, so he completed a hat-trick by returning as head coach in July 2011.
SC Paderborn 07 are not a big club; their stadium capacity is 15,300. Even as Schmidt surprised many by leading them to fifth place in the 2011/12 second division table, the average gate barely crept into five figures. They have since gone even further, gaining promotion to the top division last summer, but by that time Schmidt was busy in another country.
A Red Bull-powered pressing machine
Appointing him in June 2012, Red Bull Salzburg's sporting director Ralf Rangnick recognised Schmidt's achievements, even if Austrian supporters were wondering who this guy was upon his arrival. No one in Austria was asking that by the time he left two seasons later.
Success was expected of him. Before Schmidt was hired, Salzburg had four title wins in their previous six seasons with financial backing significantly greater than the rest of the Austrian Bundesliga. Universally liked rich teams don't exist in football but parent company Red Bull went to town on tradition-laden SV Salzburg in 2005, changing the club's name, nickname, stadium name, the colours and the badge.
On the pitch though, Roger Schmidt made them attractive as the former mechanical engineer created what has been described as a pressing machine. In training, Schmidt implemented his ultra-attacking philosophy of incessant pressing; they even used a clock that would ring after five seconds if the ball had not been recovered by the defence.
Salzburg star Kevin Kampl compared the club's style of play to the gegenpressing of Borussia Dortmund, saying he thought theirs was an extreme version – but that didn't equal success in the first campaign. Reigning champions Salzburg slipped to second despite losing fewer games than title-winners Austria Vienna. However, fans had bought into the philosophy, wielding banners saying "Schmidt must stay!" – and last season proved them right.
You will doubtless remember Bayern Munich's procession to the 2013/14 German Bundesliga title; Red Bull Salzburg wrapped up the Austrian Bundesliga two days earlier. Such was their dominance, they scored more goals at home than every other team did home and away.
The club also posted a 100% record in the Europa League group stages, which went relatively unnoticed because of that tournament's low profile, but their comprehensive 6-1 aggregate victory against Ajax in the first knockout stage, scoring three goals in each leg, highlighted the success of the pressing machine. As Schmidt said in an interview this summer, he side should always be badgering the opposition: "Where is the sense to leave them in peace?"
Immediate success at Leverkusen
Success inevitably aroused attention back in Germany, and has brought him back home to North Rhine-Westphalia. Bayer Leverkusen sporting director Rudi Voller decided that Schmidt's philosophy suited a side hoping to pressurise Borussia Dortmund as Bayern's main rivals.
It's certainly working so far. Beating Dortmund 2-0 in their own back yard on the Bundesliga's opening day, Leverkusen also planted seven past Copenhagen to power into the Champions League group stages. After five straight victories, Friday's 3-3 draw with Werder was the first competitive game Schmidt's side have failed to win; he said they should have been 5-0 up at half-time.
Everything is done at the highest intensity as the players implement his ideas at speed – literally. Twice already under his management, Leverkusen have scored within 20 seconds of kick-off: Julian Brandt struck after 19 seconds of a pre-season friendly against Carl Zeiss Jena, while at Dortmund it took just nine seconds for Karim Bellarabi to score the quickest goal in the division's history.
Asked about that opening salvo, a grinning Schmidt said they had discussed it beforehand and it's believable given what he preaches about disturbing the opposition. That smile might also have betrayed the fact his team had just superbly limited Borussia Dortmund – the side whose style of play only a few years ago coined the very term gegenpressing. Even before the game, German magazine 11Freunde's season preview predicted Leverkusen to finish above Dortmund in second place.
The durability test of the pressing machine against the results machine of Bayern Munich has already begun. For now, Bayer Leverkusen are at the Bundesliga summit. Next, he faces Monaco in his first Champions League group stage game – a decade on from finding the spare time to start his coaching career.
Thank you for reading 5 articles this month* Join now for unlimited access
Enjoy your first month for just £1 / $1 / €1
*Read 5 free articles per month without a subscription
Join now for unlimited access
Try first month for just £1 / $1 / €1
Get FourFourTwo Newsletter
The best features, fun and footballing quizzes, straight to your inbox every week.