Toon Darts Team: My Secret Vice
By Lee Hall
"I don't know if there's a secret to my wrist action but there's a bit of luck thrown in there too..."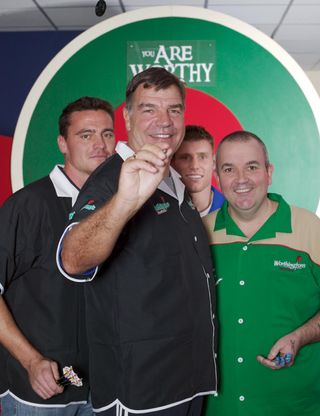 Sam Allardyce
"I've been playing darts for some time. When the British Open first started, the organisers decided to hold it at the Reebok Stadium. They asked me to do a little bit of promotion and suggested I joined in the first round. Little did I know that it was in a pub in south Manchester. I turned up on a Saturday morning and there were hundreds of people from all around the country. I got walloped by a lad from Southampton, if I remember rightly. He did me three sets to nil, quite comfortably I might add.
The players are really into their darts at Newcastle United. They've even got their own little area with two Premier League darts tables - they run two leagues: 'the Championship' and 'the Premier League'. The lads that practice the most are the best and that's James Milner and Steve Harper. I know they'll put up a better challenge than me against Phil.
I love my darts, but I'm far too busy to play in the league, because unlike them I don't stop when training ends. The players can have a bit of relaxation and sort out their little competitions. Me, I just get on with the job, because the chance to enjoy pastimes for a manager today is rare.
It's nice to see the lads joining in together rather than just sat at a laptop. We also have table tennis, and if it was up to me I'd expand the games area if we could, but it's a bit tight for space now.
Although darts is not that active, it does share some similarities with football - the level of concentration required, for example. The fitter you are, the more you can concentrate. When you're up there in a world final, mental fatigue is something you have to deal with - the fitter you are the more focused you can be.
That said, I wouldn't have any tips for Phil Taylor because they're fundamentally two totally different sports, even if they do both require 100 per cent dedication, 100 per cent concentration and 100 per cent skill. The level of skill that Phil has to reach at a world championship is huge. The margin for error, a bit like in football these days, is minimal and one mistake can cost you an awful lot. That's where the similarities lie."
PHIL TAYLOR'S VERDICT
Sam 'Deadly Dudley Destroyer' Allardyce
Steve 'The Hitman' Harper
James 'The Machine Gun' Milner
Steve Harper
"We started playing darts at Newcastle seriously in the past year or so. Darts has had a bit of a renaissance and we just got a board in at the training ground for a bit of fun. It's really taken off: the lads are enjoying it and the standard has gone up, especially with the arrival of Alan Smith - he's a pretty good player.
I got a travel board for trips to Europe and was in charge of setting it up. As soon as we got to the hotel I would go to the medical room with my hammer, tape measure and measuring hooks - which were a nightmare to get through security. Then I have to choose the biggest picture to take off the wall. That way, when we put the picture back it hides all the holes from the arrows. Once I've set the board up and have got it the perfect height I ring the lads and they'll come and have a few tournaments. It's just a great way to pass the hours - it's great fun.
Back home we've had a few competitions in the Premier League format. We've just started our third one and James [Milner] is the champion, and I'm the number two. He's won both of the previous leagues, so everyone is after him at the minute..."
James Milner
"…I'm not cocky with it, mind. How can I be? We've got Phil Taylor here tonight and I'm here for the experience. Even if he nine-darts me I'll just be happy to watch Phil and play with him. You couldn't learn from a better person.
I don't know if there's a secret to my wrist action but there's a bit of luck thrown in there too. Like Harps said, this year will be tight in our Premier League. Smudger is a pretty decent player and everyone seems to have improved - Harps himself, Nicky Butt and the kit man. It's just a bit of enjoyment to pass the time before games and after training when we've got a double session. It's taken off massively…"
Steve Harper
"There's 12 of us who play and we've all got nicknames. The gaffer is 'Deadly Dudley Destroyer', because he comes from Dudley. James is 'The Machine Gun', because he scores heavier than the rest of us and I'm 'The Hitman' because I'm pretty good when I get to the doubles.
Joey Barton has just entered. He's struggling at the moment but he's competitive, so if he puts in the hours I'm sure he'll do well. We tried to get the gaffer into the Premier League this season with us, but it's easy to see why he didn't want to join in: he just doesn't practise enough!"
Interview: Lee Hall. Portrait: David Glen Walker. From the January 2008 issue of FourFourTwo.
Quizzes, features and footballing fun
Get the best features, fun and footballing frolics straight to your inbox every week.
Thank you for signing up to Four Four Two. You will receive a verification email shortly.
There was a problem. Please refresh the page and try again.