This is Vegas, baby: Why Freddy Adu's Las Vegas Lights are football's most bizarre team – and proud of it
Competing for eyeballs in the Sin City is more about entertaining than winning. That's why the city's second-division soccer team is unapologetically ridiculous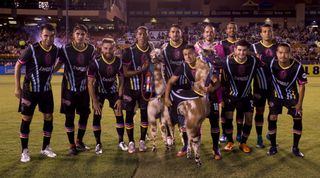 Las Vegas Lights FC, one of the United Soccer League's newest teams, are already on their way to being one of the best-known clubs in the league – indeed, in all of American soccer.
It's already been a great year for Las Vegas sports: their new Golden Knights NHL franchise created a buzz for their elaborate pre-game ice shows worthy of Vegas, and then rode that enthusiasm to a surprising Stanley Cup finals run in their debut campaign.
Now the Lights, officially launched in August 2017 ahead of a 2018 kick-off, are taking an increasingly inimitable, offbeat, and conventions-be-damned approach to marketing their team.
Their formula has included:
Hiring a fiery Mexican coaching legend (Chelís) and his son (Isidro Sanchez Macip) to lead the team.
Awarding $100 in chips to each player after each match in which the team wins and scores three goals, from Lights sponsor Plaza Hotel & Casino.
Bringing levity to the staid pre-game team photo ritual thanks to a pair of llamas named Dottie and Dolly.
Creating a cheap ticket in an expensive entertainment town, attracting a boisterous crowd that has included – to the sheer delight of its social media team – hip-hop-harlequin-turned-reality-TV-star Flavor Flav among their first celebrity fans.
The Lights also became the first pro sports team in the U.S. to partner with a marijuana dispensary in April, and they're planning to move even further into previously-forbidden American sports territory – the club are currently finalising a soon-to-be-announced partnership with a betting company, allowing mobile phone-enabled, in-stadium betting on Lights games in progress.
Lit with Brett
The chief architect of the team – unapologetically using "Get Lit" as a motto – is owner and CEO Brett Lashbrook. At 40 years old, Lashbrook has an extensive history in soccer spanning more than two decades. He started as an intern during the debut season of the then-Kansas City Wiz, worked on two Women's World Cups and with the WUSA, and spent seven formative years at MLS's New York headquarters, where, he notes: "That's where I began to see the growth of the game; how you start a team, and build a soccer nation."
Lashbrook then signed on to become COO for Orlando City in 2013, growing their fan base from 3,000-per-game to 20,000 season-ticket holders as they climbed toward an eventual 2015 elevation to MLS.
He moved to Las Vegas in 2015, in part to help his mother recover from an illness, but was also struck by the potential for football in a place with practically everything to offer but that. "I'd seen first-hand how to put a team together and how it could be successful, and realised I was living in the second-largest city in the world without a professional soccer team," he tells FourFourTwo.
Plus, Vegas already had a venue ready for football – Cashman Field, a 10,000-seat minor-league baseball stadium in a downtown district that's currently being revitalised. The stadium is shaped in a perfect square for accommodating a regulation-size football pitch along its first and third-base lines. Its current tenants, the Las Vegas 51s AAA baseball team, are moving to a new $150 million stadium in nearby Summerlin in 2019, which Lashbrook took as serendipity.
In January 2017, he proposed a franchise in Las Vegas to USL president Jake Edwards and owner Alec Papadakis, funded entirely by the Lashbrook family. Then he went to City Hall and declared: "I don't need any public money, but I want to rent the empty stadium in the redevelopment zone and I'd like to bring a quarter-million locals down there every year; are you OK with that?"
Additionally, he offered to pay for all of the baseball-to-football transitions during the crossover year. Funnily enough, the City Council went all in.
This is Vegas
In their debut season, the Lights are currently 13th in USL's 17-team Western Conference, but they're near the top of the attendance table at fifth out of 33 teams, drawing nearly 8,000 per match to Cashman.
"One thing I really learned in Orlando was keeping the soccer authentic: The fans, the tradition, the cheering, the marching, the smoke, all the olé, olé, olé," Lashbrook says. "But you also have to embrace where you're from."
For the Lights, that means embracing downtown Vegas – which, while still touched by the Strip economy, is a distinct and changing part of the metropolis influenced by their tech-minded millennials and tourism-reliant everyday workers who hang out there. It's also a sincere appreciation for both Burning Man culture and kitschy, classic Vegas. The Lights offices are in the same former City Hall building where kit sponsor and major downtown redevelopment driver Zappos is headquartered; it's the Zappos llamas that have made their way into the team photos.
Citing a Vegas ethos of "fast, glitzy, and in your face," Lashbrook wanted a team that would play a more aggressive, goal-seeking style, and wanted to find a coach who would embrace what he calls "spectacular soccer". The father-son team of technical director José Luis Sánchez Solá (better known as Chelís) and head coach Isidro Sánchez were brought on board to deliver on the latter's credo that "when people come to watch the Lights, I want them to forget their problems for two hours".
"It's OK to play offensive soccer and push, push, push. It's OK if your goalkeeper wants to come out to midfield," Lashbrook laughs. "We're not going to be ashamed of it; there are different ways to play the game, and I think anyone who watches our team understands that."
Chelís helped define the team's cavalier approach during a pre-season match against the Vancouver Whitecaps in February. In a match MLSSoccer.com's Charles Boehm called "a chaotic, contentious and utterly riveting 3-2 barnburner full of sound and fury," Chelís was ejected after skirmishing with a Whitecaps assistant coach following a 58th-minute Lights red card. He went into the stands to sit with Lights supporters for the remainder of the match, even smoking a few cigarettes to further transgress norms.
"I think it's a perfect example of our team being for Las Vegas, by Las Vegas, of Las Vegas," Lashbrook said, adding: "He wanted to be with the fans. They loved it. Two days later, our mayor gave me a big hug and said, 'I love your coach.' If it makes people chuckle, cringe, or talk, that's great."
Goodman, good woman
Said mayor, 79-year-old Carolyn Goodman, has lent her inimitable celebrity to the team, including hosting a sponsor reveal at the Plaza in February, where five players in bathrobes, at Goodman's command, shed the robes to reveal they were wearing just the shorts. (At the same event, the partners also introduced the chips-for-players programme.)
There are other unconventional promotions. The Lights use individual player introductions where each starter runs down a neon tunnel, to self-selected 15-second music segments akin to baseball at-bat intros. They've recently brought in a live DJ to the locker room – much to the players' surprise and delight – and declared that a sports first.
This Saturday, the team's first-ever official downtown pub crawl, called Kick 'N Crawl, will have a pool party at the last stop where fans can potentially swim with players.
Several players have even celebrated goals using a feature Zappos built into the kit design: a smiley-face emoji on the inside of the shirt, visible when a player pulls the bottom of the jersey over his head.
But what do the players think? As Lashbrook puts it: "There are a lot of hard things about this project; finding 23 young men who want to play professional soccer in Las Vegas is not one of them."
The boys in black
There's a significant Mexican presence on the roster, owing to the Sanchez family influence, as well as representation from Canada, El Salvador and Japan. Lashbrook wanted to make sure at least one Vegas player was on the roster at all times to help the team build local ties. Chelís, recognising the potential that the region has for producing players, wondered why they should be limited to just one, and the team now has six Vegas-based players on the squad.
Matt Thomas, 22, a left winger born in Vegas, returned home after four years at Rocky Mountain College in Billings, Montana, winning a spot on the Lights through an open tryout that attracted nearly 800 hopefuls. He's rolled with everything being a Lights player brings – including being one of the models in the shorts reveal. "They didn't tell me exactly what I was getting myself into, but I shortly found out," he laughs. "The fact that we're known around the world for doing crazy stuff and being out of the ordinary, it's pretty awesome just to be a part of it."
The Lights are also the latest stop for star-crossed phenom-turned-journeyman Freddy Adu, who the team has been careful to treat as "just another player" in their otherwise anything-goes approach to marketing. Adu, who went through a six-week trial in order to secure his spot on the squad, scored his first goal for the Lights on his 29th birthday.
Lashbrook is on the lookout for more ideas to push the envelope, asking fans and even journalists who interview him what they'd like to see. Given the capitalist playground that is Las Vegas – and an ever-expanding USL whose brand is already getting a neon-lit energy boost – seeing the Lights evolve will be as much about competing for attention in a 24/7 entertainment city as it will be on the pitch from match to match.
As Lashbrook says: "There's something really cool about taking a blank sheet of paper, starting a team that reflects this really unique community, having a leader like Chelís be the maestro behind it, and saying, 'Let's go for it. Let's make soccer traditionalists really uncomfortable. Love us or hate us, we're gonna make you smile at some point.'"
SEE ALSO Inside the greatest ad EVER: Nike's brilliant 1998 Brazil airport commercial – by those who made it (opens in new tab)
Thank you for reading 5 articles this month* Join now for unlimited access
Enjoy your first month for just £1 / $1 / €1
*Read 5 free articles per month without a subscription
Join now for unlimited access
Try first month for just £1 / $1 / €1
Get FourFourTwo Newsletter
The best features, fun and footballing quizzes, straight to your inbox every week.