What Kaka and the MLS can expect from Orlando City
Alan Johnson visits the ESPN Wide World of Sports Complex (stop chuckling, there) to discover what's in store for the Brazilian next season...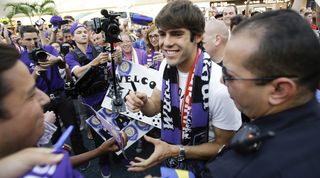 IT'S GOOD TO KNOW...
Nickname: The Lions
Manager: Adrian Heath
Stadium: ESPN Wide World of Sports Complex (5,300)
MLS stadium: Citrus Bowl (61,348)
Orlando City announced themselves this summer by agreeing a deal to sign Brazilian superstar Kaka. Like New York City FC, who have announced flagship signings themselves in David Villa and Frank Lampard, Orlando will take their place among the American elite in next season's MLS.
So, on a recent family holiday to Florida I decided to have a look at the club and took my place in the press box for the United Soccer League Pro game against the Dayton Dutch Lions. The match would be Orlando's 100th at this level.
I find the staff very hospitable and helpful, even if the club's press officer did find it highly amusing that my club Lincoln City, in his words, played in "that Blue Square thing". He's a couple of years out in terms of sponsorship, but I'm impressed he's familiar with England's fifth tier. As I wait for kick-off, fans congregate in designated drinking zones close to the car park, while merchandise is sold in various tents outside the stadium.
My disappointment that former Lincoln loanee Anthony Pulis (son of Tony) is out through injury is soon dispelled upon the realisation that I have access to a free bar, and in true American fashion, a seemingly endless supply of pizza.
While the players are put through their pre-match paces, manager Adrian Heath (the former Stoke, Everton and Burnley forward) strolls across the pitch to a hero's ovation and takes his place in the dugout.
Next up is the national anthem, sung flawlessly on the pitch by a 13-year-old girl. The crowd falls silent, each supporter with one hand over heart, while those still awaiting entrance to the stadium pause, motionless until the singing has finished.
Orlando army
And so to kick-off. The crowd has a League Two or Conference-style feel to it, not that there's anything wrong with that. Fans are housed in open terraces behind each goal, with covered seating stretching almost the length of both sides of the pitch. The attendance, which for reasons unknown isn't nailed to an exact figure, is said to be in the region of 4,400. Even more surprising is the fact that supporters, press and the VIP section at our end of the ground have to use portaloos, should we feel the urge.
Yet passion runs high among the singing section of the crowd who stand behind the goal to my right, and, assisted by a drummer and occasional trumpet, belt out favourites such as 'Nana nah nah City' to Hey Jude and 'We're the Orlando Army' to Seven Nation Army.
It doesn't take long for Orlando to take the lead, with Trinidad and Tobago international Kevin Molino firing them ahead on six minutes. Cue wild celebrations and a smoke bomb behind the goal.
MOVING ON
Orlando City, the current USL Pro team, will move to Louisville and become Louisville City next season
Moments later, as Dayton mount their first attack, one home supporter repeatedly tells an opposing striker he is horrible. The same fan gets a little too excited after half-time, telling Dayton's goalkeeper that he "is adopted", will "need a jockstrap after the game", and that he "sucks at soccer". Top marks for creativity.
With decisions now going against the home side, the fans resort to chants of "Who's your father, referee?" a la English football. Frustrations are short-lived, however, as two goals in quick succession through Giuseppe Gentile and Molino make it 3-0 at the break.
There is a clear gulf in class between the two sides, made most obvious through Dayton's goalkeeper, who makes a series of unorthodox saves. Then again, this is top versus bottom in the third tier of United States football (behind MLS and the North American Soccer League).
Orlando attack relentlessly in the second period and are out of sight within 25 minutes of the restart through goals from Austin da Luz (47 and 69), Molino's hat-trick (57), and Adam Mbengue (60).
I thought I had escaped the in-your-face American advertisement culture for an evening, only to be informed by the tannoy system that "this first substitution is brought to you by Metro PCS". Oh well. Unlike matches in England, each yellow card is also announced, much to the crowd's delight.
As Da Luz makes it seven on 69 minutes, one supporters group gets a little carried away and tweets that Orlando are leading by one touchdown to zero. Fifteen minutes from time fans are asked to vote for their man of their match via the club's official app, the result of which is announced 10 minutes later and is unsurprisingly hat-trick hero Molino.
MLS awaits
Orlando declare at seven and see out the match without any serious threat to their goal. The players are applauded off to a rapturous reception as Heath makes his way over to salute the faithful, punching the air in delight. The fans stream out of the ground to chants of 'Viva Molino'.
Once the stadium has emptied we attend Heath's post-match press conference, which is held in the locker room. Imagine those American high schools you see on films and that's pretty much it.
The win puts Orlando within a point of the 'regular season' Commissioner's Cup title (before the league's top eight sides are forced to play off for the Championship Series). It's all pretty trivial for the club, however – even if they'd finished the season bottom, admission into MLS was already assured.
Orlando's current home may be the ESPN Wide World of Sports Complex (a part of the Walt Disney World Resort), but their imminent progression shows they're no Mickey Mouse football club.
The club will move to the downtown Citrus Bowl for its inaugural MLS season, with their purpose-built 20,000 capacity Orlando City Stadium to be completed in time for 2016. Close to 8,000 season tickets have already been sold for next season.
Once David Beckham's eagerly anticipated Miami franchise comes to MLS, could the Florida derby become one of its greatest rivalries? There's only one way to find out.
Quizzes, features and footballing fun
Get the best features, fun and footballing frolics straight to your inbox every week.
Thank you for signing up to Four Four Two. You will receive a verification email shortly.
There was a problem. Please refresh the page and try again.