What Leeds fans can expect from Pep Guardiola's idol, Marcelo Bielsa: the crazy one
He's influenced some of the best managers in football, yet his revolutionary methods have divided opinion. Thore Haugstad on the highs and lows of a maverick manager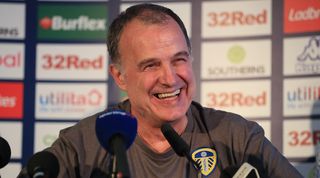 One thing that might have made Marcelo Bielsa think twice about joining Leeds is the Christmas fixtures. If some Latin players dislike spending their festive holiday chasing a ball through snow and gale, something similar might be true of Latin coaches, accustomed as they are to winter breaks. Yet Bielsa might have to adapt for a different reason.
When once asked how he would spend his Christmas, the Argentine outlined a daily routine of two hours' exercise and 14 hours of video analysis. That's tough to keep up when you have games to play. Presumably, he will now reduce his hours in the video room to approximately 10.
Not that he'll like it; compromise has never been a trait of his. Part of what has made the 62-year-old a cult hero is his commitment to doing things his way. At Marseille, he'd jump into a blue tracksuit to either patrol the touchline or sit on a cool box; once, he sat down on a cup of burning hot coffee.
At Athletic Bilbao, he'd take exactly 13 steps every time he crossed the technical area; he refused to explain why. He drew chalk marks on his shoes to show the players how to kick the ball, then walked around with the marks for days. They call him El Loco, 'The Crazy One', although Athletic forward Iker Muniain was once asked if Bielsa really is as mad as people say. "No," said Muniain. "He's madder."
Yet Bielsa is no joke figure. Fans tend to love him and illustrious tacticians have copied him, including Pep Guardiola and Mauricio Pochettino. When studying to become a coach, Guardiola took an 11-hour flight to Buenos Aires and then drove 185 miles to Rosario just to talk to Bielsa. Guardiola calls him the best coach in the world, which may seem odd to those who don't know El Loco well. In 30 years, he has hardly won anything.
Revolution
Bielsa comes from Rosario, the hometown of Che Guevara, Lionel Messi and Cesar Luis Menotti, the coach who led Argentina to the 1978 World Cup title. Born into a family of politicians and lawyers, Bielsa immediately dedicated his capacity for hard work to football. He'd collect videos and subscribe to magazines whenever he wasn't playing himself. He never made it as a player and, retiring at 25, took charge of the Buenos Aires university team instead, scouting 3,000 players before picking a squad of 20.
Two years later, Bielsa joined the youth academy of Newell's Old Boys: one of the two big teams in Rosario, and the one for which Messi would later play as a kid. Bielsa felt the club was missing out on talents in the dusty corners of Argentine football, but he was afraid of flying. Resolving to discover them anyway, he embarked on a national scouting tour, clocking up five thousand miles in a Fiat 147.
He took over the senior team in 1990, and that's when the revolution began. Bielsa had fallen in love with the Ajax school of the 1970s, in which the players press relentlessly and push up their defence to minimise the space available to the opponent. Yet Bielsa didn't want the tempo to drop once the ball had been won, so as soon as Newell's had it, they'd play it forward as fast as possible. The play went at full speed, all the time. How would the players possibly have the energy to keep it up?
The Bielsa school
Bielsa tried to solve that question by training the players hard. He drilled in an ambitious 4-3-3 system that would transform into a 3-4-3. On the training ground, he practised synchronised movements that the players were supposed to repeat in games. He locked himself away for days studying the opposition, then handed out dossiers to his players. The end product was unlike anything Argentine football had seen.
Newell's stormed to national league titles in 1991 and 1992. At their best they were spectacular, attacking without stop and running their rivals into the ground. Theorists applauded too, because Bielsa had managed to combine the work of the two schools of Argentine football: those of Menotti and Carlos Bilardo.
Menotti, the chain-smoking hero of the 1978 triumph, was the romantic who loved to attack and left the creativity to the inspiration of his players. Bilardo, who delivered the 1986 World Cup title, favoured a defensive set-up and based his work on meticulous planning and video analysis. Bielsa adopted the adventurous ways of Menotti and the analytical eye of Bilardo. His ideas were so innovative that the players could hardly avoid learning a great deal.
Part of what turned so many of his players into coaches was Bielsa's insistence that they'd think for themselves. He'd ask them to read newspapers and to write up dossiers on their own. Among the players were Tata Martino, who went on to coach both Barcelona and Argentina; Eduardo Berizzo, who has led Celta Vigo and Sevilla; and Pochettino. The focus was always the process, not the result. In one game, Pochettino scored a header, only to receive an earful from Bielsa for having been in the wrong position.
In that way, Bielsa didn't only become a tactical pioneer, but an influential educator as well. Yet the intensity of his work proved taxing. In 1992, Newell's reached the final of the Copa Libertadores, the South American version of the Champions League, but lost to Sao Paulo on penalties. The players were exhausted and so was Bielsa, who resigned.
Chilean hero
Six years later, Bielsa won another Argentine league title with Velez Sarsfield. That propelled him to take charge of a superb Argentina side. They went to the 2002 World Cup in Japan and South Korea as favourites, Bielsa filling his suitcase with 2,000 videos – yet they crashed out in the group stage. Their manager stayed on to lead the under-23s to Olympic gold in Athens in 2004, before bowing out.
His next gig was the Chilean national team. Having not reached the World Cup in 12 years, La Roja made it to South Africa in 2010, where they lost in the last 16 to Brazil. Bielsa won the hearts of a nation, not just for reaching the tournament but for his exciting style of play. Though he resigned a year later over a clash with the incoming FA president, the groundwork for success had been laid. When Chile won the Copa America in 2015 and 2016, many credited Bielsa.
That spell was his hitherto last with national teams. In 2011, Bielsa took charge of Athletic Bilbao and immediately led them to the finals in the Copa del Rey and the Europa League. For a while they were the most exciting team in Spain, playing Manchester United off the park en route to the Europa League final. Yet the style of play again proved draining. They lost both finals, then suffered their worst league start in 32 years to hamper a second campaign that would prove to be Bielsa's last.
Suspended and sacked
A year later, Bielsa moved on to Marseille, where he again started well. At the halfway stage, they topped Ligue 1. "The workouts are intense but enlightening, technically and tactically," said striker Andre-Pierre Gignac. "He knows everything to the smallest detail. I glanced at his training schedules; there are hundreds of them and every one featured games he analysed. He taught us a vibrant, real type of football."
But Marseille also crumbled and ended up 14 points off top spot. When they lost the first game of the next season, Bielsa resigned, citing a dispute over his contract. Such fallouts with directors and presidents are another Bielsa trend: he also confronted senior figures at Athletic over a delay to construction work at the training ground. When he joined Lazio in 2016, he accused the club of not having signed the players they'd promised him and resigned after two days.
When Bielsa tried to take Lille into the Champions League last summer, he didn't even start well. They were second from bottom after 13 league games, at which point the club suspended him. They duly dismissed him in December.
So it is against this backdrop that Bielsa now joins Leeds. At his first press conference, he said he had watched all of their 51 games from last season, plus two post-season friendlies in Myanmar. What the players might have made of him is anyone's guess, though a hint may be taken from Benjamin Mendy, who played for Bielsa at Marseille.
"When he addressed the players the first time, he didn't smile once," Mendy recalled in a recent piece for The Players' Tribune. "But when he talked about strategy, you could see the madness coming out. You could see his passion. You could see that he lived for football, for every detail. After the meeting, a team-mate looked at me and said: 'He is not normal, this one.' He was right. Bielsa is not normal. Who wants normal?"
Quizzes, features and footballing fun
Get the best features, fun and footballing frolics straight to your inbox every week.
Thank you for signing up to Four Four Two. You will receive a verification email shortly.
There was a problem. Please refresh the page and try again.