What's it like to... scout for a League One club?
By Ben Hackney published
Ben Hackney has been a talent-spotter at Barnsley for almost five years, helping the Tykes identify the likes of Alfie Mawson, Kieffer Moore and, well, more. He tells FFT how his team get it done…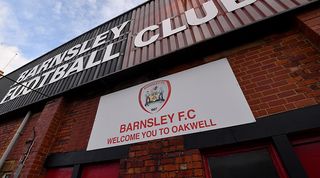 In football, you've got to dedicate yourself to get opportunities. It's so competitive, and there just aren't many jobs out there compared to other industries.
When I was at college and university, I used to do some player and opposition scouting for local non-league teams. Once I'd built up a portfolio of reports, I sent them to as many of England's 92 best clubs as I could find email addresses for.
Generally my non-league reports were pretty basic, but you have to start somewhere, don't you? I did a few opposition reports for Ramsbottom, mainly focusing on strengths and weaknesses of opposition, how to exploit them, general patterns of play and key players.
I also did some independent player work to send around to different clubs – I remember being really impressed with a young Denis Suarez, now at Arsenal, playing for Manchester City's under-23s in a game at Rochdale.
Luckily, I received a few replies and was soon working (voluntarily) for Crystal Palace as a regional scout, alongside some other (voluntary) work for Manchester United's foundation.
But then I got a break.
Barnsley gave me an internship as a performance analyst and I quickly learned a lot being in a football club day to day, mixing with players and staff during the week and on matchdays. The club took a chance on me full-time when they decided to create a new recruitment department after Lee Johnson was appointed as manager in 2015, and I've been there ever since.
I've worked under five managers, and there's always something new to learn; each one brings with them different philosophies and ideas.
Coach's orders
Our current head coach Daniel Stendel has been great to work with since he took over last June. He brings a fresh approach having spent his whole career in Germany, including a year managing Hannover.
He's very clear in his style of play, and that's absolutely vital for the scouting team when we're identifying players, so we know exactly what he wants and expects from each position.
Barnsley have a specific playing identity: a front-foot style, focusing on defending from the front and attacking at pace. Last summer, the club made a conscious decision to adopt a counter-pressing style; a philosophy that Daniel embraces.
The scouting team itself has a centralised team of three recruitment analysts who work from the club base. On top of that, we have three regional scouts placed around the UK, and a chief scout who travels the country and reports back for meetings.
An average day would involve focusing on one player from our 'watch list'. We'll look at him in several games, analysing every action, and submit a report afterwards reviewing his performance, data, plus any additional information that might be useful (such as their contract situation and even personality, more on which later).
Dependent on the day I might also watch our under-23s if they're at home, check up on our under-18s via video clips, watch first-team training or get out to a midweek game in the evening. This isn't a job for those inclined to get bored watching football...
All of the information we gather then gets sent back to base – the management team have full access to the reports we submit daily on players – and we'll have a weekly meeting to discuss any interesting players that have been highlighted. From there, we can plan our workload for the week ahead. We're a relatively small department compared to many clubs, but we watch 50-60 games a week in the UK and Europe, both on video and in person.
I'll admit, though: it's hard to just watch a 'normal' game now. You're always looking at them with the emotion taken out, and trying to see it for what it actually is. The World Cup was good because I could enjoy some international football as a supporter, and I try to get away a couple of times a year. I'm still a fan at heart, so if there's football on TV at any level I'll generally watch it, but there are times when it's nice to get away. I always do so for a few days after a transfer window closes – it's a good way to reset mentally, and then you feel like you can really start looking ahead to the next one with a fresh focus.
Tell you what I want
We're looking for players who we think are capable of playing at or above our level and, importantly, have the attributes to suit our style of play.
The suitability aspect is key. There might be an excellent player who is simply unable to fulfil the positional demands our head coach is looking for, so just wouldn't be a worthwhile addition for us. For another team, he might be perfect.
In recruitment, it's vital to plan for every eventuality and have a list of players for each position going into a transfer window. Of course, depending on specific areas the manager is looking to improve on and the contract situation of players in your own squad, there are always priority positions that you'll spend more time on than others.
We often have meetings where we present players formally to the manager, supplying him with all the supporting information we have and a video showing their strengths and weaknesses. The head coach gives us his thoughts, and may want to follow it up by going and watching the player himself. Unsurprisingly, he always has the final decision on any players we sign.
Success stories
Pleasingly, we've had some good success in recent years, with a lot of our players gaining high-profile moves after a stint at Oakwell.
The most notable is probably Alfie Mawson, who moved to the Premier League with Swansea in 2016, and still plays at the top level with Fulham. It's always great to see players you've helped bring to the club succeed, but it really is a team effort as so many people are involved in the success of a player.
Ethan Pinnock, who's been outstanding since we signed him from Forest Green Rovers, is a perfect example of that. He went through the full process of being initially identified through data, and was then watched in four games on video and five times live by different members of our team. I remember making the seven-hour round trip to watch him, only for him to get injured 15 minutes in. That was a long drive home.
I was back out to watch him several times before the end of the season, though, including at Wembley in the National League play-off final. Once you get the player, it's a relief and job done for us. Then it's up to our coaching and backroom staff who get to work on the training pitch.
The process
We like to make sure several of our staff have seen the same player, and we use different methods – including live games, video and data analysis – for each one. It's quite fluid, and something we look at as a team as the process evolves: there's no one person with a specific role of just identifying talent or just looking at the data.
Data is obviously an important part of the modern recruitment process. It helps you gain insight on players and can be particularly helpful in the initial trawling phase before you start to work through and look at players more in-depth. It can give you information that the eyes of a scout can't – just like the eyes of a scout can see things the data can't. It's important to have a combination of the two.
Each club uses data differently, and no one wants to give much away to keep ahead of rivals.
You can never be 100% certain when signing a player, as there as so many variables, but our job is to minimise the risk.
Clubs don't only assess their playing ability, but also gather as much intelligence and information on the personality and character of potential targets. It can be as simple as looking through his social media, or contacting one of his previous coaches for a character reference. How does he react to high-pressure situations? Is he doing extra work after training to try to be the best he can? Or is he the player who comes back to pre-season overweight, having not completed his summer gym programme?
We always want to find out what we can about any of our prospective targets, although it can be more difficult to find out about some players than others (that's usually a good sign, mind).
It's not necessarily make or break, but it's always beneficial to know as much as you can before a player comes into your environment. Good personalities can make all the difference in a dressing room.
SEE ALSO Marvin Sordell column: Let me change your mind about footballers' off-field activities (opens in new tab)
Thank you for reading 5 articles this month* Join now for unlimited access
Enjoy your first month for just £1 / $1 / €1
*Read 5 free articles per month without a subscription
Join now for unlimited access
Try first month for just £1 / $1 / €1
Quizzes, features and footballing fun
Get the best features, fun and footballing frolics straight to your inbox every week.
Thank you for signing up to Four Four Two. You will receive a verification email shortly.
There was a problem. Please refresh the page and try again.